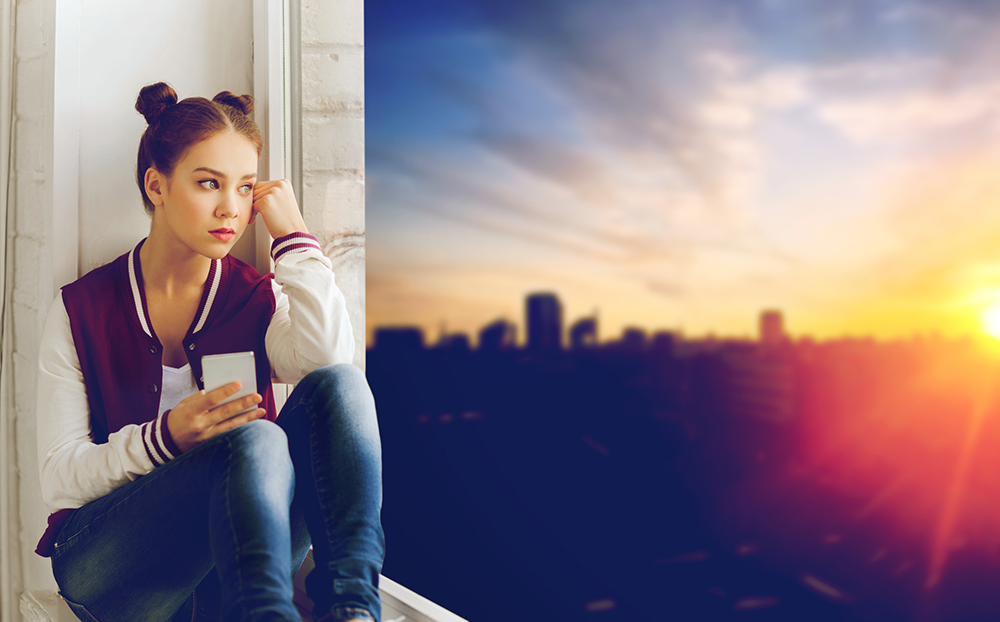 In a World Where Teen Self-Esteem
Is at a Historic Low
by Jonathan McKee
Teens have always been self-conscious. It's almost a rite of passage during adolescence.
Who am I?
Where do I fit in?
Do people like me?
But a world where 89% of teenagers have smartphones in their pocket and 97% are on social media, it's never been more difficult navigating self-esteem as a teen with a screen.
Consider what doors mobile screens have opened:
Just a few years ago we all didn't carry around freshly posted images of people who look better than us and doing something waaaaay more fun than us.
Popularity used to have nothing to do with how many friends, followers or likes we garnered on social media.
Used to be if you dropped the ball in the big game or tripped and fell in front of the classroom. . .it wasn't posted on social media for all to watch, rewatch, share, like, and comment for eternity.
Never in history have we had such bad advice at our fingertips, like the easy access to daily posts and "stories" of celebrity role models in our pocket. Want relationship advice? Get it from a Kardashion. Want career advice? Post Malone sure seems pretty cool. Spiritual advice? Lady Gaga's spiritual.
Bullying used to happen in person after school; now it reaches into the safety of our own bedroom, 24/7.
Used to be if a girl broke up with her boyfriend, he didn't retaliate by sending the entire school that revealing pic she now realized she shouldn't have taken, and definitely shouldn't have shared.
The fact is, that little device we love so much and carry around with us in our pockets has changed everything about how we feel about ourselves. The smartphone is not only a hub of unfiltered entertainment media, it's also a real-time barometer of self-esteem reminding us just how "liked" we are, exactly how many friends we have, and what people think of us at any moment.
Maybe that's why experts like Dr. Jean Twenge are contesting those attempting to dismiss the connection between smartphones and mental health. "Don't believe them," she says. Simply said, the more time you spend online, the more unhappy and depressed you are.
So how do we talk to a generation struggling with 'self'?
Start with what we know. What are some of the facts you wish our kids understood about their own mental health and feelings about self?
Wouldn't it be cool if our kids knew. . .
Our identity is in Christ, and that takes the focus off of us and onto Him. Hence, the more we focus on Him, the less we worry about us.
Too much tech time is linked to depression. Heavy users of digital media (over two hours a day) are twice as likely to be depressed as light users.
Sleep deprivation increases anxiety and depression. Teens are four times as likely to be depressed when they're sleep deprived.
When we are given the opportunity to empathize and/or serve others we become less focused on self.
So what can we do to help our kids learn these truths and help them feel better about themselves?
4 Strategic Practices Building Young Peoples' Self Esteem
1. Remind them who they are
The more our kids focus on Christ, the less they obsess about themselves.
Have you talked to your kids about their identity in Christ? Wouldn't it be cool if kids understood not only how valuable they are to God, but who they are in Christ?
One of the most effective ways I find helping kids open up about their identity is through music. Young people love music and many songs provoke feelings about 'self'. We can use these songs to point them to God's word.
Here's a few examples of MUSIC DISCUSSIONS from our TheSource4YM.com Music Discussions page, using both secular and Christian songs. Every one of these FREE discussions includes scripture and small group questions:
Everything Glorious, by David Crowder Band
Scars to Your Beautiful, by Alessia Cara
Help your kids understand their incredible value. Like David Crowder sings:
You make everything glorious
And I am Yours
What does that make me?
When kids begin to recognize their identity in Christ, they tend to become aware of their strengths or giftedness. And if you want to see a kid really shine. . .
2. Give them an opportunity to use their strengths/gifts
We live in a very interesting time right now. On one hand young people have never been so inundated with messages of "just do you" and "you just gotta do what's best for you!" (Self-centeredness 101) At the same time young people have been raised earning hours as a volunteer and following celebrities who want to "give back." Help homeless horses. Save sick seagulls. Serving is "in." An interesting by-product of this culture is that kids want to make an impact (and post a picture on Insta of themselves doing it).
Give your kids opportunities to serve like Christ served. Take students to a homeless shelter or organize a neighborhood cleanup day. Do something where kids get an opportunity to be a light for Jesus through acts of service. When kids are given the opportunity to help others they typically experience empathy. Highly empathetic people report greater self-esteem and a deeper sense of purpose than those who report lower levels of empathy. But more than that, serving like Christ builds your identity in Christ.
And service opportunities open another door that helps kids' self esteem. . .
3. Challenge students to join you on a "media-fast"
Give your kids a chance to fast from their phones.
I know, I know. . .studies show kids would give up a car. . .or their pinky finger. . .rather than give up their smartphone. But I've seen an increasing amount of young people becoming self aware of the lure of the smartphone and social media. In fact, almost 70% of 13-18-year-olds said they "would like to spend more time socializing face to face rather than online."
So why not challenge them:
"Do you think you could go a day without any digital media?"
"How about a week?"
Don't just challenge them—join them. Make it part of your training for your next service project.
"All of us who are taking part of our Spring Break missions trip are going to go on a one-week media-fast the week before the trip."
You might be surprised with the results. Kids who break free from the grip of their smartphone always show greater rates of satisfaction. In fact, research has never been so clear:
Teens who spend more time than average on screen activities are more likely to be unhappy, and those who spend more time than average on nonscreen activities are more likely to be happy.
So don't be scared to give students a nudge in that general direction. Maybe you can lead by example.
And finally. . .
4. Educate parents how to build into their kids' self-esteem
Pass on articles like this to parents, like the ones linked in this article, or ones specifically to parents like these articles from TheSource4Parents.com:
But Mom, I really need my phone in my bedroom
Helping Kids Hear Truth in a World Blaring Lies
Helping Your Kids Think Before They Click
3 Ingredients Catalyzing the Spike In Teen Depression
And if parents don't want to read, then point parents to free podcasts for parents.
Or better yet, offer a parent workshop where you bring in an outside expert to talk with parents about the effects of smartphones and social media on "Generation Screen" and how to respond.
In a world where anxiety, depression, and teen suicide are at an unprecedented high, it's never been a more perfect time to build into our kids' self-esteem.
The little device in their pocket is providing all kinds of lies about who they are. Wouldn't it be nice if someone was telling them the truth?
What are you waiting for?
FOR MORE ON THE SUBJECT OF SOCIAL MEDIA, LIKES, AND THE PRESSURE TO BE LIKED, TAKE A PEEK AT THE TEEN'S GUIDE TO SOCIAL MEDIA & MOBILE DEVICES AND THE GUY'S GUIDE TO FOUR BATTLES EVERY YOUNG MAN MUST FACE