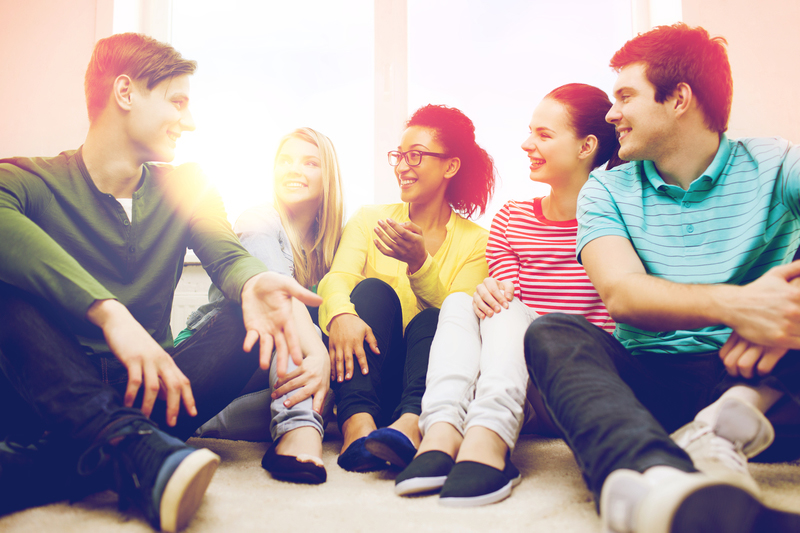 The church was small, and they didn't have a facility yet, so they had to meet in homes for youth group.
Had to.
Interesting… years later they got a building, a youth room, big speakers, cool lights… and the effectiveness of the youth group dwindled.
Sure, this kind of situation has many factors. Maybe it was a fluke thing.
Another church across the country grew a little too big for its britches. Youth group had turned into a big "program" and kids were getting missed. Sure, they divided into small groups every Thursday night—kids scattered around the youth room in circles, so loud it was sometimes difficult to hear your friend across the circle.
So they tried something different.
They met in homes.
And discipleship started booming. Kids began growing, getting connected, inviting more friends. Numbers grew.
Why? Comfy couches?
Funny, they only met as a big group once a month on Sunday night, then the rest of the week they focused on these small "home groups."
The only difference was the location. For some reason the conversation became a little more intimate.
Fluke thing?
Forget young people for a second. My wife and I both teach a Bible study in our church right now. She has a group of women, me a group of guys. We began meeting at the church sitting around those round tables you see at every church… you know the type. The studies were good. They grew a little.
Then we moved both studies to homes.
Now picture a bunch of women sitting on coaches and big comfy chairs sipping tea out of real cups. Men sitting around a living room next to a crackling fire.
Both studies more than doubled in size.
Every week I hear one of the guys say to our host, "Larry, thanks so much for opening your home!"
There's something about a home.
When I began youth ministry in 1990 we met in a home. Afterwards kids would sit and talk with the two parents who opened up their home. For years I saw those kids talk with these two parents at church. Those parents became trusted "go to" mentors for those kids.
Three years later I hosted ministry in my home. I remember teenagers engaging in conversation with my wife and holding my baby boy. My wife started discipling some of those girls. I officiated one of their weddings years later.
I don't have anything against industrial grade round tables. I'm not hinting your youth group will dwindle if you meet in a youth room. I'm actually trying to assure you the inverse… that it's okay if you don't have a fancy youth room. Homes shouldn't be thought of as "we had to meet in homes." The truth is, you get to meet in homes!
I'm simply saying this: create a venue where young people feel comfortable to interact with positive adult role models. Create intimacy. Look for settings where kids see what a loving Christian home looks like on the inside.
Don't feel bad if you don't have a facility (like this group). A home—or group of homes—might even be exactly what you're looking for.
Who knows… your group might actually grow.
FOR MORE ON HOW TO EFFECTIVELY CONNECT WITH TODAY'S YOUNG PEOPLE, CHECK OUT JONATHAN'S VITAL YOUTH MINSTRY BOOK, CONNECT