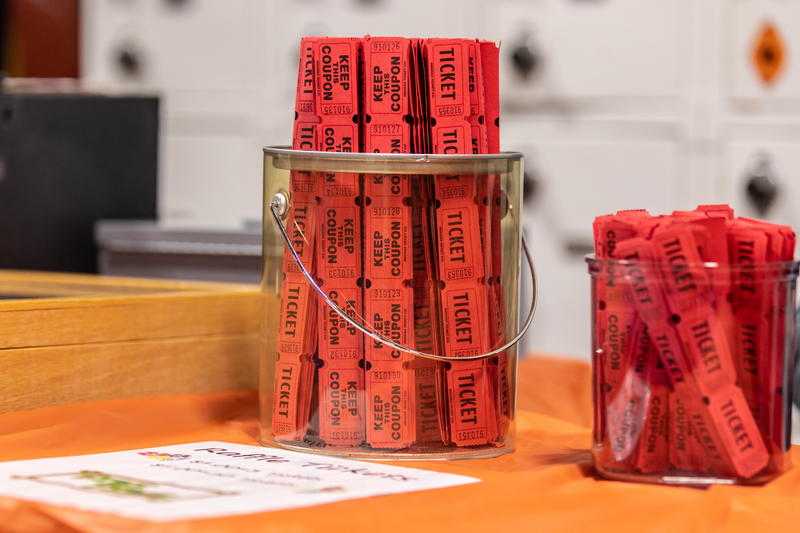 Those of us in youth ministry seem to always need to raise funds or get sponsors for something—camp scholarships, retreats, or financing our next mission trip. The question is, what is the best way to raise funds… and is there any way we can avoid doing another freaking car wash!
Here's the top 5 ideas I've seen and used from those of us on the front lines:  (and please… if you have another great idea, add it to the comments below—let's hear them!)
Pledges for service projects
This idea combines the awesome opportunity to do a service project with a fundraiser. Simply arrange a service project, like helping out at your local homeless shelter (or many of the "serving event" ideas on this page), and then make a pledge sheet where people can sponsor kids for a few bucks per hour for the "8-hour day" of serving.
The pledge sheet can look like this: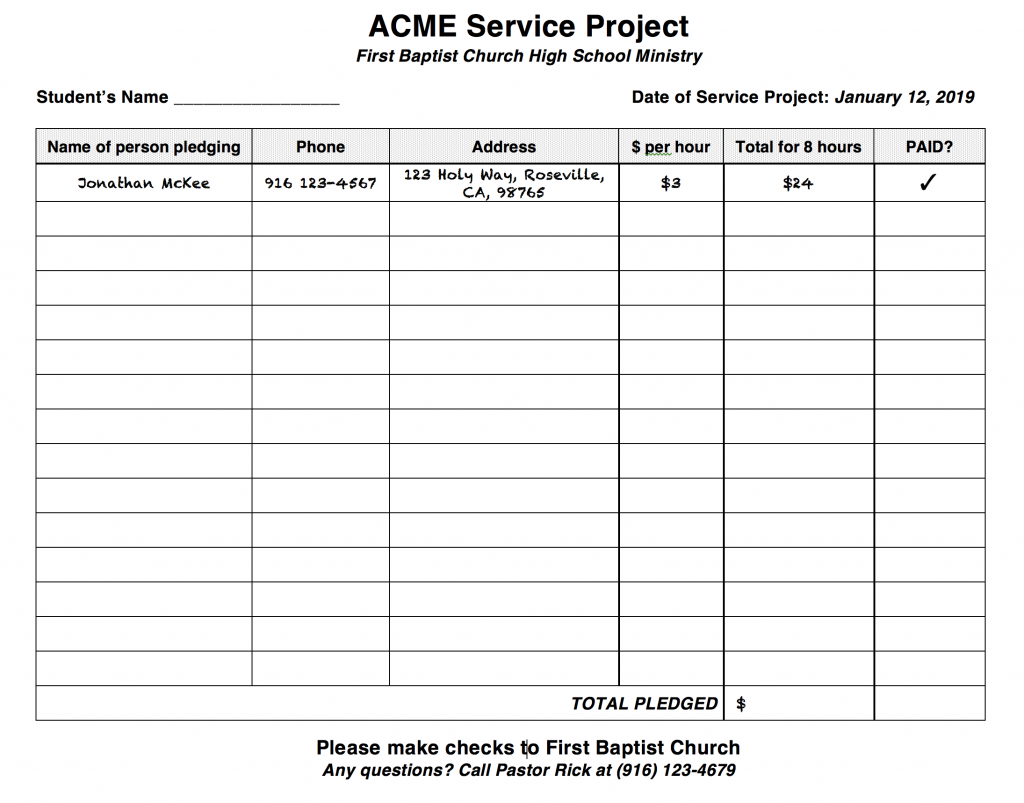 This has become literally the only fundraiser I do every year because kids raise a ton, and it's an amazing serving experience (a double whammy). The only other fundraising effort I do is asking for scholarships, and here's how I do that…
Will you help me send a kid to camp?
This was always an easy sell for me, because the kids I worked with were unchurched kids who needed Jesus. So I always walked up to a person of means and asked him:
"Hey Donald, I've got a kid named Justin who I desperately want to go to our camp next month because at camp he'll hear about Jesus every night, he'll dialogue about Jesus in small groups every day, and one of my leaders will talk with him about Jesus one-on-one. I won't get this much time with Justin all year. Would you sponsor him going to camp?"
I rarely get a "no" answer.
But why limit yourselves to just these personal asks when you can give everyone a chance to sponsor kids… and here's how to do that…
100 Envelopes
Do you ever do project "Angel Tree" over Christmas to provide toys for needy children, where people grab an angel off the tree and then go buy the toys listed for the child on that angel? This is similar in that you provide a stack or wall or tree of 100 different envelopes with various dollar amounts written on the outside of the envelope (I like the amounts of $20, $50, $100, $500 and $1,000). If you want to raise $10,000 for a missions trip, then just make the total add up to $10,000.
Present the need in church and then have someone stationed at the "envelope tree" so people sign up as they grab an envelope (this way you know who grabbed that $500 envelope). You'll get a few who don't come through, but most people will send in the amount they "pledged."
Wanna buy a coupon?
This always depends on the area and who you know. But every city I've been in has opportunities where kids can sell something and get at least a 50% profit.
Being on the west coast I always liked what See's Candy offered. Kids brought a box of 24 See's Candy bars to school (which are amazing… they ain't a Snickers bar) and sold them for a buck. They would sell a box a day (making $12). I had kids pay for entire camps with See's Candy.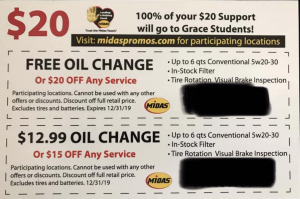 I've been in cities where a neighborhood auto shop offered $20 or $25 coupons for a "Free oil change" or "$20 off any service" and kids sold those for $20. Many of those shops gave those free… so you make 100%. (I just saw David Nicodemus post this one to the right in a Download Youth Ministry forum on Facebook. 100% profit on these).
Krispy Kreme offers opportunities like this, my local pizza places do, you just have to ask around your area.
Parents' Dinner
This is one of my favorites because it's a time for kids to serve their parents. It can look as simple as this: A spaghetti dinner (super affordable to prepare) in the fellowship hall where the kids are the waiters and waitresses. Kids dress up nice to serve, and you tell parents, "Just pay what you would normally pay for a nice night out."
And that's the key. Make it nice. Sure it's the fellowship hall, but dim the lights, put tablecloths and candles on the table and play classical music (as opposed to your kids' playlist with Drake and Ariana Grande).
You could also add other elements to the night to increase profitability like an auction or even adding a part of the evening where parents have the opportunity to sponsor kids for work they'll do (see idea number one above). When my kids were in youth group their youth pastor did this really well on a Sunday afternoon BBQ raising money for a missions trip, and the big money was raised during the sponsor portion of the afternoon. After the meal kids would stand on chairs with clipboards with their sponsor sheets. The youth pastor would announce, "Okay parents, go find some kids you'll sponsor!" Parents would walk around and find 5 or 10 kids to sponsor, and the kids would give those parents prayer cards with prayer requests for the week.
Personally, I love involving parents in any of these fundraisers, especially when parents get to invest in other kids besides their own. This helps build mentor relationships where kids feel like they have a whole "village" of parents who are investing in them in numerous ways.
So how about you? How have you raised money?
FOR MORE ON MINISTRY AND MONEY, CHECK OUT THIS ARTICLE, WHEN THE MINISTRY BUDGET ISN'T BIG ENOUGH