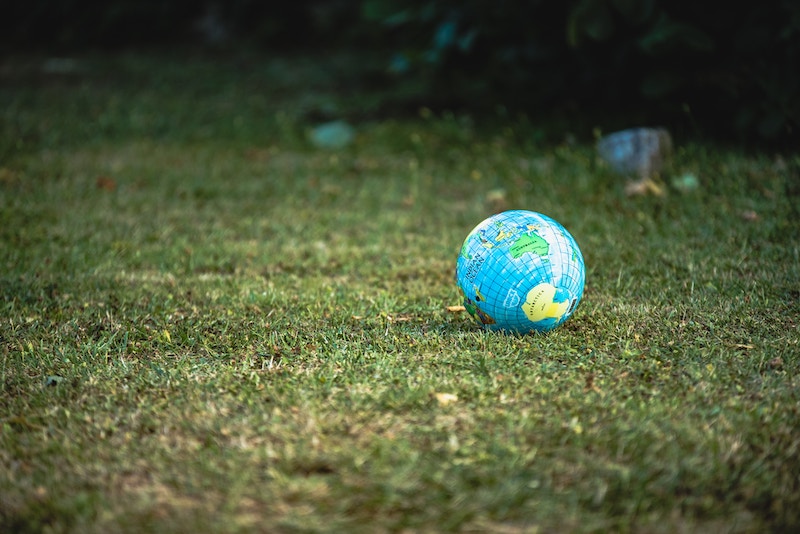 Here are several games you can play with an earthball (also called cage balls) or you could have an "Earthball Theme Night" and play them all.
Where to find an earthball: Once upon a time, they could be ordered from a place called Gopher Sports at (800) 533-0446. Ask for a 72″ cage ball. We are told that the earth (cage) balls from Gopher have a 100% satisfaction guarantee.
Here are a couple of websites which sell them as well – again, look for the 72″ cage ball, with the cover. Sometimes covers are sold separately (I've never purchased from these places; purchase at your own risk).
Shape Up Shop.com Click Here. Once on this site go to the bottom of the screen and select "Kids and Games" and then choose "Giant Cage Balls."
Earth B-ball:
Staff hold earth ball in the air until the start. There are 2 Staff referees. Students try to push/hit earth ball to backboard or rim. Send kids to "penalty bleachers" for 60 seconds if they grab the earth ball or kick.
Earth Crab Soccer:
Same as above only in crab position and with a staff person on each sideline, knocking the ball back into play. Send kids to "penalty bleachers" for 60 seconds if they stand up or sit up at all!
Steal the Earth:
Line up each team on sidelines and number them. Call numbers and they try to push/hit the ball to the designated open wall. A staff person must hold earth ball in the air after a number is called until students reach it.
Dodgeball:
One staff person patrol the side lines – control people actually sitting out!
Also, see Death Ball (Click Here) and Dodgeball Dragon (Click Here).