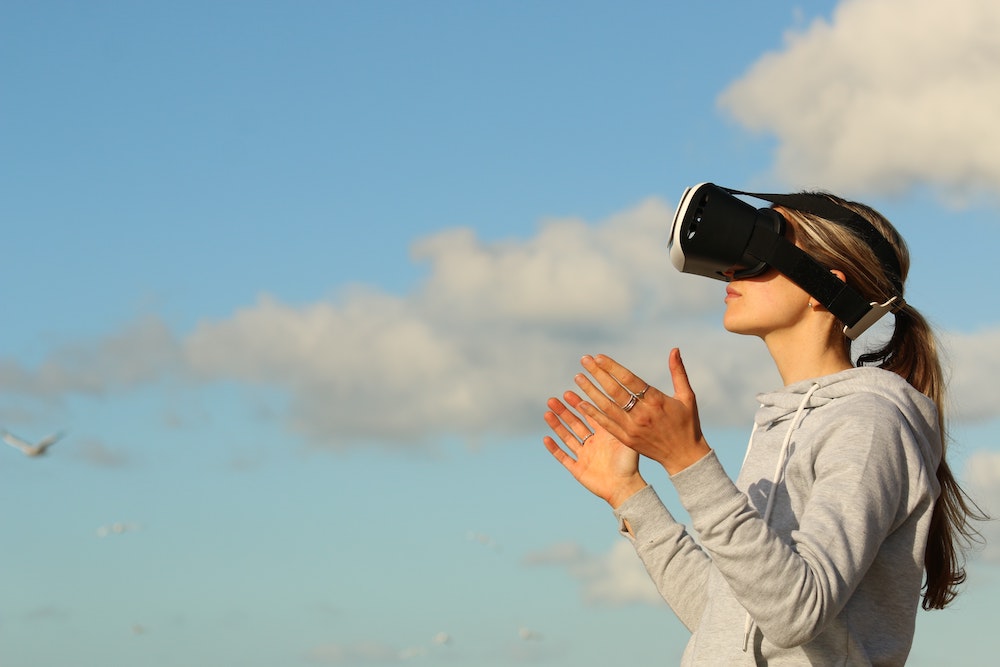 Main Point:  In a world where virtual options have caused physical church attendance to appear less necessary, what does it look like for a person to engage with the church in a way that will lead to genuine spiritual growth?
The Discussion Starter: Comedian John Crist has risen to fame over the past several years thanks to his keen ability to poke fun at the Christian subculture he has been raised in. Despite causing some offense, Crist is incredibly popular in churches and even toured with Winter Jam in 2018.
In this video, Crist demonstrates virtual reality church in a hilarious way as he mocks the convenience and ability to cater the worship experience around the user. While this idea may seem far-fetched, a story in Wired magazine shows this idea might be a real thing in the not too distant future.
The question raised in this funny video is whether or not a person can participate in church without physically attending services. As online options continue to abound, has the definition of engagement changed when it comes to being part of the local church or the overall body of Christ? Here is a helpful article from Relevant magazine on this topic that might be useful for your discussion.
The Video Clip:  This clip is available online at the following link: https://www.youtube.com/watch?v=R_bkNkrWdz8&feature=youtu.be
Transitional Statement: While John Crist is using his comedic talents in this video to entertain, the question of virtual church is an interesting discussion. Are the abounding online options that make church more accessible useful tools? Or is it necessary for a person to be physically present in a church for them to truly grow in their faith journey?
Divide into Small Groups:  Let's go ahead and split up into our discussion groups, and then afterward we'll come back together for a final word.
CLICK HERE for a quick training article on how to maximize your small groups using our small group format – a great resource to equip your small group leaders.
Discussion Questions: 
AROUND THE CIRCLE: What is the funniest video you've seen online?
ASK A FEW: What was one part of this video that made you laugh?
ASK A FEW: Have you ever watched an online worship service? Talk about what you thought was good about your experience and if there was anything you thought was missing?
ASK A FEW: Why do you think online options have become increasingly popular over the past several years?
ASK A FEW: What is the difference between being a consumer in church and being someone who participates?
ASK A FEW: What does it look like to engage in the church? What are some specific ways you personally have engaged in church?
ASK A FEW: Is there a difference between attendance and engagement? Can you attend but not engage? Can you engage without attending? Give your thoughts on this.
Read the following passage:
Acts 2:42-47  
42 They devoted themselves to the apostles' teaching and to fellowship, to the breaking of bread and to prayer. 43 Everyone was filled with awe at the many wonders and signs performed by the apostles. 44 All the believers were together and had everything in common. 45 They sold property and possessions to give to anyone who had need. 46 Every day they continued to meet together in the temple courts. They broke bread in their homes and ate together with glad and sincere hearts, 47 praising God and enjoying the favor of all the people. And the Lord added to their number daily those who were being saved.
ASK A FEW: This passage shows the start of the church, right after the Holy Spirit had come. Jesus had ascended into heaven, and the apostles were following His call to make disciples. From these verses, how is the church today different from what is described here?
ASK A FEW: What are the specific ways believers engaged with God and others in these verses?
ASK A FEW: In these verses, how often did believers meet together? Why do you think they did this?
ASK A FEW: How do you personally grow spiritually? What spiritual disciplines are done alone and which ones need others involved?
ASK A FEW: What would it look like for you to engage with God and the church the way the believers in this passage did?
Wrap Up:
During this time, we discussed the idea of virtual church and whether or not physically attending church is necessary for a person to grow spiritually. Online options abound and the virtual reality option might not be too far away. When we consider this, we would greatly benefit from taking time to make sure we understand the best way to utilize these helpful tools. 
As we have discussed during this time, engagement is the goal – and not attendance. It's possible to attend something and not engage (I mean, have you ever been to a middle school band concert?) but you cannot engage in something if you don't show up. Does attendance matter? Sure, but only as it relates to engagement. 
In the passage we looked at from Acts 2, we see believers devoting themselves to teaching AND fellowship. They broke bread (ate) together. They prayed together. They were together, meeting daily. It wasn't just about showing up, but it was about what they did when they were present. 
Smart phones and other technology have put us in a position to consume content at an unprecedented pace. While we should consume teaching from a church, we should not do that without engaging in what we are being taught. Worship is meant for us to participate as we respond to God for who He is and what He has done. Prayer requires us to be present with God and at times with others. Fellowship is literally impossible without being present with others. 
Does this mean virtual options are bad? Not at all! Besides being an incredible way to engage when you are sick, travelling, or otherwise unable to attend – consider the accessibility of the church to outsiders. The front door to a church is no longer a building where you get more handshakes than a groom in a wedding receiving line. The front door can be the virtual option, but the goal is always engagement. 
Let's be people who show up, but more importantly let's be people who engage. Sure God is present in your private space, but He is active and working in this world and inviting you into it to take next steps in your faith. The goal isn't perfect attendance, but regular engagement. Let's close our time praying that we would be people who engage with our great God, His mission, and His people.
Close in prayer together. 

Rob Chagdes
Rob Chagdes is one of the pastors at Prairie Lakes Church in northern Iowa. In the years since he met Jesus as a sixteen year old, Rob has spent his life working to raise up the next generation to love God and invite others into His unending story. He spends most of his free time with his wife Leslie, their three amazing daughters, and their energetic dog Jedi. You can reach Rob at chagdeswrites@gmail.com .