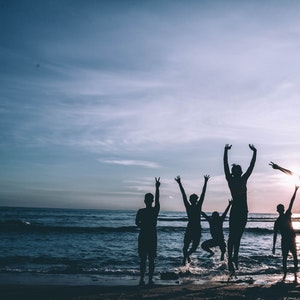 This is an outreach event that is a ton of fun. Here's what you do.
Advertise this event as "The Hook Up". Do this by printing up flyers with the date, location, and other important information with a picture of a fish hook. (You might also want to print Matthew 4:19 on it somewhere.) Now give every student in your group several of the flyers to pass out to their friends. Warn your students that its going to be a long day, but one filled with tons of different kinds of fun!
Make sure you pick a body of water that's relatively close to you that ALSO has a decent sized park with a shelter/bathhouse/deck/etc. On a prearranged day, students will meet at the park to fish, swim, water ski, and play on the beach together. (Make sure to have stuff for landlubbers to do, like volleyball, Frisbee, football, etc.)
After having all the fun that can be had in the daylight hours, have a cookout for the students and the friends they invited that night. It's also really cool to bring along a few acoustic guitars. They work really well for outdoor worship "jam sessions". You might also toss in a well-thought out, but short evangelistic message. If your budget can afford it, consider doing a few giveaways that are related to the day.
Finally, to cap off a day spent in the sun, load up and go out for ice cream before heading back to the church (or homes).
NOTE: This event can easily be done in conjunction with other youth ministries. Just make sure that everybody has the same information. This helps to spread out costs over several churches, instead of just one.
Idea by Tonya B.