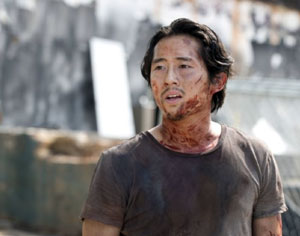 When I was a kid, television was full of certainty. I always knew that the A-Team would save the oppressed and teach the bad guys a lesson. I always knew that Perry Mason would win the case. In Star Trek, if there was a guy on the "away team" (not named Scotty) wearing a red shirt, you knew he was dead meat. Kirk, Spock and McCoy never had to worry about anything as long as one of those "red-shirts" were with them. Those were the rules, and no television show ever tried to break them.
But times have changed. With shows like The Walking Dead, it is hard to remember a time when certainty reigned, especially in an episode like tonight's. On Talking Dead (The Walking Dead after show), Executive Producer Scott Gimple admitted that the theme of tonight's episode was "uncertainty". While we have commented in this column many times that this is an overarching theme of the show, I have to admit that tonight's episode seemed to give it to us in spades.
Right off the bat, we are finally given answers to one of the biggest cliffhangers in the history of television. Forget "Who Shot J.R.?" (am I dating myself?) Glenn is alive! The Internet is going crazy and poor actor Steven Yuen can finally come out of hiding and talk about his ordeal. It turns out that he did slip under that dumpster (Jonathan called that one on the nose in his comments two weeks ago) and all of the guts we saw were Nicholas'. The last three weeks though have been serious 'nail biters' because we honestly had no idea what would happen. This show has been, from the very beginning, extremely unpredictable. Even readers of the comics have been surprised many times. So Glenn's survival is not only a relief to me (and most of America it seems) but I understand that it could be very temporary. The reason? This show excels in uncertainty.
Just look at what happens tonight. Enid pulls a gun on Glenn while he is just trying to help her. Rick saves Spenser during his ridiculous high wire act instead of using it as a distraction and making another attempt to draw the herd away from Alexandria. Reverend Bob puts up prayer vigil posters, just to have them ripped down casually by Rick. Morgan gets caught trying to get a wolf medical attention. Eventually this leads to a discussion about Morgan's newfound mantra "all life is precious." Michonne's nuanced response is that "it just isn't that simple." Rick takes the time to teach Ron how to shoot, but he (very wisely) still won't give him bullets. However, Ron does manage to steal some ammunition (does he really know which bullets go in that gun?) and clearly looks like he is about to smoke Carl. And all of this happens while a building next to the wall creaks quietly, ready to give way any minute.
At one point in the show, Enid has just informed Glenn that Alexandria has been attacked by men (she doesn't mention much about them, is she a wolf?), exasperated, she says "What's the point? The world is trying to die. We're supposed to just let it." Glenn replies optimistically "We're not supposed to let the world die, and I sure as h*ll am not going to let you die," The uncertainty of their future is weighing heavily on Enid, but this attitude doesn't seem to be affecting just her, it seems to be affecting everyone.
Glenn's wife Maggie, meanwhile, is feeling desperate and confused because she has no idea about Glenn's fate. While the rest of America knows that he lives and is trying to get a signal to her, she is feeling particularly depressed. She is pregnant and terrified at the prospect of raising this child alone. She manages to point out to Rick that Judith looks a lot like Lori, the long dead mother of the child (Rick seems a little miffed that there is no mention about the child looking like him. More uncertainty here?).
At the end of the episode, Maggie finally gets the signal that she is waiting for, a small bunch of green balloons released just outside the wall. If this show had been made in 1980, this would have been the end of the episode. But that is not how things work in this uncertain universe. In The Walking Dead universe, this is the exact moment that the creaking building falls and breaks down a huge section of the wall with thousands of walkers outside… a whole lot more uncertainty! And this is where the episode ends.
While America is excited that Glenn is alive, we now have to wait another week to find out what else can go wrong on this day that we have been living in all season long. Is this the end of Alexandria? Will Abraham use some of those rocket launchers and the gas truck to start a fire that will draw more walkers away? We have no idea, because The Walking Dead universe is almost completely unpredictable.
Most of us watch television to escape momentarily from our everyday existence. Some of us even watch The Walking Dead as a form of escapism. For me, it actually is a reminder of how good my life is. When my wife leaves the house, I don't worry (much) about whether she is going to come back alive. However that doesn't mean that real life is always certain. Just ask anyone who was in Paris during the attacks last week. While my life is not nearly as chaotic as the lives of the characters on the show, it is still much more uncertain than the lives of the characters on the shows of my youth. What The Walking Dead has done is to remind us of part of the uncertainty that we all live in. We can try to keep everything in our life under control, but no matter what we try, we can never control all of it.
The scriptures teach this constantly. Just a brief view of the stories of the Old and New Testaments reflect this over and over again. Joseph ends up in a well, sold into slavery by his brothers. Daniel ends up in prison, then in a Lion's den. David ends up running for his life, pursued by a jealous king. Jesus ends up on a cross, denied and betrayed by his own followers. And these things happen to the heroes of the bible.
It is important to point out that the bible does teach that some things are certain. It teaches that there is a God, that He lived among us as a man named Jesus, that He was crucified and that he rose again because He loved us. These things are all certain, but they do not guarantee certainty in the rest of our lives. What they guarantee is hope.
In Matthew chapter 6, Jesus is talking about the problem of worrying. He tells his followers that we are to not worry and seek the kingdom first (6:33). But then he finishes this section of the sermon on the mount by saying:
"So don't worry about tomorrow, for tomorrow will bring its own worries. Today's trouble is enough for today." (6:34 NLT)
Jesus tells us that tomorrow is going to have its own worries, and that focusing on that doesn't help us to deal with our worries from today. You see, He is saying that worries are a part of life, and they always will be a part of life, because life is basically uncertain. However, the follower of Jesus can face this uncertainty with a whole different perspective because Jesus is the author of hope. His work on the cross is not only what gives us hope for the future, but it is what gives us the perspective to make it through the worries of today.
SEASON 6, EPISODE 7 DISCUSSION QUESTIONS:
1) Michonne seems to now believe that unity is going to be important in Alexandria. Do you think that Alexandria is ready for some unity?
2) Enid says that "the world is trying to die". Do you agree with her assessment of what is happening? Do you think the show is saying that the zombie apocalypse is the end of the world or a new beginning?
3) When Enid gives Glenn her last water, does this remind you of something Glenn would do? Did Glenn do similar things for Rick in the first episode when he was in the tank?
4) Do you agree with Michonne that the phrase "all life is precious" is more complicated than Morgan seems to think it is?
5) Is absolutely everything uncertain on The Walking Dead? Explain.
6) What is uncertain in our own lives?
7) What is certain in our own lives?
8) What are some effective strategies in dealing with uncertainty?
Thom McKee Jr. is a husband, father, pastor… and film geek (and brother of Jonathan McKee). Thom lives in Northern California with his wife and two kids.