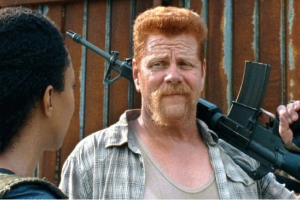 If you are a Christian and you are reading this column, chance are you have been asked this question: "How can you possibly watch a show about zombies?"
The question usually comes from someone who has never even watched the show, or for that matter, watched any television show or movie with zombies in them. If you're young, maybe you have even been asked this by your parents or your youth pastor.
My wife used to be one of those who asked this question.
I have many responses to the question, but my favorite response is usually, "This show is not about zombies; it is about finding hope in the midst of chaos. The zombies could be replaced with monsters, wild aggressive animals, or attacking aliens, and the show would still be almost exactly the same."
But even that answer doesn't really convince people. I believe the reason is that most people just assume that the show fits most accurately in the horror genre, and the people asking the question really don't like horror.
My wife also fits neatly into this category – she just hates horror movies.
So I did what many of you have done. I just showed her the first episode of The Walking Dead… and three things happened:
She understood immediately why I like it.
She also realized that this show doesn't fit exactly into the horror genre like many assume.
She's now a fan of the show.
The Walking Dead is sheer genius – it defies so many logical film stereotypes. And this week, more than most, I think that we are seeing how the show plays with form and crosses genre boundaries in a way and to a degree that other shows can't.
This week The Walking Dead was a Western.
Just think about it. The episode was about a fortress town under siege by "savages" (zombies) and bandits (the saviors) who are just trying to create their own space in the midst of chaos. The bandits are extorting the townsfolk into giving up half of their supplies in exchange for protection. Fortunately, the gunfighters (Rick and the gang) come to town and convince them to let them destroy the bandits in exchange for some food and supplies. This is, more or less, the plot of The Magnificent Seven, a classic film in the genre. This is also the plot of The Seven Samurai, the film that the Magnificent Seven is based on. Akira Kurosawa, the director of The Seven Samurai admitted that he made the film because he was a fan of the American Western genre. Any way you look at it, this episode has deep roots in the American Western. It's been done countless times (Anyone see The Three Amigos?). Even the banjo-infused score reminds us of this throughout the episode.
This week, Jesus (his name setting up many more obvious jokes), brings the gang into the Hilltop Colony where he explains that their "world is about to get bigger." This is the first time that they realize that there are many more colonies out there like Alexandria, and this might be their opportunity to help forge some sort of civilization. This is clearly the trajectory of the show (for now). But the saviors, a group that Abraham, Daryl and Sasha met in the first episode, are a major barrier to their plans.
Their leader, Negan, has a habit of killing one person in any group he meets "right off the bat" (readers of the comic will notice the double meaning) just to show them that he is serious. So Rick and the gang decide that they can help out by eliminating this threat that they know very little about. And let's face it—Rick's group is stronger than ever. The weak links have either been eliminated or have stepped up during the herd attack in episode 9. Rick finally has a girlfriend that he doesn't have to protect. (My favorite scene in this episode was when the woman punches Rick and Michonne knocks her down like she is her little sister's school bully. She simply says "don't!") Here we get to see Maggie turning into Deanna when she expertly negotiates with Gregory, and Daryl is more focused than ever. The team seems as ready for conflict as they ever will be.
Up to this point, however, Rick and company are used to reacting to threats. But this time, they are going to actively hunt for the saviors and try to eliminate them. (I hope that they have a few more rocket launchers!)
Most of us suspect that the plan won't be as easy as they expect, and that Maggie is right when she says there will be a cost. If the show follows the comics here, Maggie is not wrong.
One of the big themes in this episode is about settling. I use the word settling, not in the modern colloquial sense where it means choosing the mediocre option. I use the word as it is used in the Western genre. In Westerns, the protagonists are usually called "settlers" – people who are looking to find a piece of land to settle in. They are looking for a place to call home and a place where they can be left alone to raise a family and work the land peacefully.
At one point in the episode, Abraham is alone with Daryl, and he asks him, "You ever think about it? Settling down?" Of course Abraham has been conflicted because of his precarious love triangle with Sasha and Rosita. He is wondering if Rosita is the kind of girl that he can "settle down" with. He also suspects that Sasha may be better suited to "settle down" with because he hears her voice in his head at a time he is facing death. However, Daryl isn't having any of it when he responds, "You think any of this (expletive) is settled?" Daryl just isn't convinced that the world is stable enough for any "settling".
The episode ends with Maggie and Glenn getting an ultrasound photo of their baby and passing it around the RV as they drive away from the Hilltop Colony. Glenn looks like a proud father, and the rest of the team look excited for the couple. But the look on Abraham's face is a little different than we would expect. What we see here is the look of hope – a hope that maybe he too might carve out a future for himself without loss and death, but rather filled with love and life.
For the last two weeks I have seen hope in the midst of hopelessness firsthand.
My brother Jonathan wrote the two previous posts for this blog because I was traveling in Africa. I brought a team from our church (I am a pastor) to work with some rural villages in Uganda where we did medical training, agricultural consulting, women's and children's Bible studies, and pastor's training. I just arrived home last Thursday and am knee deep in jetlag right now. This was my second time in Uganda, and once again, I was reminded of some of the extreme poverty in that country and around the world. Most of the people that we worked with live on under a dollar a day. They truly live hand to mouth. Many of the people we encountered have seen entire generations wiped out through disease and brutality of war. They live very hard lives and most of them are trying to find a place that is safe where they can "settle" and raise their families. Unfortunately, many of them are unsuccessful at this.
While it is hard for me to begin to understand what it is truly like living in extreme poverty and life or death uncertainty, I can say that the most moving thing I have seen in Uganda is the hope that many Africans have found in Jesus. While we were directly involved in trying to help them with many of their economic problems, I can say that the most powerful thing we saw and heard were testimonies of hope, peace and joy, found only in Jesus Christ.
A verse that many Ugandans shared with me comes from 1 Peter 1:3-6. It says,
"Praise be to the God and Father of our Lord Jesus Christ! In His great mercy He has given us new birth into a living hope through the resurrection of Jesus Christ from the dead, and into an inheritance that can never perish, spoil or fade. This inheritance is kept in heaven for you, who through faith are shielded by God's power until the coming of the salvation that is ready to be revealed in the last time. In all this you greatly rejoice, though now for a little while you may have had to suffer grief in all kinds of trials." (1 Peter 1:3-6, NIV, emphasis mine)
As many Ugandan Christians told me, the real source of hope for them comes because of what Jesus did on the cross. Peter says in these verses that this is a hope that will never "perish, spoil or fade." He calls it a "living hope" because it is a hope that will never die. It is literally our salvation from death. Many Ugandans shared testimonies with me about how this hope got them through all kinds of trials, including the deaths of loved ones. They would be the first to admit that they don't know how they would have made it through these kinds of trials without such a hope.
One of the reasons I love the Western genre is because it is usually about finding hope in difficult circumstances. This is one of the most basic human endeavors. I believe that people, deep down, are all looking for hope in all kinds of things. We look for it in economic and political security, romantic love, family, vocation, education or diversion and entertainment. Many of these things are great, but none of them are permanent. And most importantly, none of them can substitute for the "living hope" that we can find in Jesus Christ.
SEASON 6, EPISODE 11 DISCUSSION QUESTIONS:
1) Abraham is in (what appears to be a fairly casual) sexual relationship with Rosita, but he is dreaming about a relationship with Sasha. Do you think that it is wise to be in this type of relationship with Rosita?
2) Do you think the fact that Abraham is in this kind of relationship with Rosita will affect the possibility of a relationship with Sasha? (And does this predicament shed any light on last week's discussion?)
3) How do you think Rosita is going to react to Abraham if he tells her what he is actually thinking?
4) If Abraham is thinking about "settling down", how will his current behavior possibly affect that?
5) Do you think that Maggie and Glenn's ultrasound picture of the baby provides a sense of hope for them? For the team? Why?
6) In what ways do you find hope in your life? Does it matter what you put your hope in?
7) Would you look at hope differently if it was a hope that could "never perish, spoil or fade?"
8) How do you think that hope in Jesus Christ can help us "rejoice greatly" even when we have had to "suffer grief in all kinds of trials"?
Thom McKee Jr. is a husband, father, pastor… and film geek (and brother of Jonathan McKee). Thom lives in Northern California with his wife and two kids.