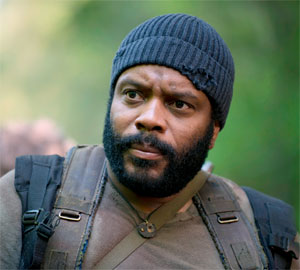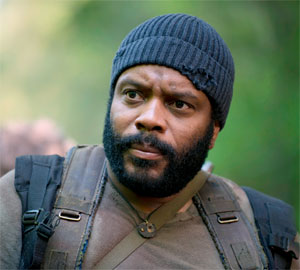 It's the second biggest episode of the year—the midseason premiere—and it started (SPOILER ALERT) with us losing yet another beloved character, Tyreese.
Sadly, Tyreese had stepped up into the role of "moral compass" for the show. First Hershel, now Tyreese… who's next?
It's intriguing that this show was the mid-season premiere, because in it's own poetic format, it paralleled Season 5, Episode 1 where Tyreese debated with Martin about the moral decision to save baby Judith. Now, as Tyreese is bleeding out and hallucinating, Martin returns to argue the point further.
"I tried to tell you man. It was going to be you. You're the kind of guy who saves babies. Do you think Gareth would have been able to follow you guys if you didn't just put a bullet in my brain and cut me up like your sister did?"
As Tyreese's life is fading away, he begins reflecting on his choices; and Tyreese had made some difficult choices recently, choices with huge ramifications to follow. But he couldn't help but wonder. Were they right?
What would that look like with you?
That's the amazing thing about this show, in all it's imperfections, it makes you constantly ask, "What is right?"
As Tyreese sits there, bleeding out, waiting for help, he engages in a dialogue with the people from his past, even facing accusations like, "The bill has to be paid!" Tyreese, the current pacifist in the group, began wondering, How do I know I did what is right?
So how do we know what is right?
How do we know the choices we make right now are preparing us for eternity?
Jesus answers that question in His sermon on the mount.
Read the following passage from scripture:
31 "So don't worry about these things, saying, 'What will we eat? What will we drink? What will we wear?' 32 These things dominate the thoughts of unbelievers, but your heavenly Father already knows all your needs. 33 Seek the Kingdom of God above all else, and live righteously, and he will give you everything you need.  (Matthew 26:31-33, NLT)
It's fascinating how relevant this scripture is to Tyreese's situation. Tyreese lives in a world where everyone is worried about where the next meal is coming from and where they will sleep tonight. In these situations, people's values begin to rise to the surface. People begin to make decisions based on some inner moral code (something we talked about in the previous episode).
What is your moral code?
Where can we seek this kind of wisdom?
SEASON 5, EPISODE 9 DISCUSSION QUESTIONS:
1. Why did Tyreese say, "Me first" when he and Noah entered the house together? Describe Tyreese's moral code.
2. Why is Tyreese seeing all these visitors from his past?
3. These visitors seem to be arguing different sides. What do you think Tyreese is questioning?
4. Did Tyreese choose poorly by sparing Martin (a question we already wrestled with in Episode 1 this Season)?
Read the Matthew scripture above once again.
5. What does Jesus tell us to seek above anything else? What does it mean to live for His kingdom? (to live for eternity instead of for the temporary)
6. What did Jesus mean when he said, live righteously?
7. What does "seeking his Kingdom" and "living righteously" look like in your life?
8. Where can we learn more about this kind of living?
9. What did Jesus mean when he said, "he will give you everything you need"?
10. What is something you can do this week to pursue his Kingdom and living righteously?