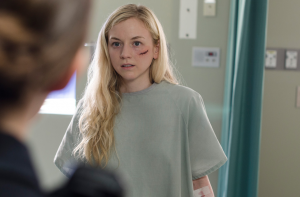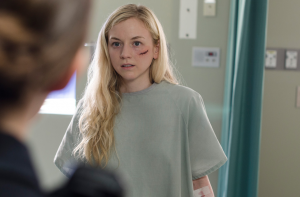 Beth is back, and she wakes up in a hospital bed in a scene all too familiar (Season One, Episode One). But Beth isn't free to walk out the front door and go find her friends, because she's held captive by an entirely different type of evil.
Enter Dawn, Gorman, and Dr. Edwards stage left.
Cops, a doctor, a clean hospital… sounds like a dream come true compared to what Beth has experienced since the dead began walking the earth, right?
Wrong.
Because within minutes Beth discovers "you owe us." The corrupt (and creepy) Gorman spells it out just moments later. "Everything costs something, right?" And Beth is locked in the hospital with these pervs and psychos seemingly indefinitely.
In the midst of all these janky cops, Dr. Edwards shows signs of amenity. At least until he prescribes the wrong medication for one of his patients, killing him. Beth realizes the med mistake wasn't a mishap. Putting two and two together, she confronts Dr. Edwards.
The scene begins about 50 minutes into the show (including commercials).
Beth: How did you know that Trevitt was a doctor?
Dr. Edwards stops in his tracks, surprised she knew. She continues.

That's why you had me give him the wrong meds, right? Why you had me kill him? Because if he'd lived there'd be another doctor and Dawn wouldn't need you. She wouldn't protect you.
After a pause, Dr. Edwards speaks slowly.
Dr. Edwards: Trevitt was an oncologist at St. Ignatius. I knew him.
He turns to Beth, noticeably shook up.
They would have kicked me out. Maybe Gorman. Maybe he woulda killed me out. I didn't have a choice.
Beth: Use everything you can use.

Dr. Edwards: Looking at his painting. When they arrested Christ, Peter denied being one of his disciples. He didn't have a choice. They would have crucified him too.
SEASON 5, EPISODE 4 DISCUSSION QUESTIONS:
1.  Why did Dr. Edwards kill Dr. Trevitt?
2. Was he right to do so?
3. Why do you think he compared himself to Peter? Is that a fair comparison?
4. Did Dr. Edwards have a choice?
5. Why was he acting so ashamed when Beth caught him?
Read the following passages from scripture:
The integrity of the upright guides them,
but the unfaithful are destroyed by their duplicity. (Proverbs 11:3, NIV)
6. What is integrity?
7. What does this verse mean, "the integrity of the upright guides them"?
8. Why is integrity important?
9. Give an example of how "the unfaithful are destroyed by their duplicity."
10. Read Luke 22: 54-62. Why did Peter "weep bitterly."
Dr. Edwards had a choice.
Peter had a choice.
You have a choice.
What will you choose, the road paved with duplicity and selfishness… or the path of integrity?
What does that look like for you this week?