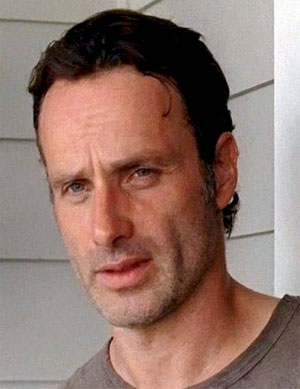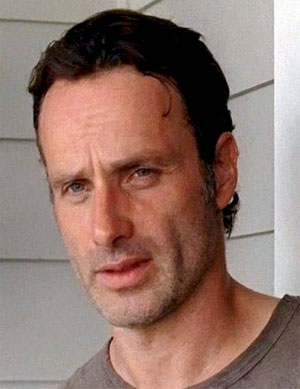 Who you are matters.
That's what we're learning this week, as former Congresswoman Deanna is discovering people's strengths and assigning them relevant positions.
This week was quite a transition for The Walking Dead fans. One minute Rick and his friends are nomads starving for a drop of water, the next moment they're taking showers, getting haircuts and sleeping on a bed. (Except for Daryl, of course. Homie really needs a shower!)
The episode brings up some interesting discussion elements:
Is Deanna trustworthy? (Is any congressperson trustworthy, for that matter?)
Is Carl right, are they going to get weak if they get used to this lifestyle?
And finally, is Daryl ever going to shower?
It was intriguing to see some of our favorite The Walking Dead characters begin to find their fit in this new community. Rick puts on the cop uniform once again. Glenn goes out on a supply run (and discovers how inept this group is at surviving outside the walls), Carol puts on house clothes and begins cooking meals. Each of them begins using the skills they have to contribute in some way. Deanna is at the helm of helping people discover what it is they have to offer.
We saw our first glimpse of this when Rick was being interviewed by Deanna the first time:
Deanna: I was a congressperson, Ohio, 15th district. You?
Rick: I don't think it matters any more?
Deanna: Oh, I know it does…
They talk a little more about the community.
Rick: You put up the wall?
Deanna: Well, there was this huge shopping mall being built near by. And my husband Reg is a professor of architecture (she leans in closer), and who he was mattered quite a bit.
Does it matter who Rick was?
Do we all bring something to the table?
SEASON 5, EPISODE 12 DISCUSSION QUESTIONS:
1. Do you trust Deanna? Why, or why not?
2. Why do you think Deanna is interviewing everyone?
3. What did Deanna's husband used to do? How did that help the group?
4. How can Rick's strengths help the group?
5. What do you think Deanna would discover from you? Where might she assign you?
In the same way, God can use us to make an eternal impact in His Kingdom. Paul talks about this a little bit in I Corinthians, Chapter 12:
Read the following passage from scripture:
12 The human body has many parts, but the many parts make up one whole body. So it is with the body of Christ. 13 Some of us are Jews, some are Gentiles, some are slaves, and some are free. But we have all been baptized into one body by one Spirit, and we all share the same Spirit.
14 Yes, the body has many different parts, not just one part. 15 If the foot says, "I am not a part of the body because I am not a hand," that does not make it any less a part of the body. 16 And if the ear says, "I am not part of the body because I am not an eye," would that make it any less a part of the body? 17 If the whole body were an eye, how would you hear? Or if your whole body were an ear, how would you smell anything?
18 But our bodies have many parts, and God has put each part just where he wants it. 19 How strange a body would be if it had only one part! 20 Yes, there are many parts, but only one body. 21 The eye can never say to the hand, "I don't need you." The head can't say to the feet, "I don't need you."
Then he wraps it up:
26 If one part suffers, all the parts suffer with it, and if one part is honored, all the parts are glad.
27 All of you together are Christ's body, and each of you is a part of it.
(I Corinthians 12:12-21, 26-27, NLT)
6. Give an example of when you've seen someone be like an ear who says, "I'm not important because I'm not an eye."
7. Why is human nature like this? Why do ears wanna be eyes, and eyes wanna be hands?
8. What are ways you sometimes struggle seeing your purpose?
9. What does it say we all are, in verse 27? What does that mean?
10. How do you think God wants to use you for good as an important part of his body?
11. How can you use that this week?