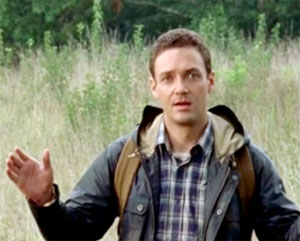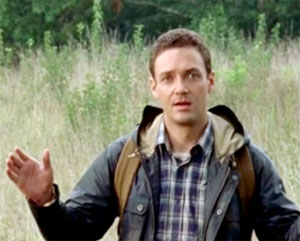 How should you treat others when you've been hurt over and over again?
That was the debate this week, so much so, that Michonne spoke up against Rick.
It all started with the arrival of Aaron, a friendly, surprisingly clean and kempt stranger with an RV full of food and supplies. Aaron is the show's first male gay character, which might create a bit of discussion for many who watch the show. Is that discussion relevant to the theme of this week's episode? Not really. So let me quickly say my piece and move on (because I know my readers are going to want me to address it).
I wasn't surprised at all when the show introduced a gay character. For one, the character is from the comic and I suspected he would make it to the TV show. Two, what TV show doesn't have a gay character today?
In a world with a growing number of people seeking out same-sex relationships, this is a subject that is definitely worth dialoguing about. And I address it candidly in my new book for teenagers, Sex Matters (In fact, I devote an entire chapter to answering the explicit tough questions that young people are asking about sex today). If you really want to dialogue about that issue, I encourage you to get a copy of that book and use the discussion questions at the end of each chapter.
The glaring issue during this episode was Michonne's confrontation of Rick. For the first time in 5 seasons, Michonne and Rick weren't seeing eye-to-eye. Michonne didn't disrespect Rick, by any means, but she did voice her opinion.
Rick was being cautious. After being hurt over and over again, Rick has definitely become slow to put his trust in others. His caution is because of his deep care for his family and his friends.
But in this particular instance his friends disagreed. Rick showed enough humility and care for the group to listen to what Michonne and others thought. They encouraged him to at least investigate the stranger's invitation.
Rick agreed.
One of the more intriguing conversations was between Rick and Michonne near the end of the episode. Michonne senses Rick's unwillingness to extend trust to others.
Michonne: The fight's over. You gotta let it go. I know it's hard. After it's kept you warm and fed… alive. But, the fight, it turns on you. You gotta let it go.
Rick: That's what Bob was trying to tell me back at the church: what to risk, when it's safe, when to let someone in. The rules keep changing.
Michonne: It did for me.
Things have changed on this show since the dead first starting walking the earth. Rick and his group have encountered more bad people on the road than good people. Rick's caution isn't unjustified.
But does extreme caution justify hitting strangers in the face when they invite us over for dinner?
At what point does Rick take this too far?
SEASON 5, EPISODE 11 DISCUSSION QUESTIONS:
1. Why did Rick hit Aaron?
2. Was he right?
3. Do you think Aaron is legit? Why?
4. Is Rick's caution justified? To what extent?
5. How should we treat others, even if we've been hurt again and again?
In the early chapters of my book, The Zombie Apocalypse Survival Guide for Teenagers, the two brothers Chris and Cody encounter a girl who tricks them and steals their supplies. The brothers get into an argument about how they should treat strangers from that day forward. They can't come to an agreement… until they read a passage out of the book of Proverbs:
Read the following passage from scripture:
6 For the Lord grants wisdom!
From his mouth come knowledge and understanding.
7 He grants a treasure of common sense to the honest.
He is a shield to those who walk with integrity.
8 He guards the paths of the just
and protects those who are faithful to him.
9 Then you will understand what is right and just
and fair—every good path.
10 For wisdom will enter your heart,
and knowledge will be pleasant to your soul.
11 Discretion will protect you,
and understanding will guard you.
(Proverbs 2: 6-11, NLT)
5. What does verse 9 say we will understand when we draw wisdom and common sense from the Lord?
6. Where is a good source of the Lord's wisdom?
7. How can we glean more of God's wisdom day to day?
In my book, the two brothers encountered another stranger the next day while hunting duck, another teenage girl named Chelle. Chris, the narrator shares about the experience:
"Another Proverb popped in my head. I think it was somewhere in Proverbs 25. It read:
If your enemies are hungry, give them food to eat.
If they are thirsty, give them water to drink.
We shared some duck with Chelle… and the rest is history."
8. How did Chris apply the Lord's wisdom to his situation?
9. If you were Rick, what wisdom would you apply to your situation?
10. How can you apply some of this wisdom to your life right now? What does that look like this week?