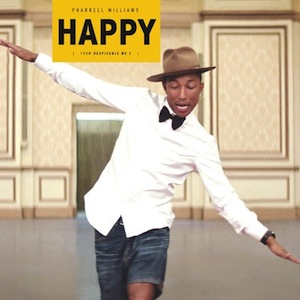 Main Point: It feels great to be happy…until the feeling changes…and sadly, it always will. While there is nothing wrong with happiness, joy is a much better pursuit.
The Music Video: Happy by Pharrell
Pharrell Williams, the man behind this summer's catchy groove, has finally stepped out front and center with his own major release in Happy. Williams, who's in his 40's but looks like he's still 17, has been in the music business for a long time. He's partnered with plenty of musicians across his career, and has even had major success as the featured or guest or accompanist. He's worked with the likes of CeLo Green, Daft Punk, and of course, Robin Thicke in 2013's Blurred Lines. Williams also composed the dark-but-funny theme song for Despicable Me.
But in Happy, Williams showed the world he has what it takes to be a first rate music star. The song is simply an anthem about the musician's (seemingly) unconquerable happiness. Unlike the music video for Blurred Lines in which Pharrell played a minor role, this music video is free of any gratuitous nudity, and the lyrics are clean.
Introducing the Song:
OK, by now, everybody knows the head-bopping tune by Pharell Williams entitled Happy. It's the unofficial "song of the summer" and it's on loop everywhere we go. The song is about the singer's seemingly unending happiness in life. Over and over again, he claims he's happy and that there's nothing that can change that. He even defies life to try to knock the happiness out of him. Take a look at the music video and follow along on the simple lyrics (if need be).
The Music Video:
The song's video can be found at the following link: https://www.youtube.com/watch?v=y6Sxv-sUYtM
Song's Lyrics:

It might seem crazy what I'm about to say
Sunshine she's here, you can take a break
I'm a hot air balloon that could go to space
With the air, like I don't care baby by the way
[Chorus:]
Because I'm happy
Clap along if you feel like a room without a roof
Because I'm happy
Clap along if you feel like happiness is the truth
Because I'm happy
Clap along if you know what happiness is to you
Because I'm happy
Clap along if you feel like that's what you wanna do
[Verse 2:]
Here come bad news talking this and that, yeah,
Well, give me all you got, and don't hold it back, yeah,
Well, I should probably warn you I'll be just fine, yeah,
No offense to you, don't waste your time
Here's why
[Chorus]
Hey, come on
[Bridge:]
(happy)
Bring me down
Can't nothing bring me down
My level's too high
Bring me down
Can't nothing bring me down
I said (let me tell you now)
Bring me down
Can't nothing bring me down
My level's too high
Bring me down
Can't nothing bring me down
I said
[Chorus 2x]
Hey, come on
(happy)
Bring me down… can't nothing…
Bring me down… my level's too high…
Bring me down… can't nothing…
Bring me down, I said (let me tell you now)
[Chorus 2x]
Come on
Transitional Statement:

While I certainly love Pharrell's attitude about life, I'm not quite sure I buy it. Don't get me wrong; I'd love for him to be right; I just don't think he is. He seems to think that happiness is unconquerable, but that's not what I see or experience in life. Even though it feels great to be happy, it's just a feeling, and feelings tend to change. In fact, they always change. There is absolutely nothing wrong with happiness, but joy is a much better pursuit. Let's spend a few minutes talking about the difference between the two and how we can actually have real joy in life.
Divide into Small Groups:
Let's go ahead and split up into our discussion groups, and then afterward we'll come back together for a final word.
CLICK HERE for a quick training article on how to maximize your small groups using our small group format—a great resource to equip your small group leaders.
Discussion Questions:
AROUND THE CIRCLE: As we get started, let's all take a second to share your name and what makes you happy.


ASK A FEW: What images does Pharrell use to describe his happiness in the song's lyrics and video?


ASK A FEW: Based on the lyrics, it seems that Pharrell believes his happiness is permanent. Do you agree or disagree, and why?


ASK A FEW: Have you ever chased after happiness (like in a relationship, or from an experience, etc.)? If so, what happened?


ASK A FEW: How much of your life is spent in a happy state? How much isn't? Why is that?


ASK A FEW: What are some of the things in life that can upset happiness?


ASK A FEW: Do you think God wants us to be happy? Why or why not?

Read the following passage:

Psalm 100:1-5

Shout for joy to the LORD, all the earth. 2 Worship the LORD with gladness; come before him with joyful songs. 3 Know that the LORD is God. It is he who made us, and we are his; we are his people, the sheep of his pasture. 4 Enter his gates with thanksgiving and his courts with praise; give thanks to him and praise his name. 5 For the LORD is good and his love endures forever; his faithfulness continues through all generations.
ASK A FEW: What do you think was going on in the mind and heart of the person who wrote this psalm? Why?
ASK A FEW: The writer of this psalm was clearly in a good mood. According to his psalm, what made him so happy?
ASK A FEW: In the opening line, the writer tells us to "shout for joy." What is joy and is it different from happiness? If so, how?
ASK A FEW: How is God described in this psalm?
ASK A FEW: Correct me if I'm wrong, but our happiness usually results from something we did – make a good grade, go on a date with someone, get a promotion, make the team, etc. But in this passage, it seems like the writer's joy was attached to who God was and what He did. Do you agree or disagree, and why?
ASK A FEW: How would our lives be different if we started pursing God's joy instead of man's happiness?
AROUND THE CIRCLE: What are some ways you can start striving for joy right away?
Wrap Up:

During our time together, we had a chance to listen to the catchy song from Pharrell Williams called
Happy.
It's a neat little song that can definitely put you in a good mood if you weren't already. In fact, I truly believe that Pharrell Williams was happy when he wrote it, when he sung it, and when he shot the video for it. But I'm just as certain that since that all happened, there have been moments when he's NOT been happy. Life has a way of sucking the happiness from you.
You don't have to take my word for it, though. You can look at your own lives to see that. You had plans with friends to spend the weekend together – you know, do happy stuff – but it rained for three days straight. Not too happy.
Maybe you had a great feeling about the test in math class, and had already thought of ways to celebrate, when you discovered you failed it. Again, not too happy.
Maybe you had a wonderful day at school, and were eager to get home and share it with your family, but your parents were in the middle of an argument and your older brother was being a jerk. Not happy.
Here's the deal about happiness: it can be fleeting. It's a feeling and feelings change. There is nothing wrong with being happy, BUT if we chase after happy, all we're doing is chasing after an emotion, a feeling that we know is going to change. On the other hand, God is eternal. He doesn't change, never has and never will. The joy that He gives us is much more lasting than the happiness we build for ourselves.
Joy doesn't mean we're happy. Ironically, we can have a lot of stuff go wrong in life and STILL be joyful. For instance, if we give sacrificially to someone in need, and have little for ourselves, we can be overjoyed by that reality. If we get sick, we can still have the joy that comes with trusting in God for healing. Joy brings with it hope.
For all these reasons, I strongly suggest you search for God and the joy He offers. It is much more lasting because it comes from God. Let's pray and ask God to help us pursue Him so we can have joy.
Close in Prayer
Written by David R Smith