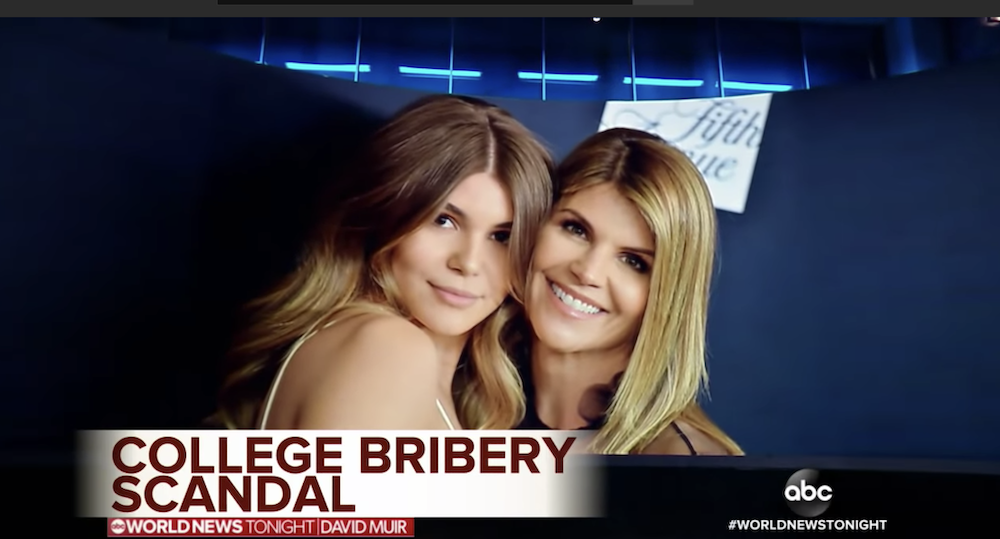 Main Point:
Integrity is built over time, but can be lost quickly, and often things done in darkness will come to light.
The Discussion Starter:
This news report captures some consequences for Full / Fuller House actress Lori Loughlin and her daughter Olivia Jade Giannulli due to the college admissions bribery scandal. Both have lost work opportunities and sponsorships due to the allegations that Loughlin and her husband bribed their daughter's way into the University of Southern California. In addition, it captures stories of some students who were impacted by their choices.
This story has raised a lot of discussion about privilege and fairness as many students work hard to gain admission into various universities, while here we see many who were admitted due to bribes and dishonest schemes. Lori Loughlin has been a respected actress for many years, and her daughter Olivia Jade is a social media star with nearly two million YouTube followers. It seems at this point their character is forever marred by these choices, and it is unlikely they will ever again be able to achieve the platforms they once had.
The Video Clip:
This clip is available online at the following link: https://www.youtube.com/watch?v=QMVlVX59fFc
Transitional Statement:
Lori Loughlin had a reputation as a cool TV mom, and Olivia Jade had a strong social media following. Their reputation was destroyed by these allegations proving that integrity can be quickly lost. They made some decisions in darkness that came to light raising the question of what this means for you and me. While we likely were not impacted by their decisions, let's take some time to talk about integrity and why God tends to keep things from being hidden forever.
Divide into Small Groups:
Let's go ahead and split up into our discussion groups, and then afterward we'll come back together for a final word.
CLICK HERE for a quick training article on how to maximize your small groups using our small group format – a great resource to equip your small group leaders.
Discussion Questions: 
AROUND THE CIRCLE: Had you heard of this scandal before? What were your thoughts when you first heard about it? (even if you first heard about it just now)
ASK A FEW: Had you heard of either Lori Loughlin or Olivia Jade before? What were your impressions of them?
ASK A FEW: What about this scandal do you think has caused so many people to be upset?
ASK A FEW: Do you think either Loughlin or Olivia Jade will ever be viewed as people of integrity? Explain why you think the way you do.
ASK A FEW: Why do you think things done in darkness seem to be so often brought into the light? How does this impact the way you think about your own life?
ASK A FEW: What would you say to one of the people who were impacted by this scandal, such as those mentioned in this video?
ASK A FEW: Looking forward about five years, do you think this scandal will be forgotten, or do you think this will stay with Loughlin and her family for a long time?
ASK A FEW: What are some other ways you and I can compromise our integrity, even in ways that nobody might ever know?
Read the following passage:
Proverbs 11:3
The integrity of the upright guides them, but the unfaithful are destroyed by their duplicity.
Luke 12:2
There is nothing concealed that will not be disclosed, or hidden that will not be made known.
ASK A FEW: What do you think the writer of Proverbs means in 11:3? How do you think that applies to this situation?
ASK A FEW: Why do you think God gives us warnings like he does in Proverbs 11:3?
ASK A FEW: How is a person guided by their integrity? Share some ways you have seen this in your own life or the lives of others?
ASK A FEW: Read Luke 12:1-3. What is this passage talking about? How does it relate to the situation we've been discussing?
ASK A FEW: What do you think it means when it says everything will be disclosed and made known? How does that impact your life?
ASK A FEW: When we consider these verses and this situation, what are some things we can take way for ourselves?
ASK A FEW: What do you think Jesus would say to Lori Loughlin and Olivia Jade right now?
Wrap Up:
There are many videos that report the college admissions scandal, and this one focuses on some of the consequences of the choices made by Lori Loughlin and her family. It's really incredible to think how their family names are forever impacted by this situation, and how the consequences go far beyond what they ever imagined. When you consider your own choices, is it possible there are consequences to your sinful choices that you have never thought about? Could it be that others will be impacted in ways you never considered? Take a moment and reflect on this with God. 
(Pause and give them a quiet moment with God.) 
Every one of us have made choices in darkness that we would never want to be brought to light. The fight for integrity in our own lives is an up and down battle. The great news is that Jesus offers us hope, promising in His word that our integrity will guide us. This means that when we allow His character to be formed in us, we will know the direction to go as we are obedient to His Word. We can also rest in the reality that because of the finished work of Jesus on the cross, we do not need to carry the shame of our sinful choices. We can confess them to Him and repent, choosing to go in a new direction, one of obedience to Him. Take a moment in your own heart and consider what you might need to confess to Him to restore your journey toward integrity. 
(Pause and give them a moment to pray) 
I believe Jesus is reaching out to Lori and Olivia and their families, offering the same grace and mercy each of us can have at any time. Let's be people who pursue integrity with passion, and who refuse to keep our deeds in the darkness. Let's invite Jesus to shine a light in our lives so that we can allow Him to do incredible work in our lives, and as a result we need not live in fear of what might be found out. Let's pursue Him each day and repent without hesitation, knowing that we need Him constantly as we continue on this journey toward being people of integrity. 
CLOSE IN PRAYER
Rob Chagdes
Rob Chagdes is one of the pastors at Prairie Lakes Church in northern Iowa. In the years since he met Jesus as a sixteen year old, Rob has spent his life working to raise up the next generation to love God and invite others into His unending story. He spends most of his free time with his wife Leslie, their three amazing daughters, and their energetic dog Jedi. You can reach Rob at chagdeswrites@gmail.com .