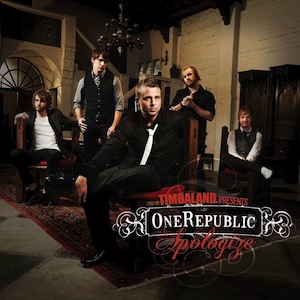 Main Point of Discussion: Christians do not have the freedom to withhold forgiveness. If we choose to not forgive, we lock ourselves into a prison of guilt and loneliness.
The Music Video: Apologize
"Apologize" is a song by OneRepublic found on its debut album Dreaming Out Loud. The song has charted well around the world, reaching number one around the world.
The song's video can be found at the following link: http://www.youtube.com/watch?v=nYspu7WTJW8
Introducing the Song:
Many of you might have already heard the song 'Apologize' by OneRepublic. I'm going to play this song and then we want to hear from you.
Song Lyrics:
I'm holding on your rope,
Got me ten feet off the ground
I'm hearin what you say but I just can't make a sound
You tell me that you need me
Then you go and cut me down, but wait
You tell me that you're sorry
Didn't think I'd turn around, and say…
[chorus]
It's too late to apologize, it's too late
I said it's too late to apologize, it's too late
I'd take another chance, take a fall
Take a shot for you
And I need you like a heart needs a beat
But it's nothin new – yeah yeah
I loved you with a fire red-
Now it's turning blue, and you say…
"Sorry" like the angel heaven let me think was you
But I'm afraid…
[chorus 2X]
It's too late to apologize, yeah
I said it's too late to apologize, yeah-
I'm holdin on your rope, got me ten feet off the ground…
Transitional Statement:
This song has rocketed up the charts and racked up over 22 million plays on his MySpace page. Evidently a ton of folks are relating to the themes of this song, which mainly revolve around the idea that at some point, it is too late to apologize and make things right again.
Divide into Small Groups:
Let's go ahead and split up into our discussion groups, and then afterward we'll come back together for a final word.
CLICK HERE for a quick training article on how to maximize your small groups using our small group format—a great resource to equip your small group leaders.
Discussion Questions:


AROUND THE CIRCLE: Why do people hold back on forgiving others?


AROUND THE CIRCLE: Is there a point where too much time has passed and too many disappointments have broken your heart for someone to expect forgiveness? Why or why not?


ASK A FEW: What has helped you forgive people who have wronged you?


ASK A FEW: What would life be like if God said it was too late to apologize?

Read the following passage:

Matthew 18:21-22
"Lord, how often should I forgive someone who sins against me? Seven times?"

"No, not seven times," Jesus replied, "but seventy times seven."
Say something like…
It's anybody's guess as to what was going on in Peter's life when he asked Jesus this question. Maybe he had a fight with his wife. Maybe one of his kids was rebelling. Or maybe someone cut him off in donkey traffic during rush hour? Either way, Peter was probably hoping that at least after seven times, he could get off the hook and write his own version of "Apologize."
But Jesus gave a very different answer than Peter expected… "Not seven times, Peter, but 490 times!"
In other words, there are no limits on forgiveness.
ASK A FEW: What happens when we don't forgive?
Read the following passage:

Matthew 18:23-35
Therefore, the Kingdom of Heaven can be compared to a king who decided to bring his accounts up to date with servants who had borrowed money from him. In the process, one of his debtors was brought in who owed him millions of dollars. He couldn't pay, so his master ordered that he be sold—along with his wife, his children, and everything he owned—to pay the debt.

"But the man fell down before his master and begged him, 'Please, be patient with me, and I will pay it all.' Then his master was filled with pity for him, and he released him and forgave his debt.

"But when the man left the king, he went to a fellow servant who owed him a few thousand dollars. He grabbed him by the throat and demanded instant payment.

"His fellow servant fell down before him and begged for a little more time. 'Be patient with me, and I will pay it,' he pleaded. But his creditor wouldn't wait. He had the man arrested and put in prison until the debt could be paid in full.

"When some of the other servants saw this, they were very upset. They went to the king and told him everything that had happened. Then the king called in the man he had forgiven and said, 'You evil servant! I forgave you that tremendous debt because you pleaded with me. Shouldn't you have mercy on your fellow servant, just as I had mercy on you?' Then the angry king sent the man to prison to be tortured until he had paid his entire debt.

"That's what my heavenly Father will do to you if you refuse to forgive your brothers and sisters from your heart."
ASK A FEW: How is the unforgiving servant like OneRepublic?
ASK A FEW: What does Jesus mean when He says we'll be sent to prison and tortured if we don't forgive?
ASK A FEW: What does it mean to forgive 'from your heart'?
ASK A FEW: How does Satan try to convince you that forgiveness is optional?
ASK A FEW: Is there any offense greater than one we all committed toward God (i.e. killed His Son)? Why or why not?
AROUND THE CIRCLE: How does knowing how much we've been forgiven by God help us forgive others?
AROUND THE CIRCLE: What are some specific ways we can apply this promise to our lives?
AROUND THE CIRCLE: How would your life be different if you truly let go of all unforgiveness?
Wrap Up:
Are you feeling like you're in an emotional prison lately? If so, it might be linked to the fact that you've entered into 'OneRepublic,' and you refuse to forgive someone who hurt you because it's 'too late.'
Good news… the key to the prison door that holds you captive is in the chambers of your heart. It's called forgiveness, all you need to do is take it out. If you are having a hard time taking it out, ask Jesus to help you. Ask Him to give you the strength, because believe me, He has more than enough to share with you.
And when you look at it that way, it's absolutely never too late!
Pass out paper and pens and ask the students to prayerfully consider who might be on their 'unforgiven' list. Ask them to write down any names, then ask God to give them the strength to forgive them. One helpful phrase they can repeat in their mind is something like- "because God forgives me, I forgive _________." After some time has passed, ask them to tear up the paper, then you walk around and ask them to throw away the pieces to represent their forgiveness.
Say something like…
There may be some of you here tonight who have experienced pain in your life, and you realize that you can experience forgiveness through a relationship with the God who died to bring forgiveness to the world. There may also be some in here who have trusted Christ, but are having a hard time letting go of anger and bitterness. Right now I want to give everyone in this room an opportunity to find forgiveness through Christ and grant it to others.
Close by presenting the gospel (for help with this, go to www.dare2share.org/gospeljourney) and give an invitation to unbelievers to trust Christ, and also a challenge to Christian students to live in a constant state of forgiveness.
Close in Prayer
Written by Lane Palmer