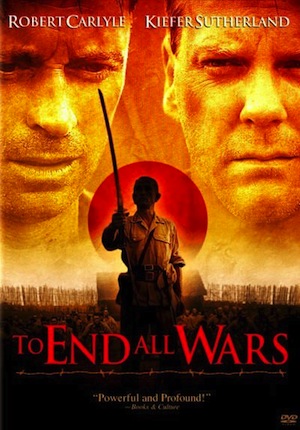 20th Century Fox, 2004
Main Point of Discussion:
We must show compassion to everyone, even to those who mistreat us.
The Movie Clip: "They are human beings."
To End All Wars is a true story about four Allied POW's who endure harsh treatment from their Japanese captors during World War II while being forced to build a railroad through the Burmese jungle. Ultimately they find true freedom by forgiving their enemies.
Introducing the Clip:
Today I want to show you a clip from the movie To End All Wars. Many of you have probably have not seen this one. It is a movie about how brutal life was inside a Japanese prisoner of war camp during World War I. Most of the prisoners are from a Scottish regiment, and they are being forced to build part of the enemy's supply railroad through the jungle. Not only are they forced to live in poor conditions, but they experience brutal discipline under a "bushido logic" which assumes Westerners to be an inferior race. This just gives the Japanese soldiers even more reason to mistreat their prisoners. As this scene opens, the narrator tells us that an enemy camp near by had been attacked and the wounded Japanese soldiers there had abandoned their posts – a despicable act according to their code. Let's take a look at this scene and see how these Scottish prisoners respond.
BEGIN SCENE AT 1 hour and 39 minutes in Chapter 27 (or you can use the above video clip from WingClips).
Scene Script: sets up the scene.
CAMPBELL: Ernest!
(Ernest turns, Campbell approaches him from out of the crowd and Ito watches him carefully.)
CAMPBELL: Captain Gordon, you are not to give aid and comfort to the enemy.
(Ernest looks at the wounded soldiers and then back to Campbell.)
ERNEST: Sir, those are wounded, dying human beings. They're no harm to us.
CAMPBELL: (unmoved) Go back to your own men.
(Ernest does not move. He stares into Campbell's eyes while Ito continues to watch.)
CAMPBELL: I'm warning you, Ernie.
ERNEST: (walks towards the prisoners) Someone get me some water!
(The other soldiers look at each other.)
ERNEST: Please! Get me some water!
(Slowly the soldiers begin to help.)END CLIP AT 1 hour and 43 minutes in Chapter 27.
Transitional Statement:
In this scene we see a powerful display of compassion and forgiveness. Today we are going to spend some time talking about how we can do a better job of showing compassion to everyone, even to those who mistreat us.
Divide into Small Groups:
Let's go ahead and split up into our discussion groups, and then afterward we'll come back together for a final word.
CLICK HERE for a quick training article on how to maximize your small groups using our small group format—a great resource to equip your small group leaders.
Discussion Questions:


AROUND THE CIRCLE: Before we begin, tell everyone your name and your biggest pet peeve?


ASK SOMEONE: In the scene we just saw, we witnessed an unbelievable display of compassion. What did the Scottish soldiers do?


ASK SOMEONE: What was the reason Ernest gave for helping his enemy?


ASK A FEW: If you were in Ernest's place, do you think you could have shown the kind of compassion that he did? Why or why not?


ASK A FEW: Do any of you have a story of when someone showed you compassion? Or a story of when you showed someone else compassion?

Read the following passage:

Luke 6:27-36
27 "But to you who are willing to listen, I say, love your enemies! Do good to those who hate you. 28 Bless those who curse you. Pray for those who hurt you. 29 If someone slaps you on one cheek, offer the other cheek also. If someone demands your coat, offer your shirt also. 30 Give to anyone who asks; and when things are taken away from you, don't try to get them back. 31 Do to others as you would like them to do to you.

32 "If you love only those who love you, why should you get credit for that? Even sinners love those who love them! 33 And if you do good only to those who do good to you, why should you get credit? Even sinners do that much! 34 And if you lend money only to those who can repay you, why should you get credit? Even sinners will lend to other sinners for a full return.

35 "Love your enemies! Do good to them. Lend to them without expecting to be repaid. Then your reward from heaven will be very great, and you will truly be acting as children of the Most High, for he is kind to those who are unthankful and wicked. 36 You must be compassionate, just as your Father is compassionate.
ASK SOMEONE: According to the above passage, what are some practical ways Jesus says we can show love to our enemies?
ASK A FEW: Which one of these actions do you find the most difficult and why?
ASK A FEW: On a scale of 1-10 (1 being very easy and 10 being very difficult) how easy would it be for YOU to do these things to your enemies?
ASK A SOMEONE: According to verses 32-34, why is loving your family and friends not good enough?
ASK A SOMEONE: In verse 35, we are told what happens if we love our enemies. What is it?
ASK SOMEONE: Going back to the movie clip, what did the other prisoners do as a result of Ernest's actions? (Leader – they started to help, too)
AROUND THE CIRCLE: Without mentioning any names, do you have someone in your life that mistreats you or is unusually mean to you?
ASK A FEW: What do you think would happen in your relationship with that person if you started doing some of the things Jesus lists in this passage?
AROUND THE CIRCLE: So, what are you going to do this week to do a better job of showing compassion to everyone, especially those who mistreat you?
Wrap Up:
Tonight we watched a clip from a movie that showed us an excellent example of compassion for our enemies and those who mistreat us. We also heard what Jesus had to say about showing kindness to enemies.
We've spent most of our time talking about loving our enemies, caring for those who mistreat us, and showing compassion to those who hurt us. This is not an easy thing to do. When people hurt us or the ones we love, our natural instinct is to want to hurt them back.
But let me remind you of something really important. When Jesus was mistreated and viciously beaten before and during His crucifixion, He did not fight back or seek revenge. He actually did something kind for them! He asked God to forgive them because they did not know what they were doing.
Jesus does the same for us when we sin, you know. He willingly forgives us instead of trying to "get even" or "fight back." For all of these reasons, we should definitely follow Jesus in His example of loving those who hurt us and mistreat us.
Who knows what will ultimately happen if we act like Jesus in this way? Maybe someone who does not know Jesus will come to know Him through our loving kindness and compassion. It won't be easy, but it will be worth it.
Close in Prayer.
Written by Todd Pearage