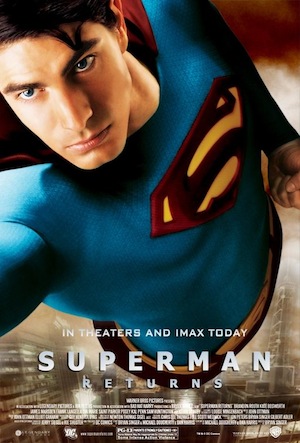 Movie Clip: Superman Returns, PG-13, 2006, Warner Bros.
Main Point: Whether knowing it or not, we all need Christ as our Savior.
Clip: They are crying for a savior.
In this scene, Lois starts out by telling Superman that she doesn't need a savior. She denies the purpose of Superman. Superman isn't convinced that she's examined all the evidence. He takes her up into the sky and talks with her. He explains to her that although she doesn't hear all kinds of people crying out for help, he does hear the cries. Just because someone thinks they don't need help… it doesn't mean they don't need help. This is a great clip to show the awareness Christ has of the people who need Him. And even though some don't feel a need for Christ, it doesn't negate the fact that Christ is still there.
Scene Introduction Statement:
Have you ever seen someone with a problem or in a situation where you know they need help, but they won't admit it? Don't you hate that? That's exactly what we're talking about today. We're going to take a look at a clip from Superman Returns. In this scene, Superman shows Lois Lane that he knows he's needed, even though she's too stubborn to admit it. Let's take a quick peek at this clip. You'll see them bickering about the article that Lois wrote, Why the World Doesn't Need Superman. You'll notice that Lois has some bitterness about Superman having left earth for a few years. She obviously felt abandoned, resulting in feelings of bitterness and resentment. Now she's responding to those feelings by pushing away her need for a "savior." Superman talks to her about this.
(It's really up to you where you want to start this clip. If you have almost five minutes to kill, you can start it at chapter 19 on the normal widescreen addition at 1 hour, 9 minutes and 5 seconds when Lois first walks out on the balcony. Here you'll get the entire scene where Superman startles Lois on the balcony and allows her to interview him about why he left for a few years, where he went, etc. Personally, in interest of time and focusing on the issue, I'd probably start a little later in chapter 19 at 1 hour 10 minutes and 32 seconds… right after Superman says, "I had to see for myself." The scene lasts over three minutes, clear into chapter 20 on the DVD. Here's the key dialogue.)
Scene Script:
LOIS: Well, you're back, and everyone seems to be pretty happy about it.

SUPERMAN: Not everyone. I read the article Lois.

LOIS: So did a lot of people. Tomorrow they're giving me the Pulitzer…

SUPERMAN: (interrupting) Why did you write it?

LOIS: How could you leave us like that? (pause… Superman doesn't respond.) I moved on. So did the rest of us. That's why I wrote it. The world doesn't need a savior. And neither do I.

(Superman walks away for a moment thinking.)

SUPERMAN: Lois, will you come with me.

LOIS: Why?

SUPERMAN: There's something I want to show you. (Lois stops and thinks for a moment to think) Please.

There's a little more dialogue (including the word "crap") Then SUPERMAN takes LOIS on a "flight" up into the sky.

SUPERMAN: Listen. What do you hear?

LOIS: Nothing.

SUPERMAN: I hear everything. You wrote that the world doesn't need a savior. But every day I hear people crying for one.
STOP the DVD at exactly 1 hour, 13 minutes and 51 seconds
(after Superman's line "I hear people crying for one" there is a moment where Lois thinks about it and looks down at the world… that's the stopping point)
.
Transitional Statement:
You know, the big problem with Lois Lane is that she refuses to admit that people need Superman. She argues that he is trying to save a bunch of people who really don't need his help. But as you saw, Superman is well aware of a huge need for help. It's such a shame when people don't think they need help when they actually do.
Today we're going to talk about Christ. In the movie, Superman is treated as a savior. Today, we're going to talk about the real Savior. And before you tune this out, realize that even though you may already be a believer in Christ, perhaps you're still in need of some help. Go ahead and split up in your discussion groups, and let's talk about this need for a savior.
SPLIT INTO SMALL GROUPS
CLICK HERE for a quick training article on how to maximize your small groups using our small group format—a great resource to equip your small group leaders.
Small Group Opener Questions:
AROUND THE CIRCLE: When you were a kid, who was your favorite superhero and why?


AROUND THE CIRCLE: If you could have one superpower, what would you want it to be and why?
Discussion Questions:
As we saw in the clip, Lois didn't really want to admit or even see the fact that people needed help.


A FEW OF YOU: Have you ever been in a situation when someone needed your help but they were too stubborn to admit it?


A FEW OF YOU: Were you ever one of those people? Tell us about it.


A FEW OF YOU: Why is it that some people just don't want help?


AROUND THE CIRCLE: We call Jesus a "savior." What's your definition of that word? (The correct answer is simply someone who saves someone from something.)


A FEW OF YOU: So why is Jesus called a savior?


AROUND THE CIRCLE: Is it only Hell and punishment that Jesus saves people from? What else does Jesus deliver people from?
The fact is… we need a savior. Jesus not only delivers us from Hell, he saves us from much more. Right now, in your life, I want you to think about the following things, and ask yourself if everything is going great in that area. I think we'll realize that all of us probably need help in at least one of these areas. Do not answer out loud right now, but just think about the following. These next few seconds are between you and God, so you might as well be honest with yourself.
Sin: Are you struggling with sin in your life? Would it be cool if someone saved you from being a slave to some of this stuff?

Evil Powers: Are you ever scared of evil things from this world and beyond? Do you ever wonder if there are other "powers" at work in this world? Wouldn't it be cool to be saved from those?

The Evil World: Perhaps you're really feeling how messed up the world is, and you're tired of some of the bad stuff you see day to day.

Eternal Death: Are you sure you're going to Heaven? Do you really know?

Shame or Guilt: Have you been doing something you know is wrong, and you're really feeling the guilt? Would it be cool to be free from that?

Hard Circumstances: Is anything super tough in your life right now and it's hard to depend on God?
(Note to the Leader: You'll now give each of the students a piece of paper and a pen, or perhaps you'll even already have a copy with all of the following verses made out for each student.)
I'm handing you this piece of paper. If you are struggling with one of the things I just mentioned, these are all things that Christ has already delivered us from, and can deliver you from right now.
(If you handed them a blank piece of paper) I am going to read the list again. I want you to write down whatever you need help with, and write down the verse that goes with it.
(If you handed them the list of verses) Now we're going to read the whole list again. I'm going to pause between each one so that you can really think about whether or not this is something that you need Christ's help with.
Read List:
Sin: Matthew 1:21 (NLT) – "And she will have a son, and you are to name him Jesus, for he will save his people from their sins."

Evil Powers: Col. 2:15 (NLT) – In this way, God disarmed the evil rulers and authorities. He shamed them publicly by his victory over them on the cross of Christ. (Note: you can study this verse, but "evil rulers and authorities" most likely is referring to demonic powers, any false gods or false angels of any kind.)

The Evil World: Galatians 1:4 (NLT) – He died for our sins, just as God our Father planned, in order to rescue us from this evil world in which we live.

Eternal Death: 1 John 5:11-12 (NLT) – And this is what God has testified: He has given us eternal life, and this life is in his Son. [12] So whoever has God's Son has life; whoever does not have his Son does not have life.

Shame or Guilt: Isaiah 43:25 (NLT) – "I—yes, I alone—am the one who blots out your sins for my own sake and will never think of them again." Romans 8:1 (NLT) So now there is no condemnation for those who belong to Christ Jesus.

Hard Circumstances: Jeremiah 29:11 (NLT) – For I know the plans I have for you," says the Lord. "They are plans for good and not for disaster, to give you a future and a hope."
Remember that there is not one person who is walking a perfect life or who doesn't have any problems. No one has it all together. In fact, it says in 1 John 1:8 that "If we claim to be without sin, we deceive ourselves and the truth is not in us" and in John 16:33 that "in this world you will have trouble." We must look to Christ if we are to be delivered. Right now we're going to take about 2-3 minutes
of silence, so that you can look up the verse you need to and pray.
(Give students time to read and pray, but not too long.)
One Final Discussion Question:
AROUND THE CIRCLE: In what ways do you need Christ's deliverance? (Share your own, ask for volunteers, then go around the circle.)
Now pray for your students.
Wrap-Up:
When you really think about it, it is amazing how much we need Christ at every moment of the day. So many of us are just like Lois Lane from Superman and we don't realize our need for a Savior. But the need exists, whether we are willing to admit it or not. Jesus died on the cross and arose again—which saved us from our sins. This is our biggest need–something we couldn't do for ourselves and that's so powerful! But that's not the only salvation Christ brings. Jesus is our Savior from all kinds of things that are going on in our lives. We constantly need Him and His deliverance. Don't be like Lois. Really understand and recognize your need for Christ, and ask Him for His help. Whether you know it or not, you need a Savior right now.
Written by Matt Furby