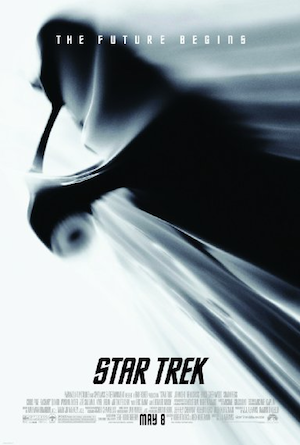 Main Point of Discussion: Jesus Christ made the ultimate sacrifice by giving His life on the Cross, and out of His death comes new life.
The Movie Clip: The Prologue
Introducing the Clip:
Today I want to show you a clip from the movie "Star Trek." This is a movie set in a future where peaceful planets have formed a Federation to explore the universe, seek out new life forms and civilizations, and boldly go where no one has gone before! This is the opening scene where one of the Federation starships discovers a strange anomaly that they need to check out.
Show the Movie Clip: START at the opening prologue scene at 53 seconds and STOP at 11:30 at the end of the opening credits. The scene is approximately 11 minutes in duration.
Transitional Statement:
This scene is one of the more powerful depictions of someone willing to sacrifice their lives to save others. Kirk had every reason to leave the ship and hope everyone is able to be saved, but instead he considered the lives of others more important than his own. And out of the chaos and death came the birth of his son who goes on to save the earth.
Divide into Small Groups:
Let's go ahead and split up into our discussion groups, and then afterward we'll come back together for a final word.
CLICK HERE for a quick training article on how to maximize your small groups using our small group format—a great resource to equip your small group leaders.
Discussion Questions:


AROUND THE CIRCLE: Before we begin, tell everyone your name and would you want to serve on board a starship? Why or why not?
ASK A FEW: Do you think you would have responded the same way as Kirk?
ASK A FEW: What gave Kirk the courage to sacrifice his own life?
ASK A FEW: Do you think Kirk was motivated more out of love or duty? Why?
ASK A FEW: In the scene we saw, the Captain of the ship also sacrificed his life. Do you think that motivated Kirk to do the same? Why or why not?
ASK A FEW: How would you feel as a crewmember when you found out about Kirk's sacrifice to save you?
ASK A FEW: As Kirk's son grew up, how do you think the story of his Dad's sacrifice impacted him?
ASK A FEW: How would it have impacted you?

Read the following passage:

John 15:12-17
This is my commandment: Love each other in the same way I have loved you. There is no greater love than to lay down one's life for one's friends. You are my friends if you do what I command. I no longer call you slaves, because a master doesn't confide in his slaves. Now you are my friends, since I have told you everything the Father told me. You didn't choose me. I chose you. I appointed you to go and produce lasting fruit, so that the Father will give you whatever you ask for, using my name. This is my command: Love each other.
ASK SOMEONE: In this passage, Jesus obviously is talking about the nature of love, but what is his specific definition of the greatest kind of love? (i.e. laying down your life)
ASK A FEW: What are the parallels between what Kirk did for his friends and what Jesus accomplished on the cross? (life out of death, salvation from chaos, deliverance from enemies, etc.)
ASK A FEW: Do you think Jesus' motivation was more love or duty? Why?
ASK A FEW: What is the connection between friendship with Jesus and laying down your life?
ASK A FEW: How should Jesus' sacrifice motivate us to love others?
ASK A FEW: What is the relational difference between a slave and a friend? (service out of duty vs. love)
ASK A FEW: Do you feel like the Christian life is more like slavery or friendship? Why?
ASK A FEW: What does it mean to for a Christian to 'produce lasting fruit'?
ASK A FEW: Later on in the movie, Kirk's son pays it forward and helps save the earth. How can we do that in a spiritual sense in our world? (i.e. share the gospel message, love others as Christ loved us)
ASK A FEW: What are some practical ways we can 'lay down our life' for our friends?
AROUND THE CIRCLE: What are one or two ways you want to apply what we've learned?
Wrap Up:
Hang up a large poster board that reads "He died for me…I live for Him" at the top with some sharpies nearby. Ask students to bow their heads and close their eyes and invite them to (when they are ready) sign their name as a commitment to Christ if God is leading them to do so. You might also have Chris Tomlin's version of 'The Wonderful Cross' playing in the background.
Close in Prayer
Written by Lane Palmer