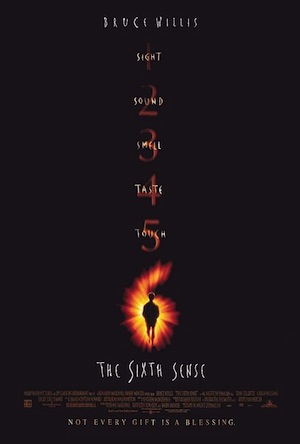 (Barry Mendel Productions 1999)
Main Point of Discussion:
As Christians we see 'dead' people all the time, so the question is, what should we do about it?
The Movie Clip:
The Sixth Sense is about a child psychiatrist named Malcolm Crowe who is confronted one night by his former patient Vincent Gray who he failed to help. After Vincent shoots Crowe in the stomach and kills himself, Crowe can't stop thinking about it. A few months later he is hired to help a troubled boy named Cole Sear, who has many of the same problems Vincent had. Crowe sees a chance to redeem himself, but doubts his ability to reach the boy, particularly when Cole claims to see ghosts who don't know they're dead. (www.imdb.com)
The clip we are using for this particular discussion features a conversation between Malcolm and Cole where he reveals his secret to Malcolm that he can actually see dead people who don't realize they are deceased.
Introducing the Clip:
Today I want to show you a clip from the movie The Sixth Sense. Many of you have already seen this movie, but for those who haven't, this scene begins with Malcolm letting Cole know why he seems sad all the time, then comes the major plot revelation where Cole confesses his secret to Malcolm. Let's take a look.
Scene Script:
BEGIN CLIP AT 48 minutes and 20 seconds.
Cole: I see dead people.

Malcolm: In your dreams? [Cole shakes his head no] While you're awake? [Cole nods] Dead people like, in graves? In coffins?

Cole: Walking around like regular people. They don't see each other. They only see what they want to see. They don't know they're dead.

Malcolm: How often do you see them?

Cole: All the time.
END CLIP AT 51 minutes and 38 seconds.
Transitional Statement:
In this scene we realize that Cole is in a very tortured state of being. He can actually see dead people who don't realize they have died. The interesting thing is that after being terrified by this, he becomes motivated to use his gift to help the dead.
Divide into Small Groups:
Let's go ahead and split up into our discussion groups, and then afterward we'll come back together for a final word.
CLICK HERE for a quick training article on how to maximize your small groups using our small group format—a great resource to equip your small group leaders.
Discussion Questions:


AROUND THE CIRCLE: Before we begin, tell everyone your name and briefly about a time when something really scared you.
ASK A FEW: In the scene we just saw, we learn that Cole has a special ability to visually see the ghosts of dead people. Would you want that power? Why or why not?
ASK A FEW: Do you think ghosts are real? Why or why not?
ASK A FEW: In The Sixth Sense, the deceased can't 'pass on' because of some unresolved scenarios, do you think that is true in real life? Why or why not?
ASK A FEW: Later on in the film we discover that Cole goes from being frightened by the ghosts to helping them resolve whatever was keeping them on earth. What do you think brought about this change in Cole?
ASK A FEW: If you did see dead people like Cole, would you ignore the ghosts or try to help them? Why?

Read the following passage:

Colossians 2:13-15 (CEV)
You were dead, because you were sinful and were not God's people. But God let Christ make you alive, when he forgave all our sins. God wiped out the charges that were against us for disobeying the Law of Moses. He took them away and nailed them to the cross. There Christ defeated all powers and forces. He let the whole world see them being led away as prisoners when he celebrated his victory.
ASK SOMEONE: According to the above passage, what state were we in before we trusted Christ?
ASK A FEW: What does he mean by 'dead'? (Leaders-you may want to have a discussion about the definition of spiritual death. Here is a great article on the subject:http://www.gotquestions.org/spiritual-death.html)
ASK A FEW: What caused our death?
ASK A FEW: What does it mean to be spiritually alive?
ASK A FEW: In a very real sense, then, do we 'see dead people'? Why or why not?
ASK A FEW: Just like in The Sixth Sense, do the 'dead' people we see have unfinished business? If so, what would it be? (i.e. reconciling to God and finding eternal life)
ASK A FEW: Do you think the spiritually dead people we see realize their state? Why or why not?
AROUND THE CIRCLE: Do you feel spiritually dead or alive right now? Why?
ASK A FEW: Why are we sometimes afraid to help spiritually dead people?
AROUND THE CIRCLE: What are some specific ways we could use our abilities to help the spiritually dead people around us?
Wrap Up:

Tonight we've been considering the Biblical concept of spiritually dead people with whom we interact everyday. We truly see dead people, and the question is, what will we do about it? We can choose to be afraid of them, or worse, ignore them altogether, or we can use our God given gifts to share the message of life.
Pass out 3×5 cards/pencils and say:
I want you to prayerfully consider who is in your life that is spiritually dead and write a name down on the card. There's a reason God put you in that person's life, and that is to share the life giving message of the gospel. I want you to commit to praying for him/her everyday, and look for opportunities to have a spiritual conversation that leads to sharing your faith.
Close in Prayer
Written by Lane Palmer