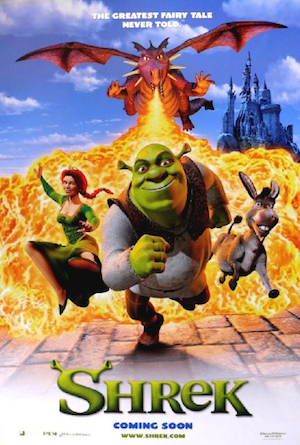 DreamWorks Pictures, 2001
Main Point of Discussion: Accountability and forgiveness are key ingredients for authentic friendships.
The Movie Clip: "'Cause that's what friends do. They forgive each other."
Shrek is a fun movie that most kids have seen and love. It has some great clips that illustrate how friends should treat each other. The clip we're using for this discussion shows Donkey's persistence and forgiveness toward his friend Shrek—Donkey urges Shrek to be forgiving and a true friend too.
Before the Meeting:
Gather 3×5 cards and pencils for each person and pass them out to the small group leaders. You'll also need to supply the leaders with small, stamped envelopes (best if they're pre-labeled with students' names and addresses) because they'll be sending these cards back to the students at the end of the week.
Introducing the Clip:
Shrek is an entertaining movie loaded with great conversations between Shrek the ogre and Donkey, his pushy-but-loyal friend. This scene takes place after Donkey and Shrek have attempted to rescue Fiona the Princess. Shrek is disappointed and angry, as is Donkey. Watch this conflict unfold.
Scene Script:
BEGIN CLIP AT Scene 16, when the counter number reads 1:11:24. (Their argument takes place outside Shrek's house in the swamp. Start the clip at the beginning of the argument.)
Donkey: Come back here! I'm not through with you yet!

Shrek: Well, I'm through with you!

Donkey: Uh-uh. You know you are always, "Me, Me, Me." Well now it's my turn. So you just shut up and pay attention. You are mean to me. You insult me, and you don't appreciate anything I do. You are always pushing me around or pushing me away.

Shrek: Oh yeah? Well if I treated you so bad, how come you came back?

Donkey: 'Cause that's what friends do. They forgive each other.

Shrek: Oh yeah, Donkey, I forgive you…for stabbing me in the back!

Donkey: Oh! You are so wrapped up in layers, Onion Boy, you're afraid of your own feelings!

Shrek: Go away!

Donkey: See! There you go, doin' it again just like you did to Fiona. All she ever did was like you, maybe even love you.

Shrek: Love me? She said I was ugly. A hideous creature! I heard the two of you talking.

Donkey: She wasn't talking about you. She was talking about somebody else.

Shrek: She wasn't talking about me? Then who was she talking about?

Donkey: Uh-uh. No way. I ain't sayin' anything. You don't want to listen to me. Right? Right?

Shrek: Donkey…

Donkey: No!

Shrek: Okay, look; I'm sorry. Alright? I'm sorry. I guess I am just a big, stupid, ugly ogre. Can you forgive me?

Donkey: Hey, that's what friends are for, right?

Shrek: Right. Friends?

Donkey: Friends!
END CLIP AT Scene 17.
Transitional Statement:
In this scene we see resentment and harsh words. There has obviously been conflict brewing, and these two friends are at a crucial point. Will they divide, like the swamp, or will they unite, through honest conversation and forgiveness? Donkey wants to hold Shrek accountable for his behavior; Shrek always pushes people away and doesn't accept love or friendship. But Shrek is upset because he's lost Fiona, and Donkey is on his case. We've all had (or will have) moments like this in our relationships. Conflict will be something we work through or something that breaks us up and ends relationships. As you move into small groups, begin to think about conflict that you've been a part of with friends or teachers or family members-maybe even other students in this room.
Divide into Small Groups:
Let's go ahead and split up into our discussion groups, and then afterward we'll come back together for a final word.
CLICK HERE for a quick training article on how to maximize your small groups using our small group format—a great resource to equip your small group leaders.
Discussion Questions:


AROUND THE CIRCLE: Before we begin, let's go around the circle. Say your name and tell us about your favorite pet ever.
ASK A COUPLE: Share about a time when you and a friend fought, and finally one of you had to say you were sorry.
ASK A FEW: How do you feel when there's conflict between you and someone else?
ASK A FEW: Being forgiven feels good–so why do you suppose we take so long to ask for forgiveness?
AROUND THE CIRCLE: Name some good "friend" qualities.
ASK A FEW: Now share the name of someone (this person might not even be your best friend–don't just reflexively name your best friend) who possesses these qualities.
ASK A FEW: Which of these friend qualities do you possess? Are there other qualities that make you a good friend?

One reason it's important to have high-quality "true" friends is so that you'll have others who stand up for what's right (and help you to do the same).

Read the following passage:

Ecclesiastes 4:10 (NLT)
If one person falls, the other can reach out and help. But people who are alone when they fall are in real trouble.
ASK A FEW: When do we as Christians need to "reach out and help" our friends?
As Christians we should surround ourselves with others who can support us in our beliefs.
Read the following passage:

Hebrews 10:25 (NLT)
And let us not neglect our meeting together, as some people do, but encourage and warn each other, especially now that the day of his coming back again is drawing near.
ASK A FEW: What can we "encourage" or "warn" our Christian friends about?
ASK SOMEONE: What insight can Christian friends offer that unbelievers may not have?
AROUND THE CIRCLE: Share about a time when that's exactly what happened-–maybe a friend encouraged you, challenged your thinking, warned or confronted you about a questionable choice you made, or helped talk you out of doing something stupid. Or perhaps you've been the encouraging friend. Briefly share your experience.
ASK A FEW: What are five specific actions we could take in this small group to be better friends to one another?
Wrap Up:
I'm giving each of you a 3×5 card. On the card write your name and phone number. Next, write down two qualities you need to develop in your character in order to be a better friend to others. Maybe it's one of the qualities we mentioned, or maybe God is nudging you about something new.
Next, write down one specific (measurable) step you can make to get connected with more friends who are positive influences on you. After I collect these cards, I'll pray for you this week and call you by Friday to see if you've taken steps to accomplish your goal. Before we go back to the large group, I'd like to share what we've written and pray for each other here in our small group.
Close in Prayer
Written by Teddi Pettee, original idea by James Krieg