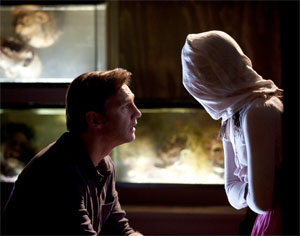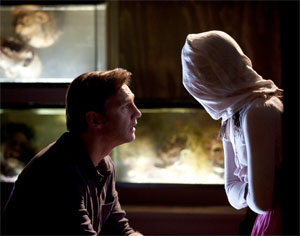 Most of us would probably have trouble sympathizing for The Governor (especially after what he did to Maggie). Personally, I have trouble sympathizing with anyone who's first name is "The."
But this week, we definitely got a better peek into his armor as we saw him try to connect with his daughter.
Start at 5:35
The Governer: Penny? Honey? It's Daddy.
(Penny snarls)
The Governer: Shh. Baby. Hey, hey, hey.
 ♪ Bye-bye, baby bunting… ♪ Come here. ♪ Daddy's gone a-hunting ♪ ♪ To get a little rabbit skin ♪ ♪ To wrap his baby bunting in… ♪
(Penny looks over at the bucket of meat. The Governor realizs she just wants the food.)
The Governer: Look at me, baby. Look at me. Look at me!
The Governor isn't ready to let go of his daughter. I think he probably knows that she's long gone, but he's not willing to admit it.
Letting go of loss is a difficult, but necessary process.
SEASON 3, EPISODE 8 DISCUSSION QUESTIONS:
The governor isn't willing to put his daughter down. Is he right?
What would you do if you were in the same situation?
When does life end?
Read the following passage:
For everything there is a season,
    a time for every activity under heaven.
A time to be born and a time to die.
    A time to plant and a time to harvest.
A time to kill and a time to heal.
    A time to tear down and a time to build up.
A time to cry and a time to laugh.
    A time to grieve and a time to dance.
A time to scatter stones and a time to gather stones.
    A time to embrace and a time to turn away.
A time to search and a time to quit searching.
    A time to keep and a time to throw away.
A time to tear and a time to mend.
    A time to be quiet and a time to speak.
A time to love and a time to hate.
    A time for war and a time for peace. (Ecclesiastes 3:1-8)
4. Why do you think King Solomon wrote this?
5. What is something or someone you "lost" that was very difficult for you?
6. How did you cope?
7. How did you finally "let go?"
8. What advice would you give to someone experiencing loss?