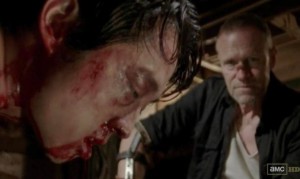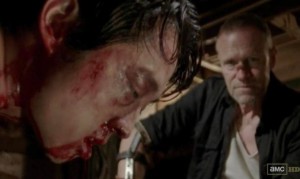 This episode back in Season 3 probably ranks as one of the most intense episodes, not because of the threat of the dead… but the human threat.
Once again humans prove to be not only the most dangerous, but the most depraved. Merle beats Glenn bloody then sentences him to death by zombie; then the Governor does far worse to Maggie. Funny, you don't see the dead killing each other.
As an aside, I have to mention: Glenn's escape from "death by zombie" was truly one of the best scenes of the series so far. He's taped to a chair and he still escapes and takes the zombie out. That was a serious man moment!
But through all this horror, Glenn and Maggie had a glimmer of hope. They knew they had friends that would rescue them no matter what?
Do you have friends like that?
Are you a friend like that?
Take a peek at Glenn and Maggie's friends:
Start at 14:15
Beth: This is Maggie and Glenn. Why are we even debating?
Daryl: We ain't. I'll go after them.
Rick: Well, this place sounds pretty secure. You can't go alone.
Beth: I'll go.
Axel: Me, too.
Oscar: I'm in.
It's easy to think about helping our friends on a physical level, but have you thought about the lengths you'd go to help them on a spiritual level?
When our friends are in danger, are we willing to take risks to rescue them?
SEASON 3, EPISODE 7 DISCUSSION QUESTIONS:
What lengths would Daryl, Rick, Beth and everyone else go to rescue their friends?
Why would someone be willing to sacrifice themself for another?
Are we willing to go the same lengths to share the truth with our friends? Explain.
Read the following passage:
I do everything to spread the Good News and share in its blessings. (1 Corinthians 9:23)
How far is the Apostle Paul willing to go to spread the Gospel?
Can you recall what other sacrifices Paul endured to share truth? (2 Corinthians 11:24-26)
What are some of the risks Christians face today sharing the Gospel?
How far are you willing to go?
What is the risk?
How can you do that this week?