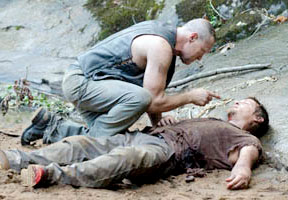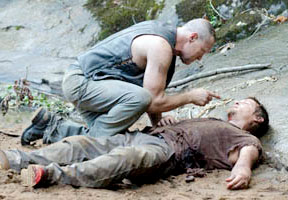 Ever have something from your past come back to haunt you?
This week Darryl does, and it brings up a good opportunity to talk about "letting go" of voices from our past.
We are now in episode 5 of "living on the farm", and I think many of the group is starting to think of this as a place where they can settle in.
Some fans might like the adrenaline rush of season one, but personally, I'm really enjoying the chance to get to know the characters on a deeper level. It's hard to find a show with this many likable characters. Think about it: Rick, Maggie, Glenn, Hershel, Darryl… who actually struck me by surprise. Darryl's character, in particular is really starting to blossom. Good thing, because I'm tiring of Lori's drama and Shane's "Debbie Downer" antics.
At this point in the season I think Darryl is quickly becoming many fans' favorite character. He adds a Rambo/survivalist element to the show that is missing elsewhere…case in point: killing a zombie with a stick and the arrow from his own body? Awesome!
I was especially impacted by the scene between Darryl and "Merle" starting at 21:30. This is a fascinating exchange that will stir up ghosts for anyone with relational difficulties from their past- which is pretty much everyone:
Merle: What's going on here? You taking a siesta or something?
Darryl: A sh**ty day bro
Merle: Like me to get your pillow? Maybe rub your feet?
Darryl: Screw you
Merle: You're the one screwed from the looks of it. All them years I spent trying to make a man of you, this is what I get? Look at you.
SEASON 2, EPISODE 5 DISCUSSION QUESTIONS:
1. If you were in this situation, what person from your past would appear and talk to you?
2. What would they say?
3. Do you think Darryl's perception of Merle is accurate? Why or why not?
4. Why do you think Darryl is so haunted by Merle's disappointment?
5. How is Merle like a blood sucking chupacabra?
6. Why is it so difficult to let go of the voices from our past?
Read the following passage from Scripture:
So to keep me from becoming proud, I was given a thorn in my flesh, a messenger from Satan to torment me and keep me from becoming proud.
 Three different times I begged the Lord to take it away.  Each time he said, "My grace is all you need. My power works best in weakness." So now I am glad to boast about my weaknesses, so that the power of Christ can work through me.  That's why I take pleasure in my weaknesses, and in the insults, hardships, persecutions, and troubles that I suffer for Christ. For when I am weak, then I am strong.  (2 Corinthians 12:7-10)
7. In what ways can our vices, our struggles, or even voices from our past sometimes a 'messenger from Satan'?
8. Why doesn't God just take away all the bad memories and experiences we have from our past?
9. How can God's grace help us when the "Merles" of our life haunt us?
10. When have you experienced God's power working in the weaknesses from your past?
11. How might this passage help you the next time you are haunted by your past voices?
Wrap up
Everyone carries around the voices of people from the past who bring guilt and disappointment. But we can take hope and find strength in the fact that God's forgiveness is more powerful, and He will use our weaknesses to make us strong in Him.