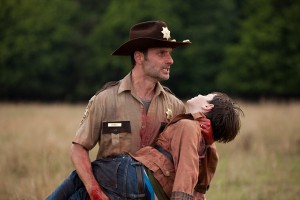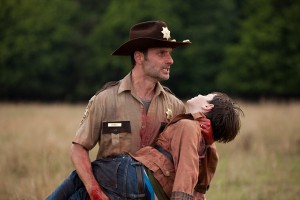 "Bloodletting" follows up the shocking ending scene from "What Lies Ahead" where Carl gets shot by an errant bullet. I'm loving the flashback scenes, because they add so much depth to the later context- and they show that the survivors are just ordinary folks like us with the same struggles.
The majority of this episode focuses on saving him, but even though the plot was simple, the performances were fantastic. As any dad or mom would tell you, a child who is seriously ill or wounded is the worse nightmare imaginable, and Rick is a very believable parent in trauma.
I find it interesting that the show decided to put the two children in peril, especially since they obviously represent the future of humankind should the survivors outlive the zombie apocalypse.
Even if you don't have children, many of us can relate to being in a situation where we feel powerless or out of control. It is during those times that our true view of God is revealed, and the show brought that out in two instances.
The first is Daryl's response when Andrea tries to console Carol by telling her they are praying, for her daughter. Daryl says "It's a waste of time, all this hopin' and prayin'. We're going to locate that little girl, and she is going to be fine."
Later on when Rick is debating whether or not to stay with Carl, Lori offers this challenge (start at 38:30 mark)
"If you need to pray or cry or tell God he's cruel, you go right ahead, but you're not leavin', Rick"
SEASON 2, EPISODE 1 DISCUSSION QUESTIONS:
1. Why does Daryl feel like praying is a 'waste of time'?
2. Have you ever felt that way? Why or why not?
3. Why does Rick want to leave Carl and Lori at a time when he really needs to be there?
4. What do you think of Lori's response?
5. Is it ok for a Christ follower to 'tell God He's cruel'? Why or why not?
Read the following passage from Scripture:
O Lord, how long will you forget me? Forever?
How long will you look the other way?
How long must I struggle with anguish in my soul,
with sorrow in my heart every day?
How long will my enemy have the upper hand?  (Psalm 13:1-2)
6. Do you think Rick could relate to this Psalm? Why or why not?
7. What does this Psalm teach us about complaining to God when things are out of control?
8. Is there a difference between complaining TO God and complaining ABOUT God? Why or why not?
9. In what ways can you relate to this Psalm?
Wrap up
I'm so glad that Psalm 13 is in the Bible, because it teaches us that we can bring our angry and confused emotions to God without sinning. The critical thing to remember is that there is a difference between complaining to God and accusing Him of being unfair or cruel. It is during the tough times that our view of God comes out, and they can either lead to comfort from Him in our openness and honesty, or to bitterness in our blame on Him.