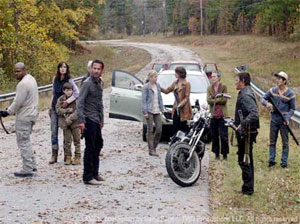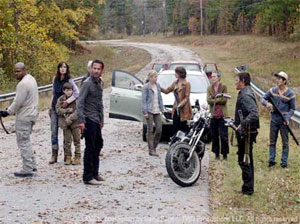 The Walking Dead Season Two opener wastes no time in amping up the excitement level as the survivors get trapped in traffic and face an onslaught of walkers. The episode is appropriately titled 'What Lies Ahead', because there doesn't seem to be a definitive direction for the group after the CDC went up in smoke.
The drama between characters is rapidly headed towards a boiling point as well, and frankly I'm surprised it hasn't happened sooner given the intense stress level they face each and every moment.
But Season Two introduced another element into the story that would be hard to ignore in dire times like these…
Faith.
The episode begins its peek into the world of faith by showing zombies sitting in pews looking at the cross. Maybe something from their past at a deep level connected when seeing the crucifix? (although…why do we have a Catholic icon in a protestant church?). Then we explore some deeply rooted faith issues as Carol's view of God's reward and punishment are brought out.
But the most telling scene to me was Rick's monologue where he reveals his deep desire for an epiphany:
(At the 55:46 mark)
Rick: I don't know if you look at me with what, sadness? scorn? pity? love? Maybe it's just indifference.
I guess you already know I'm not much of a believer. I guess I just chose to put my faith elsewhere. Family mostly. And friends. My job. Thing is, we … I could use a little something to help keep us going. Some kind of acknowledgement. Some indication I'm doing the right thing. You don't know how hard that is to know.
Or maybe you do.
Hey, look, I don't need all the answers. Just a little nudge. A sign. Any sign will do.
SEASON 2, EPISODE 1 DISCUSSION QUESTIONS:
1. Why do you think the Zombies were sitting in the church looking at the cross?
2. What do you think someone means when they say, "I chose to put my faith in my family, friends and job…"?
3. Why do you think Rick asked for a sign indicating he was doing the right thing?
4. How can we know if we are doing the right thing?
5. Is it wrong to ask God for a sign or an epiphany? Why or why not?
Read the following passage from Scripture:
Then some of the Pharisees and teachers of the law said to him, "Teacher, we want to see a sign from you."
 He answered, "A wicked and adulterous generation asks for a sign! But none will be given it except the sign of the prophet Jonah.  For as Jonah was three days and three nights in the belly of a huge fish, so the Son of Man will be three days and three nights in the heart of the earth. (Matthew 12:38-40)
6. Why is Jesus so seemingly harsh on the people asking Him for a sign?
7. Do you think Jesus would call Rick 'wicked' for his request? Why or why not?
8. What huge 'sign' has Jesus already given to us that reveals His power and presence?
9. What is the balance between trusting God and asking for His confirmation in our lives?
Wrap up
At some point I think all of us have felt like Rick on one level or another. It's hard to know what Jesus' will for our lives is sometimes, especially when we are faced with tough decisions. A great thing to remember is that His death and resurrection are a 'sign' that we can trust Him even in the midst of confusion and difficult choices, because He has proven His authority over life and death, and his Word provides us guidance on how to do the right thing.