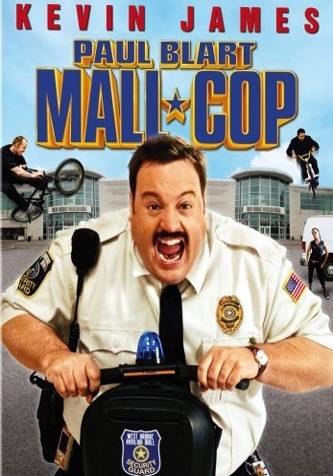 (Columbia, 2009)
Main Point:
We all need backup from time to time, and our friends that truly love us are those that will give it to us when we need it most.
The Movie Clip:
Paul Blart Mall Cop was one of comedian Kevin James' movies from 2009. In it, he plays a wannabe cop who's forced to work as a security guard because he cannot pass the New Jersey state test for police officers. Not only is he overweight, but he also suffers from hypoglycemia, a condition that requires him to keep his sugar levels in balance (or risk the consequences).
What was supposed to be a "temporary" job as a mall security guard has turned into a decade-long job with no end in sight. But before he gets his chance to prove himself as a cop, his mall is robbed on Black Friday by a band of crooks. Hilarity ensues as Blart wards off the bad guys in his own special way.
Don't expect a great story line. Don't expect Oscar nods. But it's a great, clean, funny film that the whole family can enjoy because it's PG.
Introducing the Clip:
Paul Blart wants to be a New Jersey police officer worse than anything in his life, but until he gets his chance to fail the state test again, he's forced to work as a security guard at a mall that will soon be robbed on Black Friday, just before Christmas. In this clip you're about to see, Blart and his partner gets called to a shopper dispute at Victoria Secret. When the situation gets out of hand, Blart needs backup in a really bad way. Take a look at what happens next.
Scene Script:
START CLIP AT 0 HOURS 16 MINUTES AND 56 SECONDS.
Security Supervisor: Hey Blart, they need you at Victoria's Secret.

Blart: OK. Roger that. OK, I gotta go.

Amy: OK. Bye.

Lady One: I found it first.

Lady Two: No, you didn't.

Blart: Ladies. Problem. What's the genesis?

Lady Two: She's trying to take the last push up bra in this size.

Clerk: There's gonna be a new shipment tomorrow. They'll be here by noon.

Lady One: Well I need this one now. I have a date tonight.

Lady Two: Really? Is he blind? (Lady One slams her drink on the floor.)

Blart: Whoa! Waterproof shoes and baggies on the socks. Not my first rodeo. OK ladies, need to see some ID.

Lady One: No you don't.

Blart: Ma'am, I should warn you, I do have the authority to make a citizen's arrest.

Lady One: So does anyone. I could arrest you right now.

Clerk: That's true. She could.

Blart: Hey! Not talking to you, OK? Can I see you for a second, please ma'am? (Lady One walks over to Blart.) Look, I understand your sensitivity. I've had some issues with weight myself.

Lady One: Are you calling me fat?

Blart: No! No! No, no, no! I'm just saying, I've been down that road. I mean…I mean, I'm still on it. We both are, you know? Stranded. Let's face it. We eat to fill a void, right? But as soon as I started eating healthier, I noticed I wasn't so moody. And PS, your skin's gonna clear up.

Lady One: (Takes off earrings) Can you hold onto these?

Blart: Sure.

(Then the fight begins. Throughout the tussle, Blart keeps yelling "backup" to his partner Veck, but he never responds. The fight is clearly won by the lady.)

Blart: Look, I know you're new here and all, but "backup" seems like a pretty universal term.
END CLIP AT 0 HOURS 19 MINUTES AND 35 SECONDS.
Transitional Statement:
That's a really silly scene that can teach us a really serious truth about life. Paul Blart got himself into a situation in which he needed help, and when he turned to his partner, he got none. Blart learned an important lesson the hard way: we all need backup from time to time, and our friends that truly love us are those that will give it to us when we need it most. We need to make sure that we've picked great friends because life will throw some hard punches our way. Let's take a look at the Bible to see what we can learn about loving each other in real ways.
Divide into Small Groups:
Let's go ahead and split up into our discussion groups, and then afterward we'll come back together for a final word.
CLICK HERE for a quick training article on how to maximize your small groups using our small group format—a great resource to equip your small group leaders.
Discussion Questions:


AROUND THE CIRLCE: As we get started, let's all take a second to share our names and whether we've seen an incident like this at a mall.


ASK A FEW: Do you think you would have needed backup if YOU confronted the angry woman in the mall store? Why or why not?


ASK A FEW: Why didn't Blart's partner give him backup? (Leaders – He didn't want to get hurt, but additionally, even though we don't know it yet in the film, his partner is really just a robber working as a security guard to get information on the mall. In other words, he couldn't care less if Blart got hurt.)


ASK A FEW: What would you have done if you were Blart's partner and he called for backup?


ASK A FEW: Blart had a situation quickly get out of hand. Have you ever had a situation go from bad to worse really quickly? If so, who did you call on for help?


ASK A FEW: How important is it to have backup in life?

Read the following passage:

1 John 3:11-18 (NIV)

This is the message you heard from the beginning: We should love one another. 12 Do not be like Cain, who belonged to the evil one and murdered his brother. And why did he murder him? Because his own actions were evil and his brother's were righteous. 13 Do not be surprised, my brothers, if the world hates you. 14 We know that we have passed from death to life, because we love our brothers. Anyone who does not love remains in death. 15 Anyone who hates his brother is a murderer, and you know that no murderer has eternal life in him. 16 This is how we know what love is: Jesus Christ laid down his life for us. And we ought to lay down our lives for our brothers. 17 If anyone has material possessions and sees his brother in need but has no pity on him, how can the love of God be in him? 18 Dear children, let us not love with words or tongue but with actions and in truth.
ASK A FEW: What are some of the things this passage says about love?
ASK A FEW: Why do you think John says that hating is the same as murdering? (Leaders – For starters, Jesus said the same thing in His sermon on the mount. But also, it just makes sense that those we hate, we are unwilling to help. Sadly, we don't care if they get hurt…and we usually don't care if we are the ones who hurt them.)
ASK A FEW: According to this passage, how has Jesus given you and me backup? (Leaders – Take a look at verse 16.)
ASK A FEW: What does John mean when he says "love with actions and in truth"? Give a few examples of that.
ASK A FEW: Based on this passage, what would John say about giving your friends backup?
ASK A FEW: Without naming names, do you know people who say they love you but in reality, they don't have your back? How does that make you feel?
ASK A FEW: Now let's go in the opposite direction for a moment. Be honest; has a friend of yours needed you to back them up…but you didn't? Explain.
ASK A FEW: In what situations do you most often need backup? In what situation do your friends most often need backup?
AROUND THE CIRCLE: Exactly who are you going to give some backup to this coming week? How so?
Wrap Up:
Backup. We all need it from time to time. Paul Blart, the mall cop, definitely needed it in the clip that we watched earlier. He quickly found himself in a comically dangerous situation…and needed help in a hurry. Unfortunately, he didn't get any backup from his partner, and we know why.
His partner didn't love him. His partner didn't care for him. In fact, as those of us who have watched this entire movie know, his partner is actually the leader of the bad guys.
That funny little clip is just one way that the truth of God's Word is played out in our world. John wrote that we take care of those we love. Thus, his call to us was to love everybody. And he didn't stop with just saying, "I love you." No, John wanted us to love with truth AND actions. That's not always easy, but our friends will always appreciate us doing that.
John says that the way we understand love is by knowing that Jesus Christ laid down His life for us. He actually wrote those very words in this passage. We know what love is because we know that Jesus gave His life for us.
That's some backup!
So, let me ask you to consider your friends right now. Without saying anything to anyone, just think about those who are closest to you in life. What do they need? What sort of help could they use? Do they need some sort of backup?
If so, what are you going to do about it? You can be like Blart's partner…and turn a blind eye to someone who needs help. Or you can be like Jesus…who laid down His life for us when we needed it most.
Close in Prayer
Written by David R Smith