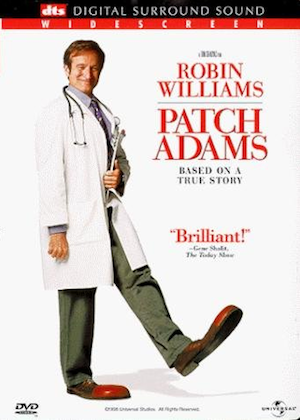 (Universal Pictures, 1998)
Main Point of Discussion:
It's OK to bring our frustrations to God, but as Christians we need to express them with respect and trust in His sovereignty.
The Movie Clip: Frustrated with God
Patch Adams is a film based on the true story of Hunter "Patch" Adams, a non-conformist doctor who championed the need for human interaction – and even humor – in doctor-patient interactions. The clip we are using for this particular discussion happens soon after Patch's girlfriend (a fellow medical school student) is murdered.
Introducing the Clip:
Today I want to show you a clip from the movie Patch Adams. The context of this scene is that the girlfriend of hardworking and caring med school student, Patch Adams, has just been murdered and Patch is in trouble (again) at school for his unusual medical practices. In despair Patch stands on the edge of a cliff and has a fantastic conversation with God, demanding from his Creator a little compassion. Watch carefully at the end to see if you pick up on God's response.
Scene Script:
BEGIN CLIP at 1 hour, 32 minutes, and 45 seconds. Or this clip is available to download and purchase from WingClips (as seen in the embedded video clip above)
"So, what now, huh? What do You want from me? (He steps to the edge of the cliff.) Yah, I could do it. We both know You wouldn't stop me. So answer me, please. Tell me what You're doing. OK, let's look at the logic. You create man. Man suffers enormous amounts of pain. Man dies. Huh. Maybe you should've had just a few more brainstorming sessions prior to creation. You rested on the seventh day. Maybe you shoulda spent that day on compassion. (He looks down at the ravine and slightly moves his foot, knocking a small rock off the cliff.)

"You know what? You're not worth it." (He sees the butterfly on his case, then it lands on him.)
Transitional Statement:

This scene is a powerful picture of what many feel when life turns against them–they want to place ultimate blame on God. Patch has obviously turned his grief and anger toward God to the point of threatening suicide, but interestingly enough it seems that just getting his emotions out there was enough to give Patch the strength to go on.
Divide into Small Groups:
Let's go ahead and split up into our discussion groups, and then afterward we'll come back together for a final word.
CLICK HERE for a quick training article on how to maximize your small groups using our small group format—a great resource to equip your small group leaders.
Discussion Questions:


AROUND THE CIRCLE: Before we begin, tell everyone your name and what good or bad or funny experiences you've had with a doctor?


ASK A FEW: In the scene we watched, do you think Patch crossed the line in his rant toward God? Why or why not?


ASK A FEW: Patch directly questions God's compassion because of his pain and the suffering of humankind. Have you ever felt that way? Why or why not?


ASK A FEW: Does the majority of pain and suffering in our lives come from a lack of compassion from God or our own choices? Why?


ASK A FEW: How did God show the deepest compassion to mankind ultimately destroying suffering and death? (leader: this question is designed to help students see that by allowing evil and suffering, God Himself paid the biggest price by coming to earth and being crucified. Also, this will help students see that Jesus made a way for people to ultimately escape all suffering)


ASK A FEW: Is it OK to express our frustrations to God when it seems like God isn't showing compassion? Why or why not?

Read the following passage:

Psalm 13 (New Living Translation)
For the choir director: A psalm of David.

1 O LORD, how long will you forget me? Forever?
How long will you look the other way?
2 How long must I struggle with anguish in my soul,
with sorrow in my heart every day?
How long will my enemy have the upper hand?
3 Turn and answer me, O LORD my God!
Restore the sparkle to my eyes, or I will die.
4 Don't let my enemies gloat, saying, "We have defeated him!"
Don't let them rejoice at my downfall.
5 But I trust in your unfailing love.
I will rejoice because you have rescued me.
6 I will sing to the LORD
because he is good to me.
ASK SOMEONE: How is this passage similar to the scene we watched?
ASK A FEW: Why do you suppose the psalm writer asks God the question "how long" four different times?
ASK A FEW: What is the emotion behind the first two verses?
ASK A FEW: This Psalm was written by King David, whom the Bible calls "a man after God's own heart." Does he fit that description here? Why or why not?
ASK A FEW: How does this Psalm differ from the ending of the Patch Adams scene? (David praises God and trusts in Him, while Patch tells God that He isn't worth it)
ASK A FEW: Is there a line we shouldn't cross when addressing God? If so, what is it? (leader: The line seems to be between questioning God but trusting Him (like David) and accusing God and doubting His goodness (like Patch Adams.)
AROUND THE CIRCLE: Does this Psalm help you see that God is big enough to handle our frustrations? Why or why not?
ASK A FEW: A great preacher named C.H. Spurgeon commented on this Psalm, saying:
"(God) does not regard the music of our prayers, but his own Spirit's work in them in exciting desire and inflaming the affections." (A Treasury of David by C.H. Spurgeon)

What was the "music" of David's prayer in Psalm 13? How did it change by verse 6? What caused the change?
AROUND THE CIRCLE: What are some ways this discussion has impacted your view of and relationship with God?
Wrap Up:

Most likely all of us in this room have experienced a "how long" moment with God, and we have also seen Him walk us through the deepest valleys so that we can also "sing to the Lord for He has been good to me." There may be some here who feel stuck between the "how long" and the feeling of deliverance and trust, so let's take a few minutes of silence, and during that time I'd like you to pour out your heart to God in the most honest way possible. We'll all pray silently for a few moments, and then I will close us up. Remember that God is big enough to handle our frustrations, and sometimes just the simple act of venting with God can renew our hope like it did with King David. If you want to, hang around and talk about this some more, but right now, let's bow our heads and close our eyes.
Close in Prayer
By Lane Palmer