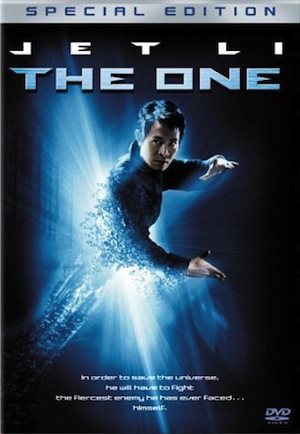 Movie Clip: The One, PG-13, 2001, Revolution Studios
Main Point: There is a war inside us between the Spirit and our sinful nature. Therefore, we must choose to live by the Spirit and not by our sinful nature.
Attention Grabber: Movie – The One
The One is a pretty entertaining movie. To sum it up, it's basically a typical Jet Li martial arts movie, combined with Matrix-style special effects. The movie takes place in the future, where there are 23 universes, all similar versions of this one. An assassin named Yulaw (Jet Li) has found a way to travel from one universe to another, attempting to kill all of the other versions of himself. So in a nutshell, the movie is about Jet Li fighting against himself. A good excuse for two Jet Li's in one movie. If you're not into martial arts or science fiction, chances are you won't like the movie. On the other hand, if you're really into martial arts, you'll be amazed to see Jet Li fighting himself using two completely different styles of fighting. Pretty cool. As far as appropriateness, it's got a lot of fighting, a couple people dying, not much blood, and there are a few "S-bombs" dispersed throughout the movie (that means a little swearing).
Clip: Taking myself on…
The clip we're using is during the last battle of the movie. The good version of Jet Li, Gabe, must now confront the evil version, Yulaw, in an all out duel. Yulaw has just defeated an agent of the inter-dimensional police (gosh that sounds cheesy), played by Jason Statham (The Transporter, Italian Job). Now Gabe steps up to challenge Yulaw once and for all. The entire scene is one big fight scene with only three lines of dialogue, but ends with Yulaw defeating Gabe. It is a great illustration of how we fight our own sinful nature, and how sometimes it just seems unbeatable. And trust me, the boys in your group will cheer. The clip begins at approximately 66:06, when Jason Statham is hanging on the railing of a case of stairs, and ends at approximately 68:48, when Jet Li is lying on the ground. Because of the nature of this particular clip, you don't have to be as precise with the timer as some of the other film clips.
Scene Introduction:
You know, I'm tired of some of the stupid stuff I keep doing in my life. (This would be a great time to share something that you might struggle in. Be sure it's appropriate to share with students, of course.) It's almost like there's a war going on inside me. In fact, I would say that a lot of times I'm fighting with myself. I found this clip from a movie called The One, that gives a really good picture of what is going on inside my heart. Just so you can tell the two apart, the bad guy is the one who takes off his jacket and ties it around his waist. Let's go ahead and watch the clip and then we'll get together afterward to talk about this battle we fight with ourselves.
Scene Script:
(Really there isn't much of a script to write for this scene. But here are the lines:)

GABE: Yulaw! You came here for me. Now I am here for you.

YULAW: After this, there will be only one.

GABE: I won't be the one. But neither will you.
After this, Gabe and Yulaw fight in a warehouse until Yulaw finally defeats Gabe. He knocks Gabe against some sort of appliance in the warehouse and he falls to the ground. It seems as if he's beaten.
Transitional Statement:
This clip is exactly what goes on in my heart so much of the time. It feels like I'm at war with myself. It seems like I keep doing the stupid things that I try so hard not to, while I just can't do what I keep promising God I will do! Have you ever felt that way? You know, the Bible actually talks about this battle that is going on.
Divide into Small Groups:
Let's break up into our discussion groups and try to figure out just exactly what to do with this battle. Perhaps we can figure out how to finally win some of these fights. Then afterward we'll come back together for a final word.
CLICK HERE for a quick training article on how to maximize your small groups using our small group format—a great resource to equip your small group leaders.
Discussion Questions:


AROUND THE CIRCLE: Tell us your name (if the students in your group don't know each other) and if you were in a movie, whether you would want to be the good guy or the bad guy.
AROUND THE CIRCLE: Tell us about a time where you did something stupid or crazy… and later you thought, "Why did I do that?"
ASK A FEW: Do any of you want to share about a time when you were having a hard time deciding whether or not to do something? It could be a good thing or a bad thing. Did you end up doing it?
ASK A FEW: What do you think it is inside us that makes us want to do the sinful things?
ASK A FEW: What do you think it is about us that makes us want to do what's right?
ASK SOMEONE: Do you ever get frustrated after you do something you knew was wrong?
ASK SOMEONE: Wouldn't you think that we would learn our lesson? Why do you think we keep doing those things?

You know, the Bible tells us that we actually do have a fight going on inside us. Listen to what Paul, the guy who wrote a huge chunk of your Bible wrote. He's totally bummed about what he keeps doing.


Read Romans 7:15-24
I do not understand what I do. For what I want to do I do not do, but what I hate I do. And if I do what I do not want to do, I agree that the law is good. As it is, it is no longer I myself who do it, but it is sin living in me. I know that nothing good lives in me, that is, in my sinful nature. For I have the desire to do what is good, but I cannot carry it out. For what I do is not the good I want to do; no, the evil I do not want to do—this I keep on doing. Now if I do what I do not want to do, it is no longer I who do it, but it is sin living in me that does it.
So I find this law at word: When I want to do good, evil is right there with me. For in my inner being I delight in God's law; but I see another law at work in the members of my body, waging war against the law of my mind and making me a prisoner of the law of sin at work within my members. What a wretched man I am! Who will rescue me from this body of death?
ASK ONE OR TWO: Can you hear Paul's frustration in his writing? Why is he so frustrated?
ASK A FEW: Can any of you relate with Paul? How?
ASK A FEW: Does anyone want to share anything that they struggle with? What thing is it that you are weak fighting against? (This would be a great time for you as the small group leader to take the lead by sharing something you struggle with. Be sure it's not so deep that the students think they need to compete with how bad their sins are.)
ASK A FEW: At the end of the clip we watched, the good guy lost the fight. Why is it that the fight inside us sometimes seems like we just can't win?
ASK A COUPLE: What do you think it would take for us to overcome our weaknesses?

Read Romans 8:1-2
… Therefore, there is now no condemnation for those who are in Christ Jesus, because through Christ Jesus the law of the Spirit of life set me free from the law of sin and death.
ASK A FEW: Why would it be important for us to know that if we have a relationship with Christ, God will not "condemn" or punish us for our sins?
ASK A FEW: Paul is basically saying that we are free from being slaves to sin! How does that make you feel?
ASK A FEW: But what does being free from being a slave to sin look like?

Read Romans 8:5-6
Those who live according to the sinful nature have their minds set on what that nature desires; but those who live in accordance with the Spirit have their minds set on what the Spirit desires. The mind of sinful man is death, but the mind controlled by the Spirit is life and peace."

ASK SOMEONE: If we give more power to the sinful nature within us, what is our behavior going to be like?
ASK SOMEONE: If we give more power to the Spirit that lives inside us, then what will our behavior be like?
ASK A FEW: Which one is the way you want your life to be like?
AROUND THE CIRCLE: Right now we're going to go around the circle and tell each other what our weakest area is. Before we do, let's agree that whatever we share in this circle stays in this circle. And also, I want to hear one thing you can do this week to fight against that sinful nature inside you in this area. (As a leader, remember what some of the students may have shared before. Also, pray with your students after this before coming together as a large group again.)
Wrap-Up:
You know, it was amazing when I realized that the part of me that wins the battles is the part that I personally give the most power to. I'm tired of the battle that is being waged in me. And yet, the battle is almost unnecessary! Sin has no power over me! It has no power over you! It only has as much power as we allow it to have. We need to give the Spirit the power in our lives. I really want to challenge all of you with something. You've already shared about your struggles and how you want to battle them. But we always must remember that we need God's help in doing that. So I insist that all of you, for the next seven days, before getting out of bed, ask God to fill you with His Spirit, so that you can have the power to overcome sin. Thank Him for not condemning you for anything you've already done, but also ask Him to help you that day. We are going to give you a piece of paper that has Romans 8:1 written on it. I want you to cover your alarm clock with the paper, so that when your alarm clock goes off in the morning, you'll either see the paper or feel it when you go to hit the snooze button. Before doing anything else, pray for God to give you strength. Remember that the mind controlled by the Spirit is life and peace. Let's pray.
Written by Matt Furby