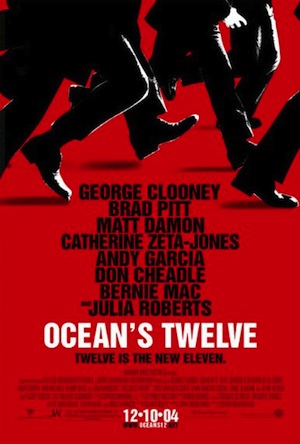 MAIN POINT: The last shall be first. Finishing first isn't necessarily God's plan for our life.
The movie Ocean's Twelve is about a group of thieves that have been discovered by the casino owner that they robbed three years earlier. The movie follows the group of thieves as they attempt to earn, in only two weeks, the $97 million dollars they owe the ruthless casino owner. At the beginning of Chapter 12 is a movie clip you can use for a lead-in to a discussion about competition and always trying to be first.
BEGIN: Chapter 12 (41:30)
(Scene opens with a short comment by a female agent that leads into an action flashback action sequence of a robbery attempt. Scene pauses, then switches back to agents working robbery case.)
FEMALE AGENT: Wait a minute.

MALE AGENT: Exactly. Why would they bring the drill if they weren't planning to use it?

FEMALE AGENT: (Thinks to self) Oh…oh!
(Scene switches back to robbery attempt where the safe's door is already open when they arrive and only a MP3 player is left behind)
AUDIO TAPE: Congratulations. You are the second person to crack the Van der Woude safe tonight. In arriving second Mr. Ocean, you have joined a long line of people who have worked and risked a great deal only to get somewhere second. You don't know any of these people by name of course because they enter oblivion. You know this word, "oblivion"? It means to be totally forgotten by everyone forever. And it's where you would be now if it weren't for the Bellagio heist."
END: Immediately following the comment about the "Bellagio heist." (43:32)
Introduction: Growing up we were always taught to win. We were taught that if we didn't win then we needed to train more, to study more, and to try harder so that when the next time comes around, we do win. Because that's our goal—to be number one! Nobody remembers second place after all, right? That's the world we know, but Jesus came and flipped that view upside down.
Divide into Small Groups:
Let's go ahead and split up into our discussion groups, and then afterward we'll come back together for a final word.
CLICK HERE for a quick training article on how to maximize your small groups using our small group format—a great resource to equip your small group leaders.


In the clip from Ocean's Twelve we just watched, the "Americans" got to the safe second. And according to the tape they found, no one remembers those who finish in second place. To some degree that is true, see if you can name these "losers":



ASK A FEW: Does anyone know who Abraham Lincoln beat in the presidential election when he was voted president with 1,866,462 votes? (three guys: Stephen A. Douglas, John Beckenridge, and John Bell. The parties were a little more divided back then.)
ASK A FEW: Mary Lou Reton catapulted to international fame at the 1984 Olympic Games in Los Angeles, becoming the first American woman ever to win the Gold Medal in the All-Around in women's gymnastics. Can you remember the name of anyone she beat? (no one does)
ASK A FEW: Lance Armstrong won the Tour De France again this year (2005). Some of us can't even keep track of how many times he's won. Does anyone know the name of the second place guy this year? (Ivan Basso) Does anyone know who came in second place three times behind Lance in 2003, 2001, and 2000? (Jan Ullrich)



ASK A FEW: Why is it that we can usually recall who won, but not who lost? (Do you think that because the first place finishers are so glorified by our world that it makes it easier to remember them?)
ASK A FEW: Can you think of a time in your life when you did something great during a competition and were recognized or you won first place? What did you do or win? How did that make you feel?
ASK A FEW: Can you think of a time in your life when you really wanted to do something great or you were in a competition and either you failed or you didn't win? How did that make you feel?
We all have that desire to be first, the need to be recognized and seen as better than the rest. Even the disciples had thoughts like this, listen to what Jesus tells them here:


Mark 9:33-35 (NIV)
They came to Capernaum. When he was in the house, he asked them, "What were you arguing about on the road?" But they kept quiet because on the way they had argued about who was the greatest. Sitting down, Jesus called the Twelve and said, "If anyone wants to be first, he must be the very last, and the servant of all."



ASK SOMEONE: What were the disciples arguing about on the road?
ASK SOMEONE: Jesus settles their argument once and for all, what is His answer?
ASK A FEW: Name some examples of how not "finishing first" and being "last" can be rewarding here on earth. (i.e. Mission trips, nursing home visits, basic serving opportunities)
AROUND THE CIRCLE: Giving up on finishing first and choosing to become the "servant of all" as Jesus suggests, most likely won't bring us the fame and the glory that the world sheds on those who finish first. However it will bring a feeling far greater than anything the world could offer us. How did/does it make you feel to serve someone else?
AROUND THE CIRCLE: Talk about how you can become "last" and serve someone else this week. Make a commitment to hold each other accountable to do whatever you come up with. (Be creative, it can even be a group project.)
WRAP-UP:
It's easy to get caught up in the world's "finish first" mindset and lose track of what God is calling us to do, but finishing first isn't necessarily God's plan for our life. God wants us to be willing to be the servant of all, getting down and dirty and doing whatever it is that He calls us to do. Commit to serving others this week, by yourself or with your small group, it doesn't matter. All that matters is that you are serving someone because it's what Jesus told us to do.