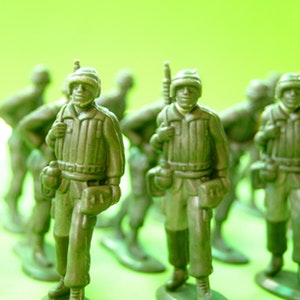 This event requires that each student bring 1-2 Nerf guns with them. (Be mindful that not all students can afford them, so be prepared with a few extras provided by the church.)
Upon entering the building for the event, each student will write their name on a tiny sheet of paper. Once everyone has arrived, a youth leader will mix up the names and randomly hand each person a paper with a name on it. If a student is given his/her own name, then give them a different name. When everyone who is playing has a name (other than their own), explain the rules of engagement for the assassins.
1. The name of the person on your piece of paper is your target. Your job is to ÒeliminateÓ them by shooting them.
2. A shot to the arms or legs counts as an injury, but 2 shots to an arm or leg counts as a kill. If you only get hit in the arm/leg once, you are still in the game all the way until you are hit again.
3. A shot to the chest or head automatically counts as a kill.
4. If you take out the person on your paper, you are to relieve that person of his/her paper and seek out THAT person.
5. If you do not know the person you are targeting, you are ONLY allowed to ask ONE adult leader who is not in the game for help in identifying who that person is.
6. Explain the boundaries for the game. (Will vary for each church, so establish them now and tell them if they venture past the boundaries, they are immediately out of the competition.)
7. When you hear the horn/siren go off, all players are to report to the meeting room (that you assign now) to see how many players are still alive and in the game.
8. If you are killed and put out of the game, you are to report to the meeting room at once, where there will be other games to play while waiting for the others to finish. (This helps everyone stay corralled and interested, even though they have been Òtaken out.Ó)
9. The last person standing is declared the winner!
Once the rules are explained, give students 30 seconds to spread out on the campus to get ready. When the 30 seconds are up, sound the horn/siren to begin the game.
Idea by Michael L.