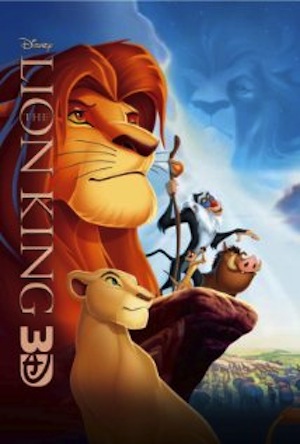 Main Point: God's forgiveness completely restores relationships.
Attention Grabber: The Lion King movie clip
Introduce the Clip:
Today we are going to see a clip from an old favorite, The Lion King. Watch as Simba makes a bad decision, taking Nala along with him. Pay close attention to how Simba's dad, Mufasa, deals with him when Simba's decision results in danger.
Show Clip:
Begin at Scene 6, set the counter at 18:24 as Simba and Nala tumble into the Elephant Graveyard. You will stop the clip at 25:36, when Mufasa and Simba wrestle in the grass.
Key Dialogue:
Mufasa: Simba, I am very disappointed in you.

Simba: I know.

Mufasa: You could have been killed! You deliberately disobeyed me. What's worse; you put Nala in danger.

Simba: I was trying to be brave, like you.

Mufasa: I am only brave when I have to be. Simba, being brave doesn't mean you go looking for trouble.

Simba: But you're not scared of anything.

Mufasa: I was scared today.

Simba: You were?

Mufasa: Yes, I thought I might lose you.

Simba: I guess even kings get scared, huh? But I think those hyenas were even scared-er!

Mufasa: Cause nobody messes with your dad! Come here, you!

Simba and Mufasa chase and wrestle in the grass.

Simba: Dad, we're pals, right?

Mufasa: Right!
Stop clip here.
Transition Statement:
There are a lot of similarities between the way God forgives us and the way we just saw Mufasa forgive his son Simba. We'll talk more about God's forgiveness in small groups. As you move to those groups, think of a time when you have felt really forgiven.
Small Group Questions:
AROUND THE CIRCLE: Give an example of a time when you have been forgiven by someone. You don't have to use names or give all the details, just share about who forgave you and why. What was good about it?
ASK A FEW: Have you ever wanted to be forgiven, but the other person stayed mad? How does that feel?
ASK A FEW: What makes it hard to forgive others?
ASK SOMEONE: In the clip, Mufasa reached in and saved Simba and Nala as the hyenas were about to attack. How do you think Mufasa felt?
ASK A FEW: How has God saved people? How do you think He feels?
ASK A FEW: Simba explained to his dad that he was trying to be brave; that's why he disobeyed. Why do you think people disobey God?
ASK A FEW: Think of a time when you have disobeyed God and wanted forgiveness. What did you do? How did you feel?

Transition into Scripture Study:
When Mufasa, who is symbolic of God our Father, stepped in to save Simba, we saw a picture of deep and protective love. The Father is unwilling to lose us even when we stray. In fact, the Bible is filled with stories of God reaching out to His children who have walked away and disobeyed. One of those stories is a parable Jesus told about a boy who wanted his inheritance so he could leave home and start life on his own. Let's look at the parable of the Prodigal Son.

It's kind of long so we'll take turns reading.

Luke 15:11-32 (New Living Translation)
11 To illustrate the point further, Jesus told them this story: "A man had two sons. 12 The younger son told his father, 'I want my share of your estate now before you die.' So his father agreed to divide his wealth between his sons. 13 "A few days later this younger son packed all his belongings and moved to a distant land, and there he wasted all his money in wild living. 14 About the time his money ran out, a great famine swept over the land, and he began to starve. 15 He persuaded a local farmer to hire him, and the man sent him into his fields to feed the pigs. 16 The young man became so hungry that even the pods he was feeding the pigs looked good to him. But no one gave him anything. 17 "When he finally came to his senses, he said to himself, 'At home even the hired servants have food enough to spare, and here I am dying of hunger! 18 I will go home to my father and say, "Father, I have sinned against both heaven and you, 19 and I am no longer worthy of being called your son. Please take me on as a hired servant."' 20 "So he returned home to his father. And while he was still a long way off, his father saw him coming. Filled with love and compassion, he ran to his son, embraced him, and kissed him. 21 His son said to him, 'Father, I have sinned against both heaven and you, and I am no longer worthy of being called your son.[a]' 22 "But his father said to the servants, 'Quick! Bring the finest robe in the house and put it on him. Get a ring for his finger and sandals for his feet. 23 And kill the calf we have been fattening. We must celebrate with a feast, 24 for this son of mine was dead and has now returned to life. He was lost, but now he is found.' So the party began. 25 "Meanwhile, the older son was in the fields working. When he returned home, he heard music and dancing in the house, 26 and he asked one of the servants what was going on. 27 'Your brother is back,' he was told, 'and your father has killed the fattened calf. We are celebrating because of his safe return.' 28 "The older brother was angry and wouldn't go in. His father came out and begged him, 29 but he replied, 'All these years I've slaved for you and never once refused to do a single thing you told me to. And in all that time you never gave me even one young goat for a feast with my friends. 30 Yet when this son of yours comes back after squandering your money on prostitutes, you celebrate by killing the fattened calf!' 31 "His father said to him, 'Look, dear son, you have always stayed by me, and everything I have is yours. 32 We had to celebrate this happy day. For your brother was dead and has come back to life! He was lost, but now he is found!'"
ASK SOMEONE: Once the son spent all of his money, what were the consequences? (Verses 12 on)
ASK A FEW: What kind of consequences have you experienced because of disobedience?
ASK SOMEONE: When the son decided to return home, what took place between his father and him? (Look at verses 20-21)
ASK A FEW: If we don't admit when we're wrong or when we mess up, what happens in our relationships with the people we've hurt? How does it affect our relationship with God?
ASK A FEW: What happens when we go to God and admit that we have messed up?
Wrap Up:
The Lion King clip gives a picture that is very similar to the forgiveness we see in the Prodigal Son parable. God rescued us in the way He sent Jesus to save us from sin. We still mess up and we still face consequences, but we are forgiven when we admit our sin (the Bible calls that repenting). God is eager to restore relationships with us. Just like Mufasa wanted to hug his son and return to their solid relationship, God reaches to us and wants to embrace us. The Prodigal Son definitely messed up. But his father couldn't wait to greet him—he ran out to meet him in the street and then held a big party to welcome him back. That's what God is like. It's like He's running out to meet you the minute you admit that you need Him.
Maybe some of you need Him tonight. Maybe you've never admitted that you need Him or perhaps you've walked away and disobeyed and you want to return. The Heavenly Father is running out to meet you. Close your eyes and imagine God with arms wide open. He's looking at you and smiling. All you have to do is run to Him. Let's pray.
Idea by Milo Dominguez
Written by Teddi Pettee