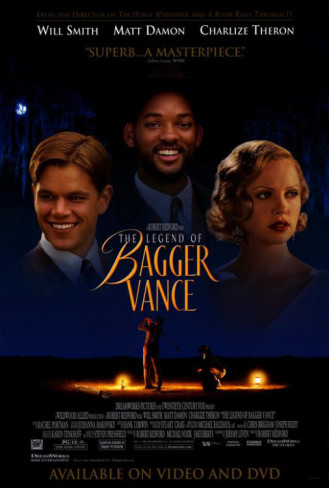 The Legend of Bagger Vance (Putting Down Our Burdens)
Main Point: In life, we all have burdens, and we may not even understand them. But we absolutely must know what to do with them: give them to Jesus.
The Movie Clip:
Rannulph Junuh (played by Matt Damon) is a fantastic young golfer from Savannah, Georgia. He wins several amateur championships and garners the love and support of all of Georgia. Unfortunately, his career is sidetracked by World War 1, and though he survives, he experiences severe post-traumatic stress disorder after the war which completely destroys his game. When he returns home, he does so as a lonely drunk.
But when golfing greats Bobby Jones and Walter Hagen come to town to play in an exhibition match, Junuh is invited to play along with them to drum up local support. He declines the offer, but then meets a mysterious fellow named Bagger Vance (played by Will Smith).
Bagger convinces Junuh to play, and coaches the ex-soldier on how to re-discover his swing. Throughout the 2-day, 4-round tournament, Bagger gives Junuh advice on his golf game that also applies to his life. There are major ups AND downs during this tournament, and the clip associated with this discussion deals with one of the low points.
Introducing the Clip:
In The Legend of Bagger Vance, we meet Rannulph Junuh, a great young golfer who had a promising career as a player until World War 1 erupted in Europe. During his military service, he witnessed the atrocities of war – including seeing all of his friends killed in action – and it deeply scarred him. When he returned home, he did so as a loner who struggled with an addiction to alcohol. He abandoned the game of golf for a long time, until he got an invitation to play in his hometown against two of the greatest players in history, Bobby Jones and Walter Hagen. But his demons still burdened him greatly, and as you'll see in this clip, he suffers a wartime flashback after a string of bad shots. His caddy, Bagger Vance tries to help him deal with his burdens. Take a listen to what they say to one another.
NOTE: This film is available for rent and/or purchase; pick up a copy of this film and show the scene listed below.
OPTIONAL: You may want to show TWO scenes if you have the time. The one below will certainly suffice if you only want to show one; you'll just have to strongly communicate that Junuh suffered post-traumatic stress disorder from his service in WWI. If you would rather "show" the students that, then you can play the scene from the very front of the movie. (That clip can be found at 5 minutes and 53 seconds.)
Scene Script:
BEGIN CLIP AT 1 HOUR AND 34 MINTUES AND 00 SECONDS.
(*Please also note that this is a long clip, so only key dialogue will be provided.)
(The scene opens on the golf course. Junuh started the tournament with a terrible score, but has battled back into the lead. However, all that changes with just a few holes to play. When he disregards Bagger Vance's advice about a shot, he finds himself in a bunker, and then proceeds to hit several poor shots in a row. Eventually, his ball ends up deep in the woods. It is here that Junuh has a flashback to World War 1 where all of his friends died in battle. He begins to crack under the pressure and then Bagger Vance, his caddy, shows up.)

Bagger: You gonna be wanting a different club there, Junuh?

Junuh: I can't do this.

Bagger: You might just loosen your grip up a smidge. A man's grip on his club is like….

Junuh: That's not what I'm talking about.

Bagger: I know.

Junuh: No you don't.

Bagger: What I'm talking about is a game, a game that can't be won, only played.

Junuh: You don't understand.

Bagger: I don't need to understand. Ain't a soul on this entire earth ain't got a burden he gotta carry that he don't understand. You ain't alone in that. But you been carrying this one long enough. Time to go on, lay it down.

Junuh: I don't know how.
END CLIP AT 1 HOUR 40 MINUTES AND 16 SECONDS.
Transitional Statement:
Junuh was one messed up dude. He suffered from what we now know as post-traumatic stress disorder, though he wouldn't have called it that way back then. Instead of dealing with his problems, Junuh had tried to drink them away, gamble them away, and even ignore them away. But as this clip showed, those burdens still hung around his neck. His caddy, Bagger Vance, shared some great advice with him. He basically said, "All of us have burdens in life, and we don't always even understand why. But we must put them down, regardless." Sadly, Junuh didn't know how to do this. Fortunately for you and me, we are told in Scripture, by Jesus Himself, what to do with our burdens. Let's take a look at that now.
Divide into Small Groups:
Let's go ahead and split up into our discussion groups, and then afterward we'll come back together for a final word.
CLICK HERE for a quick training article on how to maximize your small groups using our small group format—a great resource to equip your small group leaders.
Discussion Questions:


AROUND THE CIRLCE: As we get started, let's all take a second to share our names and whether or not we've ever played golf.


ASK A FEW: What were the burdens that Junuh was facing? Were they about his golf game…or something more serious? (Leaders – He was definitely carrying the burdens of war. He'd seen his men and friends die in the battle. That weighed heavy upon him.)


ASK A FEW: What did Bagger Vance tell Junuh to do with his burden about the war?


ASK A FEW: What did Junuh say in response to Bagger's advice to lay down his burden?


ASK A FEW: What advice would you have given Junuh about his burden in life?


ASK A FEW: Do you see people/friends/family members who have burdens? What are some examples of those burdens?


ASK A FEW: How do those people handle their burdens? What do they do with them?

Read the following passage:

Matthew 11:28-30 (NIV)

"Come to me, all you who are weary and burdened, and I will give you rest. 29 Take my yoke upon you and learn from me, for I am gentle and humble in heart, and you will find rest for your souls. 30 For my yoke is easy and my burden is light."
ASK A FEW: This passage is often called The Great Invitation. Why do you think it's called that?
ASK A FEW: This passage makes it sound as though Jesus is encouraging us to "trade" burdens with him. Do you agree or disagree, and why?
ASK A FEW: How does Jesus describe His burden in verse 30? Is that appealing to you, why or why not?
ASK A FEW: What is a "yoke" and why would Jesus tell us to take His? (Leaders – This is a farming metaphor that Jesus uses. A yoke is the wooden crossbeam that lays across the shoulders of oxen or mules that wagons or plows are attached to. In other words, a yoke is a heavy beam that heavy loads are hooked to.)
ASK A FEW: Jesus not only says to take His yoke upon our lives, but also to learn from Him. Why is that important, too?
ASK A FEW: What burdens are you carrying right now?
ASK A FEW: How are you dealing with them? Is that working?
AROUND THE CIRCLE: How will you give your burdens to Jesus so that you can be set free from them?
Wrap Up:

During our time together, we saw a man crumble before us because of the burdens he was carrying in his soul. We saw him suffer so greatly that he was shaking uncontrollably and was on the verge of losing his mind. Fortunately, he had a friend close by that told him his real problem was not a bad golf shot, but an unresolved burden.
Bagger Vance told Junuh to put his burden down because he had been carrying it long enough. I think that's exactly what Jesus is offering to us. He's saying, "Give Me your burden in exchange for Mine. Yours is heavy and mine is light. But when you pick up My burden, make sure to keep your eyes on Me so you can learn from Me, too."
But sadly, some of us will respond the exact same way Junuh responded: I don't know how.
Do you know how to trade your burden with Jesus? It's simple. 2,000 years ago, Jesus willingly gave His life on the cross in exchange for our sins. It's our sins, our regret, our guilt, our shame, and our mistakes that burden us down. What Jesus is offering us is an exchange based on His death on the cross. "Hey, I died to exchange your guilt for freedom, so give Me your burdens in exchange for My life."
For some of us, that may be as simple as asking Jesus to rescue us from our sin. The Bible calls that getting saved. For others, it may be more difficult. We might need to go to a close friend and ask for forgiveness. The Bible calls that reconciliation. Others of us may be burdened down in guilt and so we'll need to set the record straight on something from the past. The Bible calls that confession.
Whatever it is, let me remind you of the words of Bagger Vance: you've been carrying that one long enough. Now let me remind you of the words of Jesus: "Come to me, all you who are weary and burdened, and I will give you rest."
Like Junuh, the choice is yours. I hope you choose to give Jesus your burdens. After all, it was His offer!
Close in Prayer
Written by David R Smith