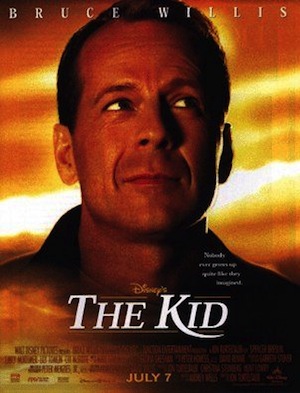 Main Point: Fulfillment in life; no regrets.
The tagline for this movie is: Nobody ever grows up quite like they imagined.
Introducing the Clip:
Today we'll see a clip from the movie The Kid. It's about an image consultant (played by Bruce Willis) who has an inferiority complex with the distinct honor of being despised by many people. He gets a second shot at life of sorts when a nine year old version of himself magically appears before him.
The scene starts with Russ helping young Rusty get ready for bed. They're talking about his childhood events. Afterward we see Russ recognize Deirdre, anchoring the news, from an earlier airplane flight. They meet for coffee and talk. He has explained the situation to her.
Scene Script:
BEGIN CLIP AT 1 hour and 8 minutes and 40 seconds in Chapter 16.
Rusty: It's our birthday tomorrow.

Russ: Yah I know.

Rusty: Can I ask you a question?

Russ: Sure.

Rusty: What happens next?

Russ: What do you mean?

Rusty: I mean to me. Between being me and becoming you…what happens? Do I ever do anything right?

Russ: Sure you do. You do a lot of things right.

(They continue this conversation where Adult Russ unfolds his choices which evolve him into who he is today. As both prepare to go to sleep, young Russ stops his adult self.)

Rusty: Russ?

Russ: Yah kid.

Rusty: I get what you do now. I mean I get what I do…when I grow up for a living. I figured out how to explain.

Russ: Let me hear it.

Rusty: You help people lie about who they really are so that they can pretend to be someone else, right?
Scene Script from scene w/Deirdre:
Deirdre: Darlin', look, you're turning 40 tomorrow. You haven't acquired a single thing of real value in your life.

Russ: Hey…

Deirdre: And no…no, money doesn't count. You're virtually friendless, you barely talk to your family, and you've just lost the only woman in the world who's ever meant anything to you.

(As Russ realizes what Deirdre has said is true, she encourages him to tell her more. He asks what she would do.)

Deirdre: I would tell my younger self, "Don't you worry about a thing. Everything's gonna be just great. I mean, how many of us turn out the way we think we will when we're kids, really? I mean, how many of us grow up to be astronauts or prima ballerinas? We just all do the best we can."
END CLIP AT 1 hour and 14 minutes and 55 seconds in Chapter 17.
Divide into Small Groups:
Let's go ahead and split up into our discussion groups, and then afterward we'll come back together for a final word.
CLICK HERE for a quick training article on how to maximize your small groups using our small group format—a great resource to equip your small group leaders.
Discussion Questions:


AROUND THE CIRCLE: What do you picture being a perfect, fulfilling future? Being famous, rich, powerful, having a good looking spouse, a big house, the right number of kids?
ASK A FEW: How do you know that when you turn 40 you won't regret who you've become?
ASK A FEW: What choices can you make now so you won't have any regrets later in who you've become?
ASK A FEW: What are things that people strive for at a young age, that they might regret later in life?
ASK A FEW: What are things that people strive for that provide for a fulfilling future?

Read the following passage:
Micah 6:8 (NIV)
He has showed you, O man, what is good and what does the Lord require of you? To act justly and to love mercy and to walk humbly with your God.

ASK ONE OR TWO: What does God want us to strive for?
ASK A FEW: What can we do to strive for these things (that God wants for us) instead of things we'll regret when we're 40?
WRAP UP:
On their deathbed, no one ever says, "I wish I would have spent more time at work." No one ever looks back on their life and says, "I wish I had more money in my bank account right now." Often, people look back on their life and wish they spent more time with their family, or wish they had treated people better, or wish they'd be remembered for doing something noble. What do you want for your future, so that you won't look back with regret on your past?

God said it well through the prophet Micah:
Act Justly- do what's right.
Love Mercy- forgive others as God has forgiven you.
Be humble- know how great God is, and how you can be used by him for His glory.

Let's pray for one another – that we'll make wise choices and follow God's advice in Micah 6:8.

Close in Prayer.

Written by Danette Matty