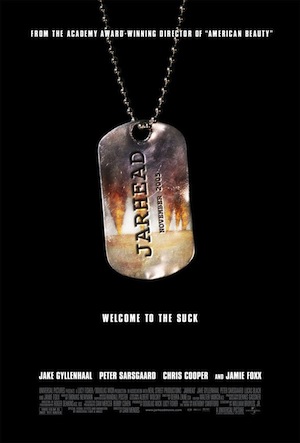 Main Point: We must always remember that we are in a spiritual battle, and that no matter where or who we are, we are still soldiers for Christ, fighting a non-stop battle.
Attention Grabber: Movie – Jarhead
This movie is a very difficult movie to watch… it might be better advertised as research, than entertainment. Basically, it's a movie about being in the Marines, and includes all of the language that many Marines use. It has a lot of blatant swearing and sexual language, as would be expected in a typical war movie.
The story itself is very well put-together. It is about a Marine named Anthony Swofford, who has joined the Marines sniper-scout division just before Operation Desert Storm. He goes to Iraq, but is only in the actual war for four days, ending up never having fired a shot. The movie is an intriguing movie if you like the psychological war drama movies, but under no circumstances would I allow someone under 18 to watch the movie.
WARNING NOTE FROM JONATHAN: I struggled with whether or not to even add this video clip idea to our list of discussion starters, after all, I don't like showing movies that I wouldn't want kids to go out and rent themselves. But over the years I've made a few exceptions.
I haven't seen Jarhead, so I won't even begin to critique it. But I read enough of content to know that it's not something I would show my own teenage son.
So know this: I probably wouldn't use this clip. But when one of my writers sent me this discussion… I really liked it, so I've included it in our list of ideas for you to review. Some people might think this clip might be a good one for a college group or mature high school group. Others might use the Bible content and the questions without the clip. The clip in itself has nothing immoral in it, but it's from a movie that I don't endorse. So I leave the decision to you. (Just don't write me an email complaining… because you aren't going to get a response. That will save us both time.)
Clip: We are still in the desert.
The clip that I have chosen from Jarhead is very clean. It is the last scene of the movie, which goes through the post-war lives of several of the Marines. It shows a couple in their every day lives, and Swoff attending the funeral of one. The scene ends with Anthony Swofford in his home. Once we show him at home, he never actually says a word, but you do hear his voice narrating. He explains that no matter what he ever does in his life, he will always be a Marine, and he will always have a connection with the Marines, because they are all "still in the desert." The scene begins at 1:50:57, with a Marine giving a presentation to a group of executives. Be careful though, because the shot before this has a Marine with a girl on his lap at a bar. It's better to err in starting the clip later rather than earlier. The clip then ends at 1:53:42, after the fade to black.
Scene Introduction:
Today we are going to watch a video clip of a young man named Swofford. He has just come home from the Marines after being at war in Iraq. Before we see Swofford in the scene, however, we will see several Marines that Swofford served with, and what they are doing after the war. At the end of the scene, you'll hear Swofford talk about what is going through his mind throughout the day, and how the war has changed the way that he sees things. He explains that no matter where the Marines are now, whether with a family, at work, or still serving, they are all still connected to each other and to the war. Also, whenever he uses the word "jarhead," he is talking about being a Marine. Listen to how he talks about always being a jarhead.
Scene Script:
(We see several Marines in their lives today, after Operation Desert Storm. After we see them and the funeral Swoff attends, we hear Swoff narrating his last thoughts of the film.)
SWOFF: A story. A man fires a rifle for many years and he goes to war. And afterwards he comes home and he sees that whatever else he may do with his life — build a house, love a woman, change his son's diaper — he will always be a jarhead. And all the jarheads killing and dying, they will always be me. We are still in the desert.
Transitional Statement:
Listen again to what Swofford says at the end of this scene: "Whatever else he may do with his life—build a house, love a woman, change his son's diaper—he will always be a jarhead," and then he ends with, "We are still in the desert."
Isn't it cool how after coming back from the war, Swofford will always see his life differently? Today we're going to look at our own lives and see if our experiences with our own struggles can change the way that we see ourselves and the world around us. Perhaps we need to get a new focus like Swofford has.
Divide into Small Groups:
Let's go ahead and split up into our discussion groups, and then afterward we'll come back together for a final word.
CLICK HERE for a quick training article on how to maximize your small groups using our small group format—a great resource to equip your small group leaders.
Discussion Questions:


AROUND THE CIRCLE: Tell us your name and the best thing that happened to you this last week.
ASK A FEW: Does anyone have a worst thing that happened this last week?
ASK A COUPLE: In the clip, Swofford says that he will always be in the desert. What do you think he means by that?
ASK A FEW: In the movie, Swofford's experiences made him the man he is today. What are elements from people's lives that help make up who they are today? (Look for answers such as: parents, church, relationship with God, experiences, etc.)
ASK SOMEONE: If you knew you were going to be in a battle one day, how would the way you got ready in the morning be different than the way you got ready for today?

In the Bible, Paul talks a lot about having the right focus. In fact, he would probably tell you that having the right focus and seeing things in a certain way are key to living. Listen to what he says in Ephesians chapter 6:

Ephesians 6:10-12
"Finally, be strong in the Lord and in His mighty power. Put on the full armor of God so that you can take your stand against the devil's schemes. For our struggle is not against flesh and blood, but against the rulers, against the authorities, against the powers of this dark world and against the spiritual forces of evil in the heavenly realms."
ASK SOMEONE: How does Paul tell us to see our life?
ASK SOMEONE: According to what Paul says here, do you think he would call you a soldier? In what ways are you a soldier?
ASK SOMEONE: Do you think your life would be different if you woke up every day realizing that you are in a spiritual battle?
ASK A FEW: Paul says that we are in a struggle against evil forces. What do you think are the evil forces we fight with each day?
ASK A FEW: These struggles that Paul talks about are very real. Do you think that seeing your struggles with sin and temptations as a battle against evil could change the way you handle those situations? How?
ASK A FEW: What about seeing your relationships with people as a battleground between good and evil?
Listen to what Paul says we need in order to prepare ourselves for this battle. In fact, we're going to make a list of all the components of the armor we need:

Ephesians 6:13-18
"Therefore put on the full armor of God, so that when the day of evil comes, you may able to stand your ground, and after you have done everything, to stand. Stand firm then, with the belt of truth buckled around your waist, with the breastplate of righteousness in place, and with your feet fitted with the readiness that comes from the gospel of peace. In addition to all this, take up the shield of faith, with which you can extinguish all the flaming arrows of the evil one. Take the helmet of salvation and the sword of the Spirit, which is the word of God. And pray in the Spirit on all occasions with all kinds of prayers and requests. With this in mind, be alert and always keep on praying for all the saints."

List:

Truth (belt)


Righteousness (breastplate)


Readiness that comes from the Gospel (footwear)


Faith (shield)


Salvation (helmet)


Word of God (sword)


Prayer


Alertness – and more prayer



ASK A FEW: Here we have a list of all the things that Paul says we need in order to really be prepared for the battles we're going to go through. When you get up in the morning, if you ask the Lord to help you use all of these things throughout your day, do you think your day would change? How?
ASK SOMEONE: We could have a huge Bible study on each of these topics here, but let's look at just a couple. How could knowing the truth help you in times of temptation?
ASK SOMEONE: What about salvation? How could understanding that we are saved through Jesus' blood help us in our daily battles?
ASK SOMEONE: One thing that Paul mentions three times here is prayer. Do you think it's important that we are praying for God to help us in our spiritual battle against evil forces? Why?
AROUND THE CIRCLE: Are you all praying enough throughout the week? (the answer is always a "no.")
AROUND THE CIRCLE: Let's take some time right now to pray for this week. We're going to go around in the circle, and in one sentence, let's each of us ask God to help us throughout this week. You can either pray for one of the pieces of armor that Paul talks about, or pray for a specific area you are frequently battling with in your own life. Let's do that right now.
Wrap-Up Statement:
You know, Swofford was actually at war for only four days. His life wasn't wrapped around this war, and by the end of the war, he had never actually even fired a shot with his rifle. But the experience of being there and seeing all that he saw has changed the entire way he looks at his life. When we read what Paul wrote in Ephesians, we can kind of understand what Swofford is going through. There is a battle going on and we are all a part of it, whether we see it or not. Swofford saw the desert in everything he looked at. If we could just see the war that we are engaged in throughout the day, wouldn't that change the way we live our lives? I want so badly to understand that when I make choices throughout the day, when I am tempted to do things I shouldn't do, when I am with my friends or with my family, I am continuously in a battle with evil forces. Evil forces that want to make me forget who I am and who I serve. But if we can be like Swofford, if we can have our focus on the fight that we are a part of, our whole lives can be different. I know that for me, if I wake up every morning and put on my spiritual armor, if I spend time in prayer asking the Lord to give me strength, then I know that my life will be different. Let's together remember what our focus needs to be. We have to remember that we are in a fight, every moment of the day. And every moment, we are choosing whose side we're on. Bow your heads right now, and I am going to pray that God will give us the right focus, so that we can be ready for the enemy's attacks this week.
Written by Matt Furby