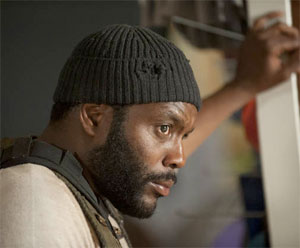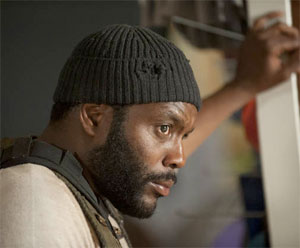 We're four episodes into the fourth season, about a year-and-a-half into the zombie apocalypse, and there has never been so much to talk about.
This week's episode's title was Indifference, and the key issue at hand is what to do with someone who has become apathetic, unsympathetic or… indifferent. At the end of  the previous episode, Episode 3, Carol calmly looked at Rick and admitted to killing two of the sick in their group. Many would argue Carol had the best of the group in mind, but Rick seems to be concerned about her cheap nba jerseys "indifference" to the needs—the right to live—of the individual.
If you think Carol dropped a bomb on us with that revelation at the end of Episode 3, then Rick went nuclear in Episode 4, because he did something unprecedented: he banished someone from the group. He sent Carol out to fend for herself.
Carol tried to justify her actions to Rick.
Carol: You can be a farmer Rick. You cheap nba jerseys can't just be a farmer. You were a good leader. Better than I probably gave you credit for.
Rick: I never murdered two of cheap jerseys our own.
Carol: Just one.
Rick: He was going to kill me.
Carol: So were they. They were going to kill all of us.
Rick: You don't know that.
Carol: If you thought it would save Judith or Carl would you have done it then or would you have just gone back to your crops and hoped it'd all be okay. You don't have to like what I did Rick. I don't. You just accept it.
It's obvious Carol has changed since we first met her. Her fight to survive has slowly metamorphosized her into someone who isn't scared to… and might just be eager to… plunge a knife into someone's temple if there's even a chance of a threat to the group. Like she told Lizzie, "You fight it, and fight it and don't give up, and then one day you just change. We all change."
So Rick banished her, something he wasn't even willing to do to Merle (that makes you think).
Actor Andrew Lincoln gave us a peek into the mind of his character, Rick, in an interview this week:
"The final moment in Episode 3, I had the overwhelming sense when I was doing it, I didn't recognize this human being, Carol. I was like, 'Who are you?' She was in charge. In the first episode she's giving directions to everybody… she's telling my child to lie to me. Ultimately, the deciding factor is my family. It distills right back down to that again. And I go, 'Can I have you around my children?' That's why I leave you by the roadside."
Some argue that Rick might have even saved Carol's life, after all, Tyreese wanted to find and kill Karen's murderer. Should Rick have brought Carol back to face Tyreese and the rest of the group?
Rick chose banishment, and the majority of audiences might not even agree with his decision. In this week's Talking Dead poll, the show's host asked: What would you have done with Carol?
24% of people chose: Send her away like Rick did
66% of people chose: Allow her to come back to the prison
10% of people chose: Feed her to the walkers
Once again, The Walking Dead has us thinking about the bigger questions in life, deeper than the petty decisions we typically make each day. This episode even dealt with drinking (something I Google deal with in chapter 19 of The Zombie Apocalypse Survival Guide for Teenagers).
In a zombie apocalypse, everyone is forced to grow up real fast. Talking Dead's Chris Hardwick made this observation:
"It's interesting the way the kids are portrayed on the show too, because in a pre-apocalyptic world the questions are like, 'What do I wear to school?' or 'How come they're mean to me at school?' And now people like Carl and Lizzie are asking questions like, 'When is it okay to kill someone?'"
The Walking Dead characters are constantly wrestling with morality, making decisions, and then cheap jerseys even questioning those decisions. Like Rick this week:
Rick: Did you think it was right, letting those kids come back (ABAC) with us?
Carol: I think it was the humane thing to do.
Rick: Did you think it was right?
So many conversation points from this one episode, so much to talk about. But one scene popped out at me, the conversation between Michonne and Tyreese after Tyreese showed repeated signs of not caring… of being… indifferent.
Michonne: You should have let him go.
Tyreese: What the Hell you know about it, huh? You the expert?
Michonne: No. I just don't want to see you die. Is that what you're trying to do? Do you even know what you're trying to do? I know you're pissed and you have every reason to be, but anger makes you stupid. Stupid gets your killed.
This is a great springboard for conversation about anger. Michonne said it well: anger makes us stupid. Here are some questions to wrestle with this issue.
SEASON 4, EPISODE 4 DISCUSSION QUESTIONS:
1. What would you have done with Carol if you were Rick?
2. This episode was wholesale mlb jerseys titled "Indifference." How had Carol grown "indifferent"?
3. Indifference can be defined as cold, apathetic or unconcerned. What signs of indifference have we seen from Tyreese since he lost Karen?
4. Since Karen's death, one emotion we've seen out of Tyreese is anger. How is his anger hurting him and the rest of the group?
5. What reason does Michonne give Tyreese to control his anger?
6. Michonne tells Tyreese, "Anger makes you stupid." Explain what she The meant. Do you agree?
The Bible provides some pretty shrewd wisdom on the subject of anger. In Ephesians 4:26–27, Paul writes:
"'Don't sin by letting anger control you.'Don't let the sun go down while you are still angry, for anger gives a foothold to the devil."
7. According to the verse, is anger wrong?
8. According to the verse, when does anger become sin?
9. Give an example of how anger can control us.
10. What are some ways to avoid being controlled by anger when we feel angry?
11. The verse tells us not to let the sun go down while we're still angry—in other words, don't hold on to your anger. What happens when we hold on to anger for a long time?
12. Why would a guy like Tyreese decide to put himself into a torture chamber of bitterness and anger?
Anger is natural. Anger can even be good, such as when we become upset by mistreatment or injustice. Even God gets angry. But we need to keep anger from controlling us.
Who is in control of you?