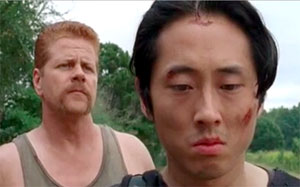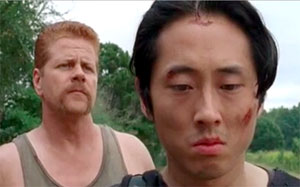 Loved the opening shot of this episode, a trio of haphazard zombies reaching up for a dangling deflated mylar balloon flapping in the wind. Purposeless beings, grasping aimlessly for the most accessible distraction.
But the episode quickly digressed with too many "Really?" moments, much like last week's episode. I love this show, but for four seasons, despite its fictional premise, it has maintained a respectable realism. Sadly, the last two weeks contained several moments where audiences were obliged to check their brains at the door.
Allow me to rant:
Please tell me that Sgt Abraham's red hair is supposed to look dyed… right? I'm guessing we're to assume that in the midst of the zombie apocalypse he found a can of Clairol?
In Episode 9 I put up with the Carl's bipolar antics, dismissing them as typical teen conduct. But this week I was convinced the directing was a little weak. I'm actually not going to criticize young actor Chandler Riggs, because I believe a good director could draw a better performance out of him. But when Riggs is told to stop mid sentence when he says the line, "I'd rather have Judith's formula…" and then run out of the room, it just didn't work. It was too forced. Luckily, Danai Gurira's performance carried those scenes.
And what about the fight with Rick and the dude he caught on the toilet? Are we to believe that two grown men fighting don't draw any attention?
And are a band of marauders who have lived this long through a zombie apocalypse so stupid as to choke someone to death, leave them lying there, then go to sleep in the same room?
Really?
Come on guys! Don't leave little unbelievable flubs like this. This series is way too good.
That being said (rant over)… this episode had some great moments.
First, Danai Gurira's acting was so compelling as Michonne performed the room-by-room search of the empty house. Not to discount Andrew Lincoln's performance hiding under the bed in silence while contemplating his next move. Both those scenes held audiences on the edge of their seat… er… couch (this is TV).
But I also liked the comic relief of Dr. Eugene Porter, the science geek who doesn't know how to shoot a gun without putting holes in his own vehicle. When asked how it happened, his response was classic: "A fully amped up state and an ignorance of rapid firing weapons."
But I think one of the most thought provoking scenes was when Sgt. Abraham was trying to convince Glenn to join them to "save the world."
Glenn objects, because he's determined to get to Maggie.
His determination and sense of purpose becomes contagious. Soon Tara, who only recently was in a hopeless state, is now driven by Glenn's purpose to unite with his wife.
Tara: I know how to get back to that bus. I wrote down every turn. I will get you back. I can. Okay?
Glenn: It's where she'd go to find me. It's where I'm going to go.
Abraham: It's a waste of time. Tara told us what went down. There is zero chance you will ever find your wife again, alive or dead.
Glenn didn't care what anyone thought. Nothing would stop him from seeking Maggie. And soon, they all follow Glenn, in the same way that Sasha and Bob followed Maggie the week before. Glenn and Maggie were driven by love.
What drives you?
SEASON 4, EPISODE 11 DISCUSSION QUESTIONS:
1. Explain what is it that is driving Glenn to embark on a journey of over 100 miles on foot, regardless of what others think, say, or do.
2. Why do you think Tara decided to go with him?
3. What seems to drive Sgt. Abraham?
4. What drives you?
Read the following passage of scripture:
24 Don't you realize that in a race everyone runs, but only one person gets the prize? So run to win! 25 All athletes are disciplined in their training. They do it to win a prize that will fade away, but we do it for an eternal prize. 26 So I run with purpose in every step. I am not just shadowboxing. (I Corinthians 9:24-26, NLT)
5. What is the eternal prize that Paul is telling us to run for?
6. How can we run for this prize day to day?
7. What does it look like to run like Paul described, "with purpose in every step?"
8. How can we avoid distractions and keep our eyes on this eternal purpose? (Read Hebrews 12:1,2)