Rated R for violence, language and brief sexuality.
Starring Robert De Niro, Michelle Pfeiffer and Tommy Lee Jones
Directed by Luc Besson (The Messenger: The Story of Joan of Arc and The Fifth Element)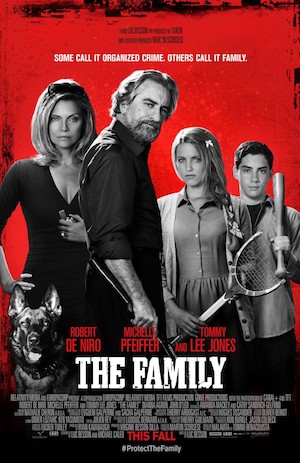 And you thought your family was dysfunctional.
The Family is the story of the Manzonis, a notorious mafia family who gets relocated to Normandy, France under the witness protection program. Despite the best efforts of CIA Agent Stansfield (Tommy Lee Jones) to keep them in line, Fred Manzoni (Robert De Niro), his wife Maggie (Michelle Pfeiffer) and their children Belle (Dianna Agron) and Warren (John D'Leo) can't help but revert to old habits and blow their cover by handling their problems the "family" way, enabling their former mafia cronies to track them down. Chaos ensues as old scores are settled in the unlikeliest of settings in this darkly funny film by Luc Besson.
I remember seeing this trailer and thinking to myself, "that looks like the dumbest movie of the year." Most of that was due to the filmmaker's decision to bill the film as a "silly" comedy. While there are a few funny scenes, this is dark comedy with plenty of "gangster edge"…which is one of the reasons I liked it.
Another reason was the cast. I mean seriously, it has Robert De Niro, Michelle Pfeiffer, Tommy Lee Jones and a few other "gangsters" in it. And they are all fantastic.
Besides a great cast, I was surprised by how much I enjoyed the story. It's hardly Goodfellas (which makes a fun cameo), but it's smart, fun and a little edgy. There is also a lot of violence, cussing and things blowing up. And somewhere in all of that, there is a story about a family…each more menacing then the next.
Maybe it was seeing DeNiro in a sillier version of his gangster roles, or maybe it was my extremely low expectations, but I enjoyed The Family enough to score it a "Rental."
SHOULD KIDS SEE IT?
This film is rated R and for good reason. Although there is no sex shown, there is a brief sex scene between a teacher and student up against a classroom door.
There is a lot of violence in the film too. The daughter beats up several different people as well as explosions and shootouts.
The F-word is used many times. And the final shooting sequences are pretty intense.
CONVERSATION STARTER


In the film the family is in the witness protection program and must change their identity. If you could be anyone else in the world, who would it be? Why?


Would it be easy or difficult for you to start a brand-new life in a brand-new place? Why?


Read 2 Corinthians 5:17


Therefore, if anyone is in Christ, he is a new creation. The old has passed away; behold, the new has come.



If you are a Christian, what does this verse say about who you really are?


Even though you are a brand-new creation, are you like the family in the film and still struggle with your old life?


What can you do this week to live like a new creation?