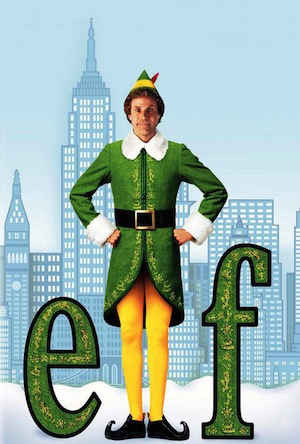 Movie Clip: Elf, PG, 2004, New Line Cinema
Main Point: Christ's second coming is something to be anticipated and enthusiastic about.
NOTE: This is a great Christmas clip, simply because the movie is a Christmas movie. You could use this discussion during Christmas and parallel Santa's coming with Jesus' coming. But the topic of this dicussion is about looking forward to Jesus coming.
Attention Grabber: Movie – Elf
Elf is one of the best Christmas movies ever made. Starring Will Ferrell, the movie is about Buddy the elf (Ferrell) who grew up working in Santa's workshop in the North Pole. However, because he is a human and not an elf like his comrades, he decides to venture to New York to find his original father. The movie is hilarious, as clean as a PG movie can get, and all of the junior high and high school students love it.
Clip: SAANNTTAAAAAAAA!!
The clip we are using is the very famous scene when Buddy the elf, now working at Gimbel's department store, hears an announcement that Santa is coming to the department store tomorrow morning. Thinking it is the real Santa, Buddy gets very excited. He screams and his antics are hilarious.
After this, he meets Jovie, one of the other Gimbel's workers. At the end of their dialogue, Jovie is getting ready to leave when Buddy says, "But Santa's coming. There's so much to do." The scene ends with Jovie walking away. The scene starts at approximately 27:15, with Buddy and the Gimbel's manager walking down the hall together, and ends at about 28:20.
Scene Introduction:
Today we're watching a scene from the movie Elf. You've probably already seen the movie, but even if you haven't, there's not much you have to know. But whether you've seen the movie or not, I want you to pay close attention to Buddy's excitement about Santa's coming. He hears an announcement that Santa is going to come tomorrow, and he thinks it is actually the real Santa who Buddy has worked with at the North Pole.
Let's watch how knowing that Santa is coming affects Buddy's behavior and attitude.
Scene Script:
The scene begins with Buddy and his new boss walking down a hall and into the North Pole. The two talk a little, and then the boss turns to make an announcement to all the workers in the store.

MANAGER: Okay people, tomorrow morning, ten a.m., Santa's coming to town.

BUDDY: (screaming): SANTAAAA!! OH MY GOD! (BUDDY turns toward MANAGER) Santa here? I know him. I know him!

MANAGER: He'll be here to take pictures with all the children.

BUDDY: Yeah!

MANAGER: Just keep your receipts. Ten a.m. tomorrow.

BUDDY: Ten a.m. tomorrow!

MANAGER: Santa's coming to town.

BUDDY: Yeees!

WORKER comes up to MANAGER with a clipboard.

WORKER: Can you sign this for me?

BUDDY: (to WORKER) Hey. (BUDDY begins to whisper) Santa's coming.

Buddy then looks around and sees Jovie, a pretty blonde girl who also works in the store. The two talk and end with this final dialogue.

ANNOUNCER ON LOUDSPEAKER: Attention all Gimbel's shoppers. Please make your final purchases. We will be closing in ten minutes.

JOVIE: (to BUDDY) Well, it's time for me to go home.

BUDDY: But Santa's coming. There's so much to do.

JOVIE: Yeah, um, I'll see you tomorrow…

BUDDY: Buddy.

JOVIE: (putting out her hand to shake) Jovie.

BUDDY: Hi.

Jovie exits.
Transitional Statement:
It is so funny how excited Buddy is about Santa's coming to town. The very idea that Santa is coming changes everything about Buddy's demeanor. He is jumping up and down, screaming, smiling, squirming, and at the end of the scene he's even prepared to stay up all night getting the store ready for Santa's arrival. Isn't it great when there is someone or something you're excited about and can't wait for? When we are excited about something, it changes the way we act, the way we think, even the things we talk about.
Divide into Small Groups:
Let's go ahead and split up into our discussion groups, and then afterward we'll come back together for a final word. Let's really think about what we're anticipating.
CLICK HERE for a quick training article on how to maximize your small groups using our small group format—a great resource to equip your small group leaders.
Discussion Questions:
AROUND THE CIRCLE: Let's start off by going around the circle and sharing your name and something that you're looking forward to within the next couple weeks.
AROUND THE CIRCLE: Share about a time you just couldn't wait for something or someone. What was it like to anticipate their arrival? How did it affect you?
ASK A FEW: What are some of the huge things that people get super excited about in life?
ASK A FEW: What about Christians? What do Christians look forward to?

One thing that the Bible teaches we should anticipate is Jesus' return. In Matthew, Jesus tells us that He is going to come back for us.

Read Matthew 16: 26-27
What good will it be for a man if he gains the whole world, yet forfeits his soul? Or what can a man give in exchange for his soul? [27] For the Son of Man is going to come in his Father's glory with his angels, and then he will reward each person according to what he has done. (NIV)
Jesus says that He is going to come back and get His followers. He'll show up in the sky with all of the angels to gather up all of the believers.
ASK A FEW: How does it make you feel that Jesus could come at any time? Excited? Scared? Nervous? Why?
ASK A FEW: Do you think a lot of Christians are ready for Christ's arrival? Why or why not?
AROUND THE CIRCLE: What would you do right now, if you knew that Jesus Christ was coming back tomorrow?

Read 2 Peter 3: 8, 9, 14
"But do not forget this one thing, dear friends: With the Lord a day is like a thousand years, and a thousand years are like a day. The Lord is not slow in keeping his promise, as some understand slowness. He is patient with you, not wanting anyone to perish, but everyone to come to repentance…So then, dear friends, since you are looking forward to this, make every effort to be found spotless, blameless and at peace with him."
ASK SOMEBODY: Some people get frustrated and ask why Jesus hasn't come back yet. What does Peter say in verse 9 is a huge reason why God is waiting? (Answer: because He is patiently waiting, not wanting anyone to perish.)
ASK A FEW: How would you answer someone in your own words, after they asked you why Jesus hasn't come back yet?
ASK SOMEBODY: What does Peter tell us to do, since we are looking forward to Christ's return? (Answer: "make every effort to be found spotless, blameless and at peace with him.")
ASK A FEW: How could our lives be different if we realize that Jesus could come back for us at any moment?
ASK A FEW: Are you excited about that day? Why or not?
AROUND THE CIRCLE: Are you ready for that day? If you're not ready for Jesus to come back, what are you going to do this week to make sure you're ready?
AROUND THE CIRCLE: How can I pray for you tonight? (Really listen to these students' answers. You may need to actually pray with one or two—or all, possibly—afterward.)
Pray:
Take time to pray for your students right now.
Wrap-Up:
Buddy the elf really had the right idea. Since he was reminded of Santa, and heard that Santa was coming, he just couldn't contain himself. How much better will it be when it's Christ who is coming? Jesus is going to come back with all His angels and He's going to take us home! I cannot wait for that day to come. It's going to be so awesome and so wonderful. But unfortunately, a lot of us may not quite be ready for that yet. For me, (and this is where you may want to share something that you need to change, in order to be right with God)… But you know what? Even though some of us, including myself, need to get some stuff straight with God, it is going to be the best day ever when He comes back. But we need to realize that it could be any moment. I know that my life would be different if all the time I was anticipating Christ's return. Let's remember that He's coming back, and that it could be at any moment. Christ is coming back, you guys. Christ is coming back! Let's pray.
Written by Matt Furby
Original Idea by Andrew Stickel