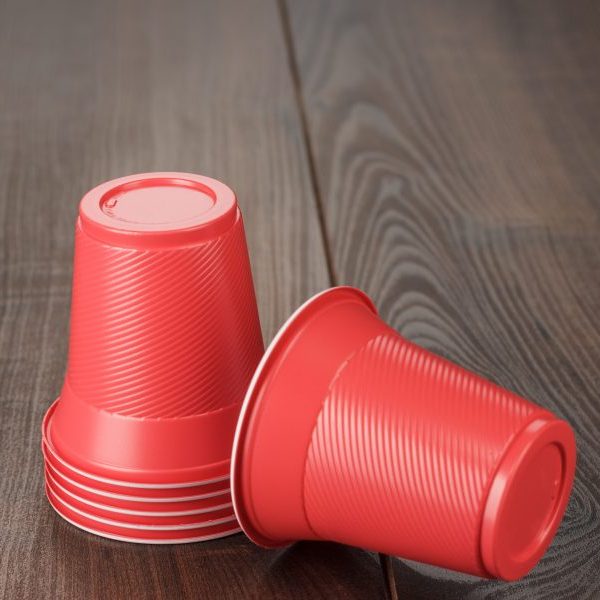 Main Point: When we ask God to forgive our sin, He does so through Jesus Christ. Then and only then is our sin overcome and destroyed.
Discussion Starter: The Ocean of Acetone
All you need to pull off this powerful illustration is an aluminum pie pan, a marker of some sort (like a Sharpie), a Styrofoam cup, and a bottle of acetone. Here's what you do: before students arrive, pour enough acetone into the aluminum pie pan so that it covers the bottom of the dish. (It's best to use a good amount; pour it at least an inch deep in the bottom of the pan.)
While in front of your students – where everyone can see what you're doing really well – say, "Imagine that this Styrofoam cup is like the record of your life. When you were born, it was perfect; you'd done nothing wrong. You had a clean slate." (Hold up the cup so that everyone can see it. You just want to show them that it's a regular cup and that it is "clean.")
"But, in the years that you've been alive, you've inevitably done some things that displease God. The Bible calls those things 'sin.' For example, you got really angry at your parents one evening and cursed them out and said some things that you went on to regret." (At this point, write "dishonor" on the cup with the marker.)
"Then let's say you were browsing the Internet one night, and eventually, out of boredom, you ventured onto an inappropriate site…a site that you really, really liked. A site that you've revisited many times since then. (At this point, write "lust" on the cup.)
"Or maybe you got into a fight with a friend of yours and you called another friend to talk about it, but that conversation quickly turned into a gossip session." (Yep, write "gossip" on the cup.)
(You can continue to illustrate sin with other examples. For instance, if you know your group struggles with something that breaks God's heart, this might be a great way to address it in a non-confrontational manner.)
Then say, "In the end, we probably think God sees us as dishonorable, lusting gossipers. After all, we are dishonorable, lusting gossipers. In short, we are sinners. And the consequence of our sin is separation from God and death. That's just what we deserve.
"But thankfully, God doesn't give us what we deserve. He chooses to deal with dishonorable, lusting, gossipers in a gracious way. In Micah 7:19, we read this about God, "You will tread our sins underfoot and hurl all our iniquities into the depths of the sea."
"Here's what that kinda looks like. God takes all of our sin that we confess to Him and he throws it into the ocean. He buries it in the depths of the sea. He personally grabs our sin, and hurls it into the abyss." (As you say this, place the Styrofoam cup into the acetone that has already been poured into the pie pan. If you can, set it into the acetone upright, for the sake of stability.)
"I know that this is a 'small ocean' but you will quickly get the point. Once our sin has been forgiven by God and tossed into the sea, it can't ever come out. It can't ever be held against us. It can't ever separate us from God. Simply put, because God has forgiven us. He has eradicated our sin." (By this time, if you've done the object lesson right, the Styrofoam cup should have dissolved.)
Transitional Statement:
I wanted to "show" you that lesson during our time together because it's a pretty accurate representation of what God does for us. You saw the Styrofoam cup which had been stained and tainted by sin, destroyed once and for all when it went into the liquid. That's what God does with our sin…if we ask Him to. When we ask God to forgive our sin, He does so through the blood of Jesus Christ. Then and only then is our sin overcome and destroyed. There is no other way. Period. Let's take a look at God's Word to cement this truth in our hearts.
Divide into Small Groups:
Let's go ahead and split up into our discussion groups, and then afterward we'll come back together for a final word.
CLICK HERE for a quick training article on how to maximize your small groups using our small group format—a great resource to equip your small group leaders.
Discussion Questions:
AROUND THE CIRCLE: As we get started, let's all take a second to share our name and our favorite drink in the world.
ASK A FEW: What did you think was going to happen when the cup was put into the liquid?
ASK A FEW: How does it make you feel knowing that sin can be overcome and that it can be destroyed?
ASK A FEW: Why do you think that the Bible says God "treads our sins underfoot and hurls all our iniquities into the depths of the sea"? Why that imagery?
ASK A FEW: If you were to be honest for a moment, what would your cup have written on it? (Leaders – If you want to make this a private/silent answer, feel free to do so. However, if students are willing to open up, let them.)
ASK A FEW: Who can forgive sin? How, exactly?
Read the following passage:
This is the message we have heard from him and declare to you: God is light; in him there is no darkness at all. 6 If we claim to have fellowship with him yet walk in the darkness, we lie and do not live by the truth. 7 But if we walk in the light, as he is in the light, we have fellowship with one another, and the blood of Jesus, his Son, purifies us from all sin. 8 If we claim to be without sin, we deceive ourselves and the truth is not in us. 9 If we confess our sins, he is faithful and just and will forgive us our sins and purify us from all unrighteousness.
ASK A FEW: What does John mean by "walking in darkness"? Can you give some examples?
ASK A FEW: What are some of the consequences of sin or walking in darkness?
ASK A FEW: How many of us are guilty of "walking in darkness" or "sinning"? How do you know?
ASK A FEW: It appears that some people try to ignore their sin by claiming to be sinless (verse 8). Why do you think they do that? What does that get them?
ASK A FEW: What does John say will happen if we confess our sin to God?
ASK A FEW: If you go back to verse 7, how are we purified from our sin?
ASK A FEW: Let's bring it right back to you for a moment. Do you believe God can forgive your sin, all of your sin, including your very serious sin? Why or why not? (Leaders – This is intentionally an open-ended question. You're just looking for those who doubt God's ability or willingness to forgive them. Gently press your students, but only so you can show them that God is able to forgive ALL sin.)
ASK A FEW: For those of you who have asked God to forgive your sin, how HAS your life been different? For those of you who haven't, how WOULD your life be different?
AROUND THE CIRCLE: What are you going to do as a result of this discussion? Why?
Wrap Up:
During our time together, we got a chance to see what it looks like for our sin to be dissolved, to be overcome and to be destroyed. But that's just the power of God's Word echoing true one more time. When we confess our sin to God, He forgives our sin. In fact, He cleanses us of all unrighteousness. In other words, He removes from us anything and everything that is unclean.
But if you only hear one thing before we break away, then let it be this: only Jesus can forgive us of our sin. We all have sin, but there is only One who can take it away and destroy it like we saw earlier. That One is Jesus Christ.
You can pretend that you don't have sin. That's what a lot of people do. But that doesn't work because everybody knows that everybody else is a sinner. If you do this, you just look like a stuck up, self-righteous fool.
You can tell yourself that sin isn't serious. Sure, you admit you're a sinner, but you don't really assign any importance to that reality. In other words, you try to strip sin of its significance in your life. But that doesn't work because sin leaves a trail of brokenness in our lives and the lives of those close to us.
You can try to cover your sin, your wrongdoing, by yourself, but that won't work because you haven't just offended and hurt others; you've offended and hurt God. You can't make it right with Him because He's God.
Or you can ask God to forgive you of your sin. That's the only way to be forgiven of your sin. That's because when we ask God to forgive us of our sin, He does so through the blood of His Son Jesus. You see, 2,000 years ago, Jesus gave his life on the cross for our sins. He chose to die so that we could live. His death was a payment made by God on our behalf so that our sin could be destroyed.
Earlier, you saw a Styrofoam cup dissolve when it was put into the liquid. I want to tell you that ONLY when your sin is dipped into the blood of Jesus is it forgiven. Only then is it overcome and destroyed. Any other plan for dealing with your sin is doomed to fail. Only when we let Jesus forgive our sin is our sin truly forgiven and overcome.
Before you leave here, I encourage you to ask Jesus to forgive you. But I also encourage you to speak with one of our adult leaders. Maybe there's something you don't quite understand about God's forgiveness or Jesus' death. We'd be happy to explain it for you. Maybe there's something you need prayer for; we'd be happy to pray with you.
Don't leave here without being forgiven and freed of your sin. You will be glad you did. Your life will never be the same.
Close in Prayer
Idea by Javier Cruz
Written by David R Smith