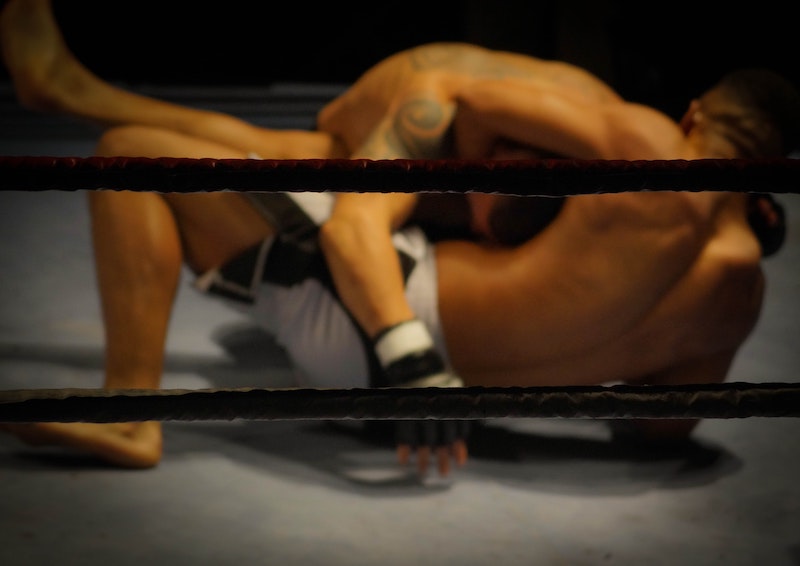 Supplies:
One folding chair, wrestling singlet, headgear, background music (Theme from Rocky, We Are the Champions, The Eye of the Tiger, etc.) and a strobe light.
Prepare:
This skit is a wrestling match between a wrestler and a folding chair. The volunteer wrestler is the key to success as he has to be really believable and animated as he wrestles a chair. He must roll around with the chair; throw it around, and act like the chair is throwing him around. We strongly suggest a rehearsal for best results.
Skit:
Folding chair sits alone, center stage.
Announcer welcomes the audience and then introduces. "In this corner, Folding Chair!" (Crowd goes wild) "And entering the building now, it's the fabulous, one and only " (name your wrestling guy something that suits your group).
Wrestler enters the room as if entering a big prize-fight. Loud music plays and the crowd should cheer for the wrestler.
The wrestler takes dramatic beginning wresting stance.
The lights go off.
Strobe light comes on as the wrestling begins and music plays. Wrestler performs powerful moves (be sure to include holding the chair above head and bringing it back down with a big slam).
Skit can continue 2-4 minutes if the volunteer has practiced a number of good moves. Facial expressions come across really well if volunteer understands how to perform with the strobe light. Every move and expression should be slower than usual and exaggerated.
You may choose to conclude skit with chair winning the match or the volunteer.