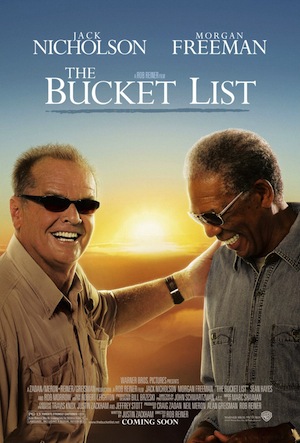 Main Point of Discussion: When we face death, it forces us to make a decision about faith in Jesus
The Movie Clip: "I just have faith."
The Bucket List is the story of two very different men who are facing the same inevitable death, brought on by cancer. They both realize that their lives are incomplete, so they write out a list of things to do before they "kick the bucket," hence the title of the film.
It's a movie filled with rich portions of dialogue about the meaning of life. The two men talk about everything from family to faith to fun. The core message of the movie is about the desire we all have to live life to the fullest. We don't want to have an unfinished bucket list.
Introducing the Clip:
You guys may not have seen this movie because it's probably not on most teens "have to see" rental lists, but it's a great thought-provoking and funny film nonetheless. It's called The Bucket List, and it's about two men who have six months to live because they're dying of cancer. Not wanting to die without living life to the fullest, they write out a list of things to do before they "kick the bucket"…which is where the title of the movie comes from. Edward, played by Jack Nicholson, is a multi-billionaire with no family at all, and has lived a fairly selfish life. Carter, played by Morgan Freeman, is a poor auto mechanic, but he has a family that loves him. This scene takes place on their flight from America to Nepal to check off another item from their bucket list…seeing the top of Mt. Everest. During the long, overnight flight, the subject of God and faith comes up. Let's see where each man stands.
Scene Script:
BEGIN CLIP AT 47 minutes and 15 seconds in Chapter 11
Carter: It's indescribably beautiful.

Edward: I love flying over the polar cap. Above the desolation.

Carter: The stars…it's really one of God's good ones.

Edward: So you think a being of some sort did all this?

Carter: You don't?

Edward: You mean, do I believe if I look up in the sky and promise this or that the Biggie will make all this go away? No.

Carter: Then 95% of the people on Earth are wrong.

Edward: If life has taught me anything, it's that 95% of the people are always wrong.

Carter: It's called faith.

Edward: I honestly envy people who have faith. I just can't get my head around it.

Carter: Maybe your head's in the way.

Edward: Carter, we've all had hundreds of these discussions and every one of them always hits the same wall. Is there a sugarplum fairy or not? And nobody has ever gotten over that wall.

Carter: So, what do you believe?

Edward: I resist all beliefs.

Carter: No Big Bang? Random Universe?

Edward: We live. We die. And the wheels on the bus go round and round.

Carter: What if you're wrong?

Edward: I'd love to be wrong. If I'm wrong, I win. (both laugh)

Carter: I'm not sure it works that way.

Edward: Well, you're not claiming you know something I don't.

Carter: Mm-mm. I just have faith.
END CLIP AT 49 minutes and 28 seconds in Chapter 11
Transition Statement:
We can easily see that these two men are facing their deaths in very different ways. One man has faith in God, and the other man doesn't. Let's see which one the Bible says is right.
Divide into Small Groups:
Let's go ahead and split up into our discussion groups, and then afterward we'll come back together for a final word.
CLICK HERE for a quick training article on how to maximize your small groups using our small group format—a great resource to equip your small group leaders.
Discussion Questions:


AROUND THE CIRCLE: The whole movie is about two men trying to check off everything on their THINGS TO DO BEFORE WE DIE OF CANCER list (called a "bucket list"). Let's go around and each person tell the group your name and answer the question, "If you knew you had six months to live, what two experiences would be on your bucket list?"
ASK A FEW: In the clip, Edward says he envies people who have faith, but he never could get his head around it. In other words, faith just didn't make sense to him. Does faith "make sense"? Why or why not?
ASK A FEW: Why does it matter if there is a God or not? Or does it even matter at all?
ASK A FEW: Both of these guys are just weeks away from their deaths at this point. At the end of the conversation, Carter says, "I just have faith," but doesn't go into any detail at all. Does the Bible have any details about the kind of faith we need to enter into Heaven when we die? If so, what are they?

Read the following passage

John 3:16-18
[16] For God so loved the world that he gave his one and only Son, that whoever believes in him shall not perish but have eternal life. [17] For God did not send his Son into the world to condemn the world, but to save the world through him. [18] Whoever believes in him is not condemned, but whoever does not believe stands condemned already because he has not believed in the name of God's one and only Son.
ASK SOMEONE: According to verse 16, how much does God love the people of the world?
ASK SOMEONE: What does this passage say we must have faith "in," in order to have eternal life?
ASK A FEW: According to verse 18, what happens to the person who has faith/believes versus the person who does not have faith/believe?
Read the following passage

John 3:31-36
[31] The one who comes from heaven is above all. [32] He testifies to what he has seen and heard, but no one accepts his testimony. [33] The man who has accepted it has certified that God is truthful. [34] For the one whom God has sent speaks the words of God, for God gives the Spirit without limit. [35] The Father loves the Son and has placed everything in his hands. [36] Whoever believes in the Son has eternal life, but whoever rejects the Son will not see life, for God's wrath remains on him.
ASK SOMEONE: Who is this verse is referring to? (Leader – the answer you're looking for: Jesus.)
ASK A FEW: What does verse 36 mean? (Leader – the answer you're looking for: We must believe in Jesus in order to be saved from God's wrath)
ASK A FEW: Verse 34 talks about Jesus speaking the words of God. Can anybody recall some of the things Jesus said about faith, or what beliefs we must have to enter Heaven?
The Words of Jesus
In verse 34, John wrote, "the One whom God has sent speaks the words of God." This simply means that Jesus speaks for God because Jesus was sent by God. Let's take a look at some of the things Jesus said while He was on Earth. All of the following verses represent times when Jesus was talking about Himself.
NOTE: (Sometime BEFORE the meeting begins, make enough cards/papers for every student, with the following verses and questions printed on them. Ask different students to read a passage and answer the question that goes with it. Even if there are some who do not get the opportunity to read a passage and answer a question, make sure they get a copy regardless.)
Read John 10:11

"I am the good shepherd. The good shepherd lays down his life for the sheep."

QUESTION: In what way did this passage come true in Jesus' life?
Read John 15:5

"I am the vine; you are the branches. If a man remains in me and I in him, he will bear much fruit; apart from me you can do nothing."

QUESTION: According to this passage, what can we do without Jesus?
Read John 14:6

"I am the way and the truth and the life. No one comes to the Father except through me."

QUESTION: Is there any other way to get to Heaven apart from Jesus?
Read John 11:25

"I am the resurrection and the life. He who believes in me will live, even though he dies; and whoever lives and believe in me will never die. Do you believe this?"

QUESTION: How does this verse apply to people who have faith in Jesus?
Wrap Up:
I've made an observation about life that's a little alarming; it always comes to an end! That's right, every single one of us, no matter how young or how healthy, will die one day. Until then, there are two ways we can live our lives…with faith or without faith.
The Bible is very clear in its teaching about the difference between people who put their trust in Jesus… and those who don't. According to 1 John 5:11-12, "And this is the Testimony. God has given us eternal life. This life is in the Son. He who has the Son, has life. He who does not have the Son of God does not have life."
Wow. That's pretty simple.
When Jesus walked around this planet 2,000 years ago, crowds followed Him everywhere, not only because of His love and compassion, but also because He taught with an unprecedented authority. As compassionate as He was to sinners, He wasn't afraid to tell them the truth. Jesus claimed that He was the only way to God.
So the choice is yours. And it's a choice you can't NOT make! Let me rephrase that: You can't avoid making this choice. Because a choice to ignore Jesus' invitation to eternal life is a choice to reject Him.
To me, the choice is simple. Trust in Jesus, and get it all!!! Don't trust Jesus, and lose it all!!! It's your choice.
Everybody take a moment and think about your faith, or lack of faith. Now, I want to ask you the question that Carter asked Edward. Ready?
"What if you're wrong?"
Everybody answer that question. If you have faith in Jesus, and you're wrong that he's the only way to God…so what? You've still lived a life of love and forgiveness and compassion and the list goes on and on and on. (I promise you that you are not wrong, though!)
But, if you have no faith, and you're wrong, then you will not have eternal life and you will have rejected Jesus' invitation to eternity with Him.
Those last four verses we read, the ones where Jesus was talking about Himself, are crucial to us having faith in Jesus. First, we see that Jesus is a good shepherd willing to give His life for ours. He did just that when He died on the cross to cancel our sin. Then we discovered how Jesus described Himself as a vine, and we can do nothing or be nothing if we are apart from Him. We also read that Jesus said no one can see the Father…or enter Heaven…unless they do so THROUGH Him. Finally, Jesus offers us the promise of everlasting life by saying that even when we die, we will live again.
If you look inside yourself tonight and see that you have never placed your faith in Jesus, why not grab one of our adult leaders before you leave. We would love to talk with you about how you can put your trust in Jesus for the rest of your life. Let's pray.
Close in Prayer