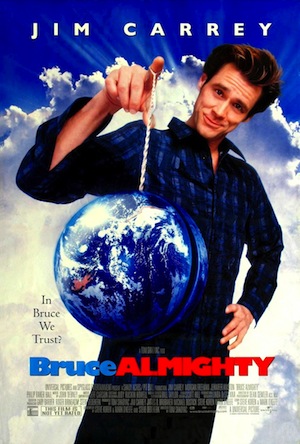 Main Point: This clip from Deleted Scenes on the Bonus Features of the DVD Bruce Almighty will be a funny jumpstart to a discussion on "pain with purpose" – helping students recognize God's hand in their lives, even when bad things happen. (Possible sub point: Prayer – Be careful what you ask for…you just might get it.)
Attention Grabber: Bruce Almighty, 2002 (Jim Carrey, Morgan Freeman, Jennifer Aniston) PG-13.
Plot Summary: A guy who complains about God too often is given almighty powers to teach him how difficult it is to run the world.
Large Group Intro: Whenever you're trying to meet a huge goal or struggling through a tough time, there's always someone who quotes some cliché like, "No pain, no gain!" Don't you just feel like smacking those people! Seriously, tonight we're going to explore "pain with purpose."
Introduce and show clip now, before you break up into small groups.
On the DVD, cue up Deleted Scenes (Bonus Features), fast forward to about No. 10 "Answering Prayers." These deleted scenes are similar but much more involved than in the actual movie. (IMPORTANT NOTE: Preview this clip- there is one crude scene you'll want to avoid in this little montage.) First, we see a montage of answered prayers, such as chubby Philbert in gym class, who is picked on, asks, "Oh, God, please help me." Bruce replies, "Don't worry Philbert. Help is on the way," then gives him supernatural power to climb the gym rope faster than anyone. Next, we see a lady named Esther about to go bankrupt. Bruce causes her to slip on milk in the grocery store and a lawyer happens to be right there to assist her. Then follows a couple of other comical situations in which people have their self-centered prayers answered.
Next we see God showing Bruce the long-term impact of all these people having their prayers answered – not always for the best.
KEY LINES: There were so many…I just gave them all what they wanted.
God: Yeah. Since when does anyone have a clue about what they want. Remember Philbert?
(Scene cuts to Philbert beating another kid up on the playground.)
Bruce: Yeah, Philbert…what's gotten into him?
God: Brilliant young man. He was gonna be a great poet. The soul of his work would've been built around his childhood pain. Now he's headed for a career as a professional wrestler. He will eventually test positive for steroids and end up managing a muffin shop.
Bruce: Wow, that's a disappointment.
God: He got what he prayed for. Esther Maha…(scene cuts to Esther's living room). I love Esther. Esther was bankrupt. She was gonna have to eat her pride and call her sister. That would've gotten the two of them together again. Instead she bought a condo in South Florida.
Bruce: Are there gonna be a lot of these?
God: Just one more.
Bruce: Hey, that's Lance Armstrong. He won the Tour de France 4 or 5 times in a row.
God: Overcame a lot to do it, too.
Bruce: I didn't …
God: No, that was Me…and him. (This exchange refers to Lance getting cancer between races.) You see Bruce, triumph is born out of struggle. Faith is the alchemist. If you want to paint pictures like this, you have to use some dark colors.STOP here.
Divide into Small Groups:
Let's go ahead and split up into our discussion groups, and then afterward we'll come back together for a final word.
CLICK HERE for a quick training article on how to maximize your small groups using our small group format—a great resource to equip your small group leaders.
Discussion Questions:


ASK SOMEONE: In those scenes, what happened when Bruce, using "God's power," helped those people out?


ASK SOMEONE: What would have happened if he hadn't helped Philbert? How about Esther (the elderly lady)?


ASK A FEW: We all know that Lance Armstrong, the cyclist from the clip, has been caught using steroids to win his many Tour de France titles. In other words, he cheated. How does that fact show that Lance also wanted to shortcut the suffering and pain and hard work of training and winning?


ASK A FEW: Why would we sometimes rather receive help getting out of a tough situation than endure it? (Because it's frustrating, hard work, and sometimes painful.)

Read this scripture: Consider it pure joy, my brothers, whenever you face trials of many kinds, 3 because you know that the testing of your faith develops perseverance. 4 Perseverance must finish its work so that you may be mature and complete, not lacking anything.

ASK SOMEONE: According to these verses, how should we view tough or painful circumstances and why?


ASK A FEW: How is this possible? How can we "consider it pure joy" or as another Bible version puts it, "let it be an opportunity for joy?"


ASK SOMEONE: How does God look at us and our trials as we go through them? (According to the verse we read, our faith, ability to persevere, and becoming mature is important to Him – that's pain with purpose!)


AROUND THE CIRCLE: What can you do during a tough time to keep your head and heart together, as well as stay close to God?

(Leaders, let students brainstorm ideas before you share your pearls of wisdom. Here are a couple of suggestions besides pray and read your Bible (still valid after Sunday School) if they don't come up:



See the bigger picture…look down the road a year or two and think about how this will shape you and what you can do to grow through this.


Keep a journal of what you're going through, writing down what God is doing in you.


Ask a mature believer to pray for you and ask you how you're doing now and then.)


Wrap-up: (Leaders: Play a worship CD conducive to prayer and reflection for your wrap-up. Share a personal story from a tough time in your life when God really came through for you – not so much in what He did for you – though that may be part of your story – but more so, what He did in you at the time. Encourage your group with the assurance of God's continual presence—even during tough times—and His love for them.)

As we close, I want us to go around the circle and, if you're going through a tough time for any reason, share what you're comfortable sharing, and we're going to pray for each other.