Recently I've spoken at several events that were very well planned… until the altar call.
Think about this for a second. A kid hears the Gospel and even has the guts to stand up out of their seat with the desire to make some life-changing decisions. They walk forward to the front of the room… and…
Freeze. Stop and look at this situation. The DIFFICULT PART is over! Realize this. We just got a kid to actually show up to an event (which can be pretty difficult), listen to the truth of God's word, AND decide to act on it. They stand up, ready to make a decision… and… and we drop the ball!
Eight of the last 10 events I've spoken at have "dropped the ball" when it comes to counseling kids that wanted to make a decision. I'm not disrespecting anyone; these were great people with noble intentions. But if we are part of a team that is programming evangelistic events, we need to put a huge priority on the 15 minutes after the altar call. All too often event planners will spend good time and money on bands or inflatable boxing rings… and not think 30 seconds about what happens after kids come forward.
Not too long ago I spoke at an event where three hundred kids crowded into a room. I shared the gospel, gave an invitation and thirty six kids came forward. These kids were led into a nearby room where I was told they'd meet with counselors and be given a Bible. When I walked in the room, I saw about 5 adults, each with about seven or eight kids gathered around.
Only 5 adults? Really?
This is a HUGE mistake.
As soon as kids come forward, the need switches to one-on-one. The Gospel was presented in a large group format, but now each individual might have questions or clarifications with their unique background experiences and distinctive world views. That's why it's good to provide counselors to meet with people at events like this one-on-one, asking the question, "Why did you come forward tonight?" That answer can summon a variety of answers:
"Because I want that eternal life the speaker was talking about."

"Because I did this before, but I don't think it took!"

"Because my dog died and I'm just really sad."
(Yes, I've heard all of those.) Three totally different situations. That's probably why the Billy Graham organization spends a year in a city before their big event, building relationships with churches and preparing for counseling and follow up.
I touch on this on my book, Getting Students to Show Up: (emphasis mine)
However, we shouldn't plan on just sharing the message,
shutting out the lights, and leaving. We need to give them an
opportunity to respond. We should have a plan for talking
with the people individually and creating a means for follow
up. I usually have them raise a hand or come forward to meet
with a counselor who can talk with them about the decision
they made. I also use decision cards. If students meet with
counselors, I have counselors fill out the cards for them—
legibility is very important—noting their contact information,
what decision they made (first-time decision, rededication,
and so on), and what group, if any, they came with. These
cards are vital and provide the groundwork for follow up.

Billy Graham's organization has been doing a fantastic
job with this for decades. Billy doesn't just come to a city,
preach, and leave. His organization comes a year in advance,
training counselors, meeting with hundreds of area churches,
and implementing a plan for following up with all the new
believers. What an incredible example of faith and diligence.
It's a year before the invitation is even given; yet they're
planning for thousands to come forward. Faith and elbow
grease working hand in hand.

On the night of a Billy Graham Crusade, those who come
forward meet with counselors and hear the gospel one-on-one.
Then they have an opportunity to make a decision. Everyone
who comes forward then fills out a follow-up card.This is a
great way to clarify the commitment they've made, and it sets
the stage for following up with the person effectively.

Billy Graham's organization shares the gospel responsibly.
Don't be afraid to mimic their methodology.
Many of the events I've spoken at provide the "follow-up card." That is vital, and I'm glad to see so many groups doing that. But the area most people fall short is training counselors that will meet with kids one-on-one.
How effective is ONE adult going to be asking EIGHT kids why they came forward? Think about it. What if three kids have specific questions, two want to rededicate their life, one girl is sad because their uncle abused her, and two really want to make a first time decision? (again, a VERY real situation!) This group needs a number of counselors.
A few years ago I volunteered at my local church co-leading a student leadership team made up of high school students. We had about 30 student leaders (it was a large youth group). Evangelism was a huge part of the training we did with these students. We taught each of these kids how to lead someone through the gospel, and then we put them in situations where they could practice doing this.
Our local Youth for Christ did about four big city-wide junior high events per year in the greater Sacramento area. They were thrilled when we would bring our 30 counselors to their events to add to their pool of counselors. This came in quite handy when 100 kids came forward. Even if they had only 50 counselors, they were able to put kids at least "one-on-two" for the 15 minutes after the altar call.
One difficult part of my job now as a "hired speaker" is not being involved in the whole event planning process. I constantly trust that the group bringing me out has done all the ground work and preparation for the event, INCLUDING the 15 minutes after the altar call.
Please. If you are planning an evangelistic event with an altar call for hundreds of kids… don't just have 5 counselors! Let's share the Gospel responsibly.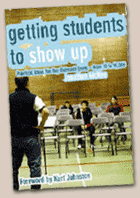 If you enjoyed this article from Jonathan McKee, learn even more about programming and budgeting in Jonathan's award winning book,
Getting Students to Show Up!
(
Get the book at a discounted price here
)