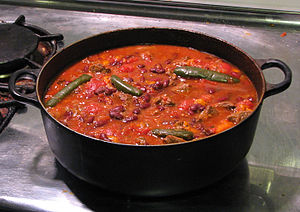 On Friday night the room was packed with over 300 local influencers of our community. They were seeking something significant – something passed down from generation to generation – something to celebrate and enjoy. Each was looking for the best chili in town!
We hosted our annual Celebrity Chili Cook-off – all the proceeds going to support our local programs working with kids in the community. While this event is a fantastic fundraiser – it's much more. By inviting the mayor, the chief of police, local officials, school board members, local celebrities, superior court judges, and concerned citizens we've established ourselves as the experts when it comes to kids in our community.
You may think it's a stretch to go from seeking lost and troubled kids on a school campus to hosting an event such as this…but it all started on campus. We build relationships with school administration first and foremost – not to get something out of the relationship – but to simply serve their needs. Serving leads to relationships, and relationships lead to open doors, and open doors lead to more students being served and offered hope.
This year we asked principals from three of the schools we work with to participate as "Celebrity Chili Cooks." Not only did they agree – they were all in! Smack talking about secret chili recipes led to side wagers and ultimate bragging rights – the losers had to wear the winning school's t-shirt to work for one day.
Each time somebody asked about our involvement on campus, the principals spoke of us serving them, offering resources to needy and neglected kids, feeding the hungry, and having an overwhelmingly positive impact on each campus. I assume the significant turnout and community support also reinforced to the principals that we were more than ministers of the gospel – we were true advocates for youth in our community – all of them.
I'm reminded in the book of Mark that Jesus came to serve and not to be served – and that he gave His life as a ransom for many. If you're just trying to get on campus to hand out your fliers – they'll see right through you. If you begin by serving, you'll build relationships and God only knows where they'll lead!
Rob Maxey
is a 20-year youth ministry veteran who has worked full time for Campus Life for the last 14 years. He serves on two campuses weekly and runs several campus ministries both on and off campus in partnerships with local churches. Rob has been interviewed several times in Jonathan's podcasts on TheSource4YM.com and Jonathan drew from his expertise throughout his book, Connect: Real Relationships in a World of Isolation. Rob serves on the national Campus Life team at Youth for Christ USA.