Do you remember years ago when "Jurassic Park" came out on video? I'll never forget it. Because that's when my idea for a movie night FLOPPED BIG TIME!!!
Everyone was talking about the release of the huge blockbuster film. So my friend and I got the big screen ready, complete with a killer sound system. The room literally shook when the T-Rex stomped around the Explorer. It was incredible. You've never seen anything so great. It was the best … but kids just wanted to go outside and "hang out."
What? But we've got "Jurassic Park?"
Nope.
Big Screen?
Nope.
Sub-woofers?
Nope. They wanted to hang out by a brick wall outside the room.
AAAAAaaaaaaaugh!
Maybe you can relate. You plan a great event, everything seems fool-proof, but they still opt for hanging out in an alley rather than what you've got. It's like giving your kid a brand new $100 gift for Christmas and he plays with the box!
We've all had it happen to us. And when it comes to movie nights, the potential for "flop-factor" is even greater.
So if you're going to mess up, go ahead and MESS UP GOOD!
HERE'S 5 TIPS TO MAKE YOUR MOVIE NIGHT REALLY FLOP!
1st WAY TO MAKE YOUR MOVIE NIGHT FLOP: Don't provide an area to just "hang out."
That's right. If you haven't learned it by now, listen up. Kids love to just "hang out." One of the biggest reasons kids even attend youth group is to just "kick it" with their friends.
(CLICK HERE FOR AN ARTICLE ON THAT VERY SUBJECT)
If we don't provide it, then they'll find it on their own.
If you do a movie night, plan more than just the movie. Have a separate area where kids can just "hang out." Have food, have dominos, cards or other board games. Use a night like this to "hang" with kids and get to know them. Despite how good the film is, many will just want to "hang out" somewhere else.
2nd WAY TO MAKE YOUR MOVIE NIGHT FLOP: Try to superimpose a Biblical lesson to everything that hits the screen.
Yes, kids respond to media. Yes, I like to use video clips as discussion starters. Yes, movies can be a great teaching tool. But, NO, you don't have to try to retro-fit a lesson to everything you show. You can show a movie for the simple purpose of "having fun."
Haven't you ever just had a pizza night? Did you feel like you needed to give a lesson on the feeding of the 5,000? Guess what: there is such a thing as just having fun. You don't need a Bible verse for everything you do. It's okay to provide some events for the purpose of showing kids a good time. Chalk it up as marketing-if kids like it, maybe they'll keep coming.
3rd WAY TO MAKE YOUR MOVIE NIGHT FLOP: Show a BORING film with a REALLY GOOD LESSON!
If you haven't figured it out by now, "Chariots of Fire" is not a good movie for movie night … unless it's an all-nighter and you really want to get kids to fall asleep. Yes, the powerful and true story of Eric blah blah blah blah blah blah blah blah blah blah blah … save it. Kids think that movie sucks! Show it to a group of hard kids and you might get jumped!
Again, consider your purpose of the evening. If you want to teach a lesson some other night, then show a QUICK clip that stimulates discussion. Make sure that it's not a clip that stimulates SLEEP! If you want a movie night, scrap the discussion and just have some fun! It's not a sin.
4th WAY TO MAKE YOUR MOVIE NIGHT FLOP: Don't screen the film!
I'll never forget speaking at an all-nighter where the leader planned on bringing the entire group to the midnight showing of the movie "Blue Crush." I hadn't seen the film and asked her if she had. She said, "No, but the kids really want to see it." (CLICK HERE FOR SCREENIT.COM'S REVIEW OF THAT FILM) I felt like asking her, "If the kids told you that they wanted to see American Pie, would you have brought them to that?!!!" Needless to say, she had a bunch of parent complaints afterwards.
It just doesn't make sense to try to talk to students about waiting for sex until marriage, and then show them "sheer entertainment" that preaches the opposite. Screen movies before you watch them. Or bare minimum-jump on www.Screenit.com (and scroll down to the bottom and click "no thanks" to use the free version) and review its content. Or go to our THE SOURCE MOVIE REVIEWS page for current movie reviews and TOP 10 lists, like "Clean Films You Can Actually Show at Youth Group."
5th WAY TO MAKE YOUR MOVIE NIGHT FLOP: Turn out the lights!
I've learned many lessons in youth ministry. One would be to not leave two kids unattended in a janitor closet. Another would be, don't trust a boy and a girl when they are quiet in the back seat of a 15 passenger van. The same is true with movie nights. Don't allow the kids to bring sleeping bags and then shut off the lights for 2 hours of "The Rookie." Dennis Quaid won't be the only one hitting 3rd base that night!
Dim the lights near the screen. Then light half the room-an area with snacks and drinks. Don't set your kids up for failure by killing the lights.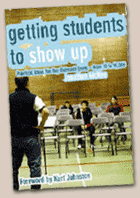 If you enjoyed this article from Jonathan McKee, learn even more about programming and budgeting in Jonathan's award winning book,
Getting Students to Show Up!
(
Get the book at a discounted price here
)