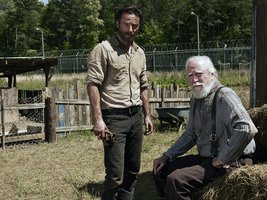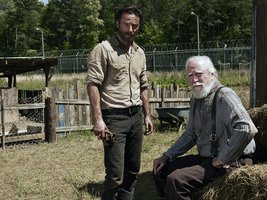 Did you see God's hand in that situation… or does God just have a strange sense of humor?
It's amazing how life and death situations cause people to think and ask big questions. These situations drive some people to depend on God… and drive others to anger against Him.
Where do you gravitate?
The Walking Dead Season Two has had it's share of action and zombie moments, but Episode 4 definitely devotes ample time to character development. Yes, we had the moment with the walker in the well… a little something for zombie fans. I was waiting for a Schwarzenegger moment where someone would turn and say, "He had to split."
But the plot wasn't bogged down in meaningless action because The Walking Dead doesn't sell out. It has a powerful story to tell. (Perhaps that's why it's the number one watched show most given weeks.)
The big 'tell' in this one was Lori's pregnancy- obviously begging the question of who the daddy is, and either way it will be added drama as Lori already is not a fan of bringing up a child in a post-apocalyptic zombie world.
I think I see her point.
And watching Shane give the eulogy demonstrates the deception of a selective memory that we all tend to exercise from time to time.  There's a part of me that feels like Shane was justified in sacrificing Otis, but it still felt wrong somehow.
Interesting that another 'God dialogue' came up.  It seems like the writers are making a good assumption in that end times might drive many to think about God more intentionally.  Hershel does at any rate, and he tries to draw Rick in at the 15:00 mark:
Hershel: Rick, take a moment come look. That's something isn't it? It's good to pause for an occasional reminder
Rick: Of what?
Hershel: Whatever comes to mind. For me it's often God. No thoughts on that?
Rick: Last time I asked God for a favor and stopped to admire a view my son got shot. I try not to mix it up with the Almighty anymore. Best we stay outta each others way."
Hershel: Lori told me this story.  How you were shot, coma, and yet you came out of it somehow.  You did not feel God's hand on you?
Rick: At that moment?  No, I did not.
Hershel: And in all the chaos, you found your wife and boy. Then he was shot and he survived.  That tells you nothing?
Rick: It tells me God's got a strange sense of humor
SEASON 2, EPISODE 3 DISCUSSION QUESTIONS:
1. When has taking a 'pause' reminded you of God or God's presence?
2. Do you think Hershel is being too pushy with Rick about his belief and confidence in God? Why or why not?
3. Do you believe that Rick's survival, finding his family, and Carl's recovery are a sign of God working in Rick's life?  Why or why not?
4. Have you ever prayed for a sign from God, then something bad happened?
5. How could Rick and Hershel both have such different perspectives on the same events?
Read the following passage from Scripture:
"My thoughts are nothing like your thoughts," says the LORD.
    "And my ways are far beyond anything you could imagine.
 For just as the heavens are higher than the earth,
    so my ways are higher than your ways
    and my thoughts higher than your thoughts.
(Isaiah 55:8-10)
6. In what ways are God's thoughts not like ours?
7. Could God's ways sometimes be interpreted as a 'strange sense of humor'? Why or why not?
8. Could God have a bigger purpose behind something as terrible as a zombie apocalypse?  Why or why not?
9. When have you ever experienced something like God's 'sense of humor'?
10. How might this passage help you the next time you go through a difficult time?
Wrap up
When life doesn't seem to make sense, it is important to remember that God's thoughts and ways are not our ways.  He has the whole picture in mind, so we can trust that even if particular 'scenes' in our story are confusing, we can rest in the fact that one day we will be able to see God's redemptive hand in all of our life circumstances.