Rated PG for mild action and rude humor.
Starring Chris Pratt, Elizabeth Banks, Liam Neeson, Will Ferrell, Alison Brie, Will Arnett and Morgan Freeman
Directed by Phil Lord and Chris Miller (Cloudy with a Chance of Meatballs)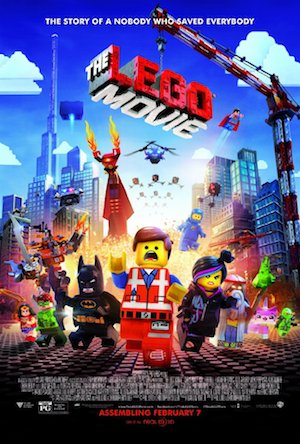 I loved this movie about a nobody who saved everybody.
The original 3D computer animated story follows Emmet, an ordinary, rules-following, perfectly average LEGO mini-figure who is mistakenly identified as the most extraordinary person and the key to saving the world. He is drafted into a fellowship of strangers on an epic quest to stop an evil tyrant, a journey for which Emmet is hopelessly and hilariously underprepared.
I had no idea what to expect walking into the theater with my son. We've played just about every Lego video game and love them. We'll laugh for hours – playing everything thing from Lego Star Wars to Lego Avengers. So we were both pretty excited for the movie to start, and hoping for the best.
Which wasn't exactly easy to do. Hollywood has a long history of taking beloved childhood memories and ruining them with big-screen cash cow. Just look at The Smurfs, Garfield, Alvin and the Chipmunks, Transformers, G.I. Joe: Rise of Cobra, The Lone Ranger and 21 Jump Street. It's so painful.
For the next 100 minutes we not only laughed (like when we play the games), but we heard some great life lessons that sparked some great conversation on the way home. See more below.
The story is actually very well crafted and the star power brings these miniature characters to life. Chris Pratt as the very average construction worker and Will Ferrell as the obsessive compulsive, maniacal CEO bent on world domination – think Lex Luthor, but as a complete control freak with less intelligence and more mustache-twirling insanity – are both hysterical.
The rest of the supporting cast, which includes WyldStyle (Elizabeth Banks), the sage-like Vitruvius (Morgan Freeman), the manic 1980s astronaut Benny (Charlie Day), Good Cop/Bad Cop (Liam Neeson) and of course Batman (Will Arnett) all delivery laughs throughout the film. And believe it or not, the humor is actually both clever and smart, unlike many animated films that rely heavily on potty humor.
In fact, many of the film's best moments are derived from the fact that the characters, vehicles, and environments are created from Lego pieces: one of the rules established by the filmmakers was that everything appearing on screen must be possible to construct in the real world.
The Lego Movie is very entertaining from start to finish. It's a brilliant mix of humor, heart, and creativity, and is "Worth Buying."
SHOULD KIDS SEE IT?
Yes, this one is great for the whole family.
CONVERSATION STARTER


At the beginning of the film, Emmet follows "the instructions" to be "just like everybody else". What happens to shake up his world?


How does he respond?


In a pivotal scene, Emmet hears these words of wisdom, "You can't worry about what the others are doing. You must embrace what makes you special." How do those words change Elliot's life?


Read Psalm 139:14


I praise you because I am fearfully and wonderfully made; your works are wonderful, I know that full well.


How does that passage help you embrace what makes you special?


What can you do this week to live an extraordinary life?