Rated PG-13 for intense sequences of science-fiction violence and peril.
Starring Chris Pratt, Bryce Dallas Howard, Vincent D'Onofrio and BD Wong
Directed by Colin Trevorrow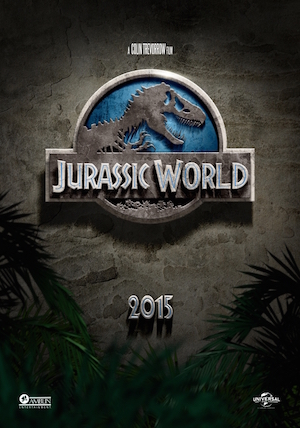 It's been 22 years since Jurassic Park opened… and this was so worth the wait!
Twenty-two years after the events of Jurassic Park, Isla Nublar now features a fully functioning dinosaur theme park, Jurassic World, as originally envisioned by John Hammond. After 10 years of operation and visitor rates declining, in order to fulfill a corporate mandate, a new attraction is created to re-spark visitor's interest, which backfires horribly.
JONATHAN'S WORD: And the movie delivered big time! What a spectacular film.
TODD'S WORD: I agree.
JONATHAN'S WORD: I came into the film with very high expectations because the preview looked great… and I still wasn't disappointed. The film actually exceeded my expectations. We watched it in the theatre as a family and all of us loved it.
TODD'S WORD: It was a fun film for almost everyone, young and old.
JONATHAN'S WORD: Are you calling me old?
TODD'S WORD: I take the 5th.
JONATHAN'S WORD: The film was good on so many levels, storyline, special effects… you name it. But my favorite element was the casting. This film had an amazing cast from the leads, all the way down to the bit parts—like the awkward teenage kid working the gyro ride. Classic!
TODD'S WORD: Chris Pratt and Bryce Dallas Howard compliment each other perfectly. They look great together and they also have fantastic chemistry. Their on screen banter is sharp, witty and impeccably timed.
JONATHAN'S WORD: They were both brilliant. Pratt is having a great couple of years, with Guardians, The Lego Movie, and now this. Audiences love him. And Howard always brings something new to her roles. But let's not forget Jake Johnson (who most people know as Nick, from TV's New Girl). He was hilarious. Such a great little addition to the film.
TODD'S WORD: Then there is Vincent D'Onofrio who once again plays the creepy villain effortlessly…sometimes I think it's too effortlessly.
JONATHAN'S WORD: He's always good (interesting that he's getting back to his "Gomer Pyle" weight from Full Metal Jacket.) The whole cast was superb.
TODD'S WORD: The special effects were really amazing as well. If you are old enough to remember the first Jurassic Park film, you remember being blown away by the special effects.
JONATHAN'S WORD: I still remember being wowed back then in '93. That first scene where they pulled up in the Jeep and saw that brachiosaurus feeding off the leaves of the tall tree.
TODD'S WORD: It was breathtaking. For the first time we believed we knew what dinosaurs sounded like, how they moved and hunted. Our eyes were glued the screen and we never looked at images in our rear view mirrors the same way again.
JONATHAN'S WORD: It was ground breaking.
TODD'S WORD: Well, the special effects in Jurassic World are even better. Yes, I realize, since 1993, we have seen aliens and avatars, wizards and superheroes on the big screen in the highest quality imaginable. As a result, it takes a lot to impress us. But seeing the dinosaurs in Jurassic World impressed me…and the 3D filming was brilliant.
JONATHAN'S WORD: Glad you liked the 3D. I saw it in a normal theatre (you know how I hate 3D), and it was amazing in good ol' 2D.
TODD'S WORD: And weren't you impressed with the fact that Colin Trevorrow is a rookie director? Seriously. I'm so awestruck that he took the helm of a franchise that has been dormant since 2001. He directs a big budget summer blockbuster like a seasoned pro and I for one am very impressed.
JONATHAN'S WORD: That did surprise me… made me a tad skeptical. But honestly, you'd never know a rookie was at the helm. Amazing film.
TODD'S WORD: The movie was good all around. There was plenty of action, drama, and humor, with a few throwbacks to the original, all without being cheesy. Something they failed to do in the second film.
JONATHAN'S WORD: Don't even get me started about the second film. Yes, Jurassic World was better than the other sequels on every level. It might have even surpassed the original.
TODD'S WORD: I can't wait to "buy it" and watch it again.
JONATHAN'S WORD: I'll definitely be "buying" this. Probably the best film I've seen in years.
SHOULD KIDS SEE IT?
Children no, teenagers yes. There is no sex or nudity and very little profanity, but the film has plenty of intense scenes where dinosaurs are killing or eating people. Some of those scenes are too intense for younger viewers.
CONVERSATION STARTER:
Why do you think they created that new dinosaur?


How did that work out for them?

Read 1 Timothy 6:10

The love of money causes all kinds of trouble. Some people want money so much that they have given up their faith and caused themselves a lot of pain.
How did their greed lead to "all kinds of trouble"?
Have you ever experienced trouble because of greed?
How can you avoid the trap of falling in love with money?