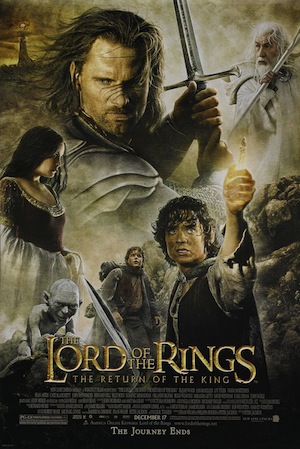 Main Point: Friendships Are Not For the Faint Hearted
Before the Meeting:
Draw a large outline of an upper-body on the white board in front of the room. You might even have a volunteer stand against the board and trace his upper body on the board. This outline is called "Friendly Bob."
Ask small group leaders to bring or wear a knitted garment (a sweater or even a thick shirt) which will help illustrate friendships that are "knitted together" during small group time.
Opening Activity:
Pass out small stacks of yellow sticky notes and pens. Tell students they have 60 seconds to write down character traits for best friends. Give a few examples (funny, loyal, etc…). "Write one trait on each sticky note and then slap it up on the board on "Friendly Bob." Get as many done as you can in 60 seconds. Ready? Go!"
At the end of "sticky 60 seconds," read each of the sticky-notes that have been placed on the board on the outline of Friendly Bob.
Scene Introduction:
We're going to watch a movie clip that reveals a few other traits of good friends. Watch the interaction between Frodo and Sam in Lord of the Rings: Return of the King. Pay attention to the friendship qualities you see. And also keep an eye on Aragorn for important character traits in best friends.
The clip is at scene #66 on the extended DVD. Start the scene at 1:15:29 and let it run until Aragorn and the rest of the fellowship charge into the enemy army, at 1:18:26. The scene is an excellent representation of loyalty.
Scene Script:
Sam and Frodo are exhausted from battles and their long journey. Frodo is struggling internally with the power of the ring and Sam just wants the journey and conflict to end. Sam reminds Frodo of all the sweet and simple pleasures of life at home but Frodo can't recall anything good.
Frodo: There is nothing between me and the ring of fire. I can see it with my waking eyes.

Sam: Then let's be rid of it! Once and for all! Come on Mr. Frodo. I can't carry it for you but I can carry you. Come on!
The scene changes to see Aragorn and his team of warriors facing off the enemy and challenging the evil Ring of Fire. As he presses into battle he turns to his team and says,
Stop the DVD as they charge into battle.
Transition Statement:
This scene shows committed friendships in two ways. First we see Sam who has been a loyal partner to Frodo throughout the entire journey to Mount Doom. In the midst of the conversation about things remembered, Sam says to Frodo, 'let us be rid of it (the ring) then' as he proceeds to pick up Frodo because Frodo is too weak himself. Sam goes on to make the statement, "I can't carry it (the ring) for you, but I can carry you." The scene cuts away from Sam and Frodo and we see Aragorn and his army standing before the Black Gate. Aragorn declares, "For Frodo" as he and the others charge into enemy lines. It wasn't easy to be a loyal friend to Frodo. Everywhere he went he faced enemies who wanted to destroy him and if you were standing anywhere close to Frodo, you would be a target for the enemy as well. And yet, these people were loyal.
Divide into Small Groups:
Let's go ahead and split up into our discussion groups where we're going to discuss further traits of best friends, and then afterward we'll come back together for a final word.
CLICK HERE for a quick training article on how to maximize your small groups using our small group format—a great resource to equip your small group leaders.
Discussion Questions:


ASK A FEW: Tell us about a time when a friend has shown commitment to you.

In the movie we could see that being a friend to Frodo came with a cost.

ASK A FEW: It might not be as dramatic as going into battle, but maybe for some of us friendships come with costs. When has it cost you to be a friend to someone? (You don't need to give us names.)

There is a great demonstration of friendship in the Bible between two young men, David and Jonathan. Let's turn to I Samuel 18:1; 3-4.

"Now it came about when he had finished speaking to Saul that the soul of Jonathan was knit to the soul of David, and Jonathan loved him as himself. Then Jonathan made a covenant with David because he loved him as himself. Jonathan stripped himself of the robe that was on him and gave it to David, with his armor, including his sword and his bow and his belt."
Jonathan and David had a radical friendship that required a great deal of work and commitment from both young men. In fact, Jonathan's dad was the King and was jealous of David. He eventually wanted David killed.
ASK SOMEONE: What does verse 3 mean: "the soul of Jonathan was knit to David"?
(After a few have answered, use the knitted garment that each leader has to visually show how tight the threads are connected together and how the shirt or sweater stays together because it is knitted, each stitch depending on the next to stay together–otherwise the sweater comes apart.)
ASK SOMEONE: Why was it such a huge deal for Jonathan to take his robe, sword, bow and belt and give them to David?

(After a few have answered, explain: Jonathan was a prince and leader of some of the armies – the robe and weapons represented who he was – his right and station in life – and yet he gave them to David as a sign of his commitment to his friend.)
ASK A FEW: When have you given up something for your friend(s)?
ASK A FEW: What are some of the differences you can see between friendships that include God and friendships that don't?
God calls Christians to be the kind of friends that will be loyal, even when it costs. We saw Sam who cared enough about his friend that he would suffer through lack of food, water, and sleep. We understand that there is only so much we can do as friends – we might not carry their burdens for them as Sam couldn't carry the ring for Frodo, but we can 'carry them' as Sam did. Jesus said that there is no greater love than this; a man who will lay down his life for a friend. The movie clip showed friends who were willing to take friendship that far.
So how can we carry our friends today in a way that pleases God? I will make three suggestions and then ask you to look at the Bible verses that support each idea.
Stand With Them
Read Ecclesiastes 4:9-10
"Two are better than one because they have good return for their labor. For if either of them falls, the one will lift up his companion. But woe to the one who falls when there is not another to lift him up."
ASK SOMEONE: Restate that verse in your own words.
AROUND THE CIRCLE: Give one example of how you could stand with a friend.
Sit With Them
Read Job 2:11-13
"Now when Job's three friends heard of all this adversity that had come upon him, they came each one from his own place, Eliphaz the Temanite, Bildad the Shuhite and Zophar the Naamathite; and they made an appointment together to come to sympathize with him and comfort him. When they lifted up their eyes at a distance and did not recognize him, they raised their voices and wept. And each of them tore his robe and they threw dust over their heads toward the sky. Then they sat down on the ground with him for seven days and seven nights with no one speaking a word to him, for they saw that his pain was very great."
Imagine for a moment that you must sit with your friend for a whole week and say nothing!
ASK A FEW: What do you think it meant to Job to have these friends with him during his time of sorrow?
Sharpen Them
Read Proverbs 27:17
"Iron sharpens iron, so one man sharpens another.
ASK A FEW: Explain what this verse means.
ASK A FEW: How can you 'sharpen' your friends?
Wrap Up: Friendships Are Not For the Faint Hearted
It is so tough sometimes to be the friend God expects us to be. As we saw in the movie clip there may be great sacrifices associated with the friendship. Being a godly friend is not for the fainthearted – it is however for the fearless.
Before we close in prayer I would like you to each think of something specific you can do this week to carry your friend. Share it with us, without names, and we will pray for each other.
Written by Billy Lane