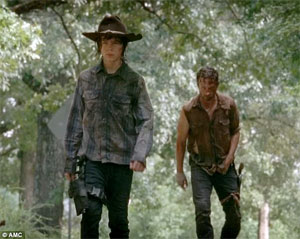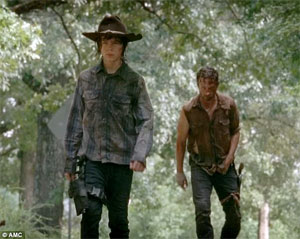 Got a teenager in your house? Then you probably recognized the extremely emotional, highly irrational, and characteristically overconfident teenager who stole all the screen time in this past weekend's episode of The Walking Dead.

The word "overconfidence" might be a good descriptor of many teens today during this transitional period of adolescence where they are beginning to make decisions on their own. Learning to make good choices is a good thing, but being resistant to counsel? Not so good. This was Carl's struggle in this week's episode, and we can use it as a great discussion springboard to dialogue with teenagers about "pride."
Confidence or Overconfidence?
Carl has definitely transformed from kid to adolescent, with all its quirks. But let's not be too quick to judge. Along with all the raging hormones he has rushing through his developing brain… Carl has been through a lot! He lost his mother, and in the last episode, his little sister Judith. So it's not a total surprise when we see Carl vent a little bottled up anger, as evidenced by his passive aggressive outburst to comatose Rick.
"I didn't forget while you had us playing farmer? I still know how to survive. I don't need you anymore. You can't protect me anymore. You couldn't protect any of us!" We counted on you! You were their leader! But now, you're nothing. I'd be fine if you died."
After his eruption, Carl went out and exercised what every teenager desires… independence. Then, and only then… after trying it on his own and almost getting killed several times, he realized how much he missed his Dad, and valued his advice and companionship. It was only this new, humbled Carl who finally admitted, "I was wrong." And, "I'm scared."
The Walking Dead producer Greg Nicotero said this episode was about a teenage kid trying to be an adult, and finally coming to the realization that he's not.
We've seen numerous moments this season where Carl has demonstrated the desire and even the ability to start making decisions on his own (our discussion about episode 5 talked about this issue in detail). As young people grow and mature, many of them will show signs of rebellion, a desire to make all decisions on their own. Independence isn't a bad thing, but overconfidence and pride can be deadly.
SEASON 4, EPISODE 9 DISCUSSION QUESTIONS:
1. Why do you think Carl was so mad at his dad?
2. Was he right? Explain.
3. What advice did Rick give Carl about conserving his bullets? Was he right?
4. Carl learned the lesson of "conserving ammo" the hard way. Why do you think many young people bypass the advice of their parents and try it themselves?
5. When is a time you have bypassed Mom or Dad's advice and learned the hard way?
6. When is a time where Mom and Dad maybe should have let you make the choice and learn for yourself?
7. How did Carl's "I don't need you" attitude prove to be unhealthy?
8. What's the difference between confidence and overconfidence?
9. What are the consequences of overconfidence or pride?
Read the following passage:
In the same way, you younger men must accept the authority of the elders. And all of you, serve each other in humility, for
"God opposes the proud
but favors the humble."
So humble yourselves under the mighty power of God and at the right time he will lift you up in honor. Give all your worries and cares to God, for he cares about you. (I Peter 5:5-7)
10. According to this passage, who does God appose, and who does he favor?
11. Why does God favor the humble?
12. What does the passage say God does to us if we humble ourselves under his mighty power? What does that look like?
13. What are some ways where you need to humble yourselves?
FINAL THOUGHTS: If you're like me, you've heard that last verse countless times. "Cast your cares upon the Lord and he will lift you up." Funny, but I can hardly remember a single time I've heard someone quote that verse in context. The reality is, Peter gave us this good news of God's desire to take our worries away only after reminding us to be humble enough to actually accept God's help. In other words, if we're willing to say, "God, I admit it. I can't do it on my own. I need you." Then he is willing to take our worries and concerns.
Don't be confused—this isn't "works." This isn't us "having to earn" his help. It's quite the opposite. Once we realize we can't do anything by ourselves, the only action God requires of us is submission—simply admitting, "I need you." He does the rest.
Humility is the essence of Christianity. It's the one step all believers need to take. "Jesus, I need your love and forgiveness." That step of faith is what allows God to slowly mold us and transform us to be more like Him.
As teenagers grow up, they are going to have the freedom to make more and more decisions on their own. It's under the umbrella of this freedom where they choose who they will follow- their own pride, or God working through them.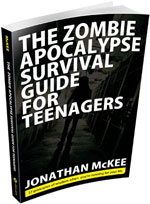 Which will you choose?
DIALOGUE WITH TEENAGERS ABOUT ISSUES JUST LIKE THIS IN JONATHAN'S POPULAR NEW BOOK, THE ZOMBIE APOCALYPSE SURVIVAL GUIDE FOR TEENAGERS